RaebervonStenglin
Art Basel 2016
Feature with Sofia Hultén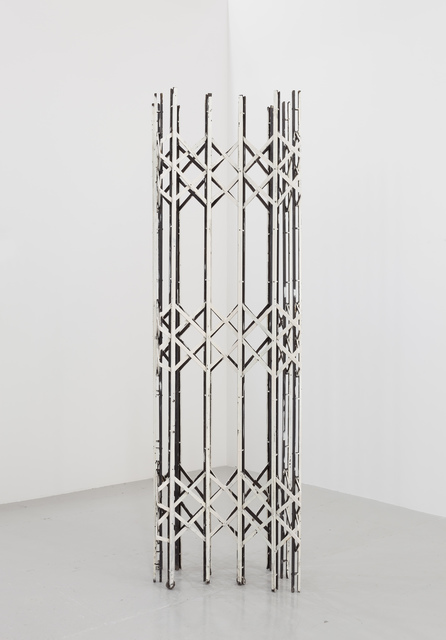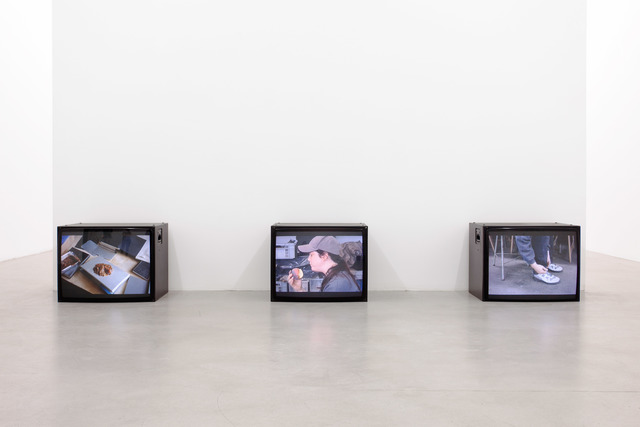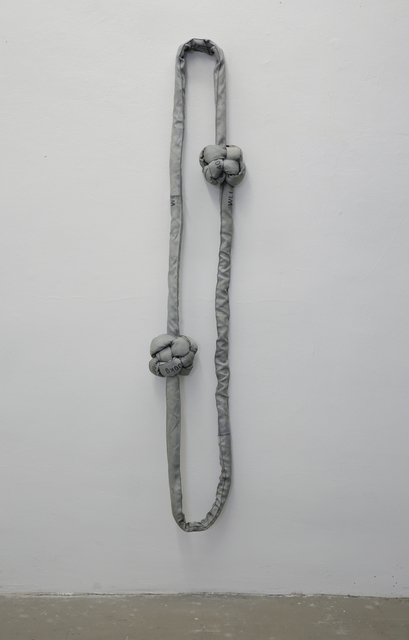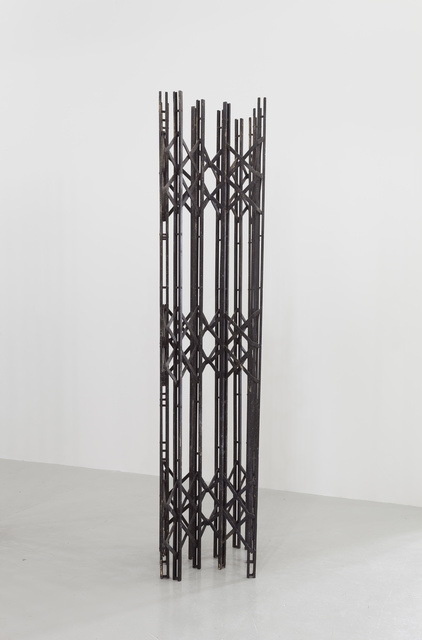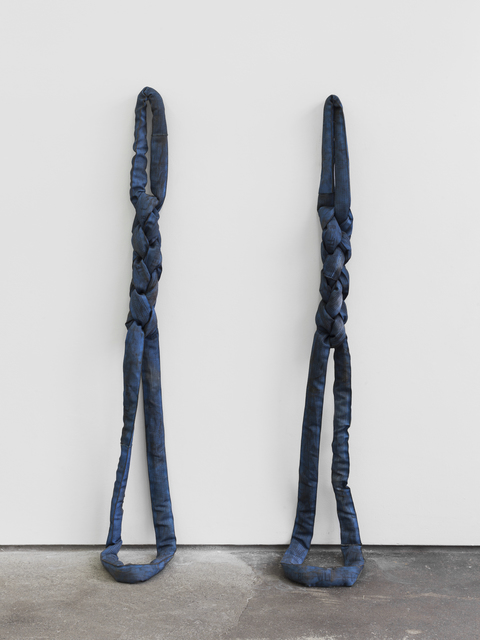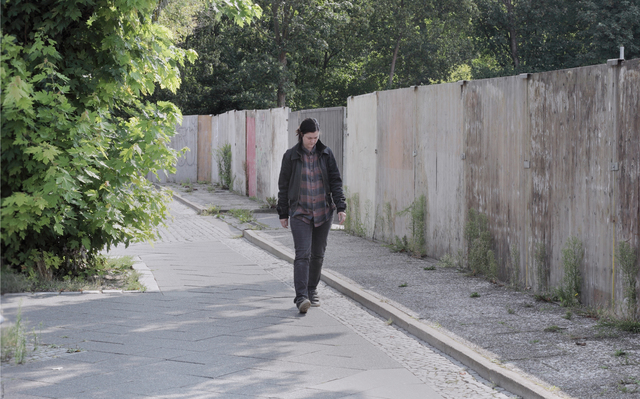 Press Release
At Art Basel | Feature 2016 RaebervonStenglin shows 'Speculative Fiction', a new installation by the Berlin-based artist Sofia Hultén.
Speculative fiction is a genre of science fiction, asking the question 'what if?'. What if we had a time machine, what if we could see the fourth dimension? Sofia Hulténs presentation brings these questions down to earth casting used object with backstories in new sculptural narratives.
Hultén's materials are utilitarian, relating to a commonplace world as personal as it is pervasive. For 'Speculative Fiction' street posts, bicycle frames, locks, paint and stickers are combined to form several versions of possible histories in which the normal sequence of events is scrambled. In one version, the bicycle frame is connected around the post, but the lock loosely chained on top of it. In another, stickers and paint from the post are applied to the part of the bicycle frame in front of it, as though it were already there when the post was painted and subsequently stickered.
A video piece continues the theme, in 'Nonsequences' causality is turned on its head as variations on a sequence of events around eating and discarding an apple are played out. 'Line with Complications' sees old lifting slings, such as would be used for skips and other heavy loads, contorted into extremely elegant knots articulating the mathematical study of topology. In addition, a photographic series will be presented, 'Trucking' from 2014 shows the artist walking the streets of Berlin, where she swaps her trainers for a pair of discarded one's. Exchanging personal objects or material through found and similar ones, adds another dimenstion of Hultén's artistic practice and exemplifies her approach to the possibilities of closed circuits.
Such apparently deviant causality creates situations in which, as the critic Mark Prince has noted, 'narrative realism is parodied, then baffled, through its reshuffling'. In doing so, Hultén creates science fiction scenarios and temporal riddles casting the material world as an extension of the lived-in mind. The matter-of-factness of redundant industrial objects is imbued with the infinite possibilities of quantum physics, and the glamourless dreariness of discarded items found in the street is subverted by the deadpan slapstick with which the artist transforms them and the elegance of their formal solutions, suggesting that what is presented — however unlikely — at some point in time is inevitable.
Sofia Hultén was born in 1972 in Sweden. She lives and works in Berlin since 1997. Her recent solo exhibitions include 'Entropy High', i8 Gallery, Reykjavik, Iceland (2016); 'Truckin'', Daniel Marzona, Berlin, Germany and 'When Lines are Time', Espai 13, Miro Foundation, Barcelona, Spain (both 2015); 'Matter is Plastic in the Face of Mind', Galerie Nordenhake, Stockholm, Sweden and 'I Used To, I Still Do, but I Used To Too', RaebervonStenglin, Zürich, Switzerland (both 2014); 'How did it get so late so soon', Kunstverein Braunschweig, Braunschweig, Germany and 'If You Never Did You Should', Konrad Fischer Galerie, Berlin, Germany (both 2013); 'Sofia Hultén and Nina Canell', Galeria Luisa Strina, São Paulo, Brazil (2013); 'Statik Elastik', Langen Foundation, Neuss, Germany and 'One in Ten', Galerie Nordenhake, Stockholm, Sweden (both 2012) and 'PRESSURE DROP', RaebervonStenglin, Zürich, Switzerland (2011).
Group shows include 'The Secret Life of Images', Kunstverein Freiburg, Freiburg, Germany (2016); 'Momentum 8 – Tunnel Vision', 8th Nordic Biennial of Contemporary Art, Moss, Norway (2015); 'Magnetic Leakage Fluxes. An international group exhibition', The Brno House of Arts, Brno, Czechia (2015); '5 Years RaebervonStenglin', RaebervonStenglin, Zürich, Switzerland (2015); 'New Ways of Doing Nothing', Kunsthalle Wien, Vienna, Austria and 'Almost Something, Not Quite Nothing', Ambach & Rice, Los Angeles, USA (both 2014); 'The World Turned Upside Down – Buster Keaton, Sculpture and the Absurd', Mead Gallery Warwick, Warwick, UK and 'Sweet Bitter Symphony', Künstlerhaus Bremen, Bremen, Germany (both 2013).
Sofia Hultén was the recipient of the 'Moderna Museets Vänners Skulpturpris 2011', Moderna Museet, Stockholm, Sweden (2011).
Follow Artists In This Show