Roberley Bell: [un]natural landscapes
A solo exhibition- a massive site specific interior and exterior installation titled [un]natural: landscapes- by BT&C Gallery artist Roberley Bell on view at the Hermitage Museum & Gardens in Norfolk, VA.
Sep 3rd – Dec 7th 2015
Norfolk, Hermitage Museum & Gardens 7637 North Shore Road
Map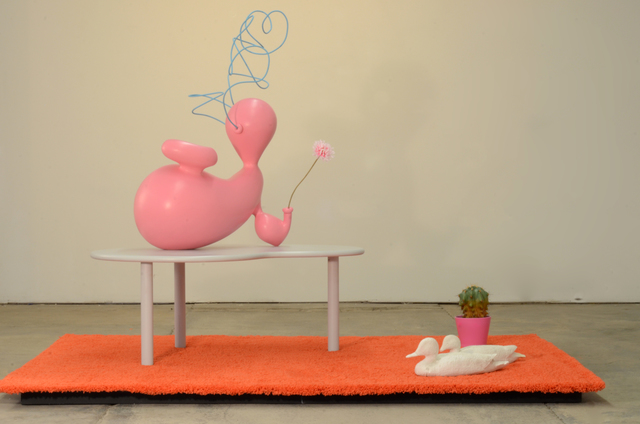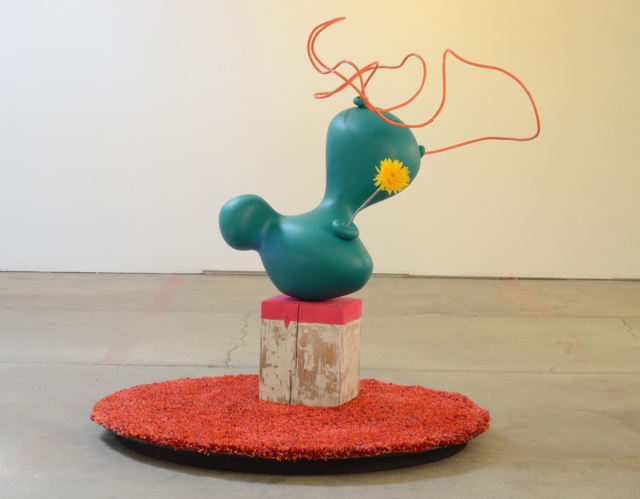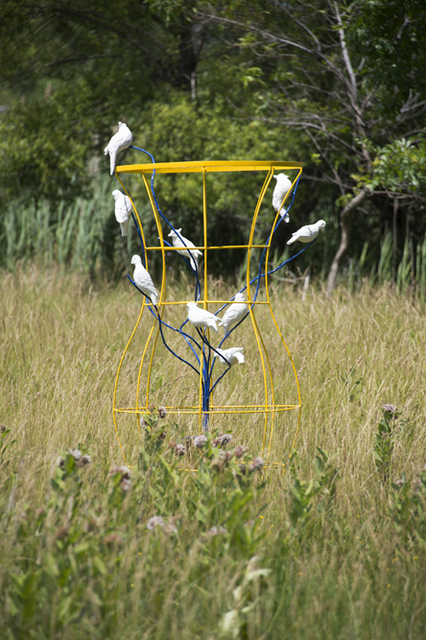 Press Release
9/4/15
Roberley Bell: [un]natural landscapes
Now on view at the Hermitage Museum & Gardens, Norfolk, VA
BT&C artist Roberley Bell has a solo exhibition— a site specific interior and exterior installation titled [un]natural: landscapes now on view at the Hermitage Museum & Gardens in Norfolk, VA (http://www.thehermitagemuseum.org/). The exhibition will be on view through December 7th.
Bell has installed her sculpture in direct dialogue with the museum's permanent collection of antique artifacts and decorative art objects. Taking over six of the museum's galleries, the result is a fascinating new perspective on both the Hermitage's collection and Bell's sculpture. In addition, outside on the museum grounds, Bell has installed an extensive site-specific sculptural installation that utilizes the gardens and existing architecture as a frame. From the museum's website:
[Bell's] lively, mobile forms of brilliant color provide seating areas for social engagement. Live plantings of flowers and trees mimic the statuary inside the museum. The backdrop of the installation is a secluded area, surprising visitors as they walk the path from the museum to find the area now brilliantly alive and enticing.
This installation at the Hermitage continues Bell's decades long investigation of the relationship between our interior and exterior worlds, as well as nature and its synthetic likeness. This is unique opportunity to experience Bell's work installed both inside and outside, capitalizing on the conceptual kingpin of the body of work. Bell's boldly-colored, large sculpture from the series Other Landscapes, recently on view in the BT&C Gallery show some things is included in the exhibition. As Bell explains:
The Other Landscapes series continues to explore the space where the artificial meets the real. My sculptures reconsider or interrogate what is real against what is not, to the point where even nature itself is uncertain. It is my intent to employ our imagination and our senses even with the artifice.
The Other Landscapes series is grounded in the origins of organic abstraction
and computer aided Blob Design. Bell states, "like the current trend in design where buildings and form adopt an organic structure that is made possible only though computer-aided technologies, my Other Landscapes sculptures reveal themselves as natural forms, though they are, in fact, paradoxically based on nothing that exists in nature." At the Hermitage, these sculptures are sharing space with other objects in the museum's permanent collection allowing for rich layers of visual texture and interpretation. At once, Bell's sculptural forms feel out of place and at home— as if you've encountered a rare plant that is thriving in an unlikely clearing.
Also included in the exhibition is a new series of small scale sculpture, titled some things, initially thought of as mental preparation for Bell's large-scale work, now a practice that has evolved into an important body of work in and if itself, opening new avenues for Bell to explore her investigation of the boundary between nature and artifice. These subtle works are an extension of the themes explored in Bell's larger body of work, but on a different scale, both visually and psychically.
The some things are crafted using a wide variety of media. Often painted white, the uniform paint serves to both unify the discrete materials into a single form as well as disguise them. Bell then often adds a bright accent of color— a burst of neon orange femo clay, or bright green paint that boldly announces itself from the white of the sculpture's body. This shock of color is reminiscent of the experience of seeing Bell's large sculpture installed in the landscape (or here in the Hermitage's galleries)— a burst of off-the-shelf brightness shouting out from its surroundings. Though obviously very considered, because of their scale combined with the artistic process, there is a palpable spontaneity inherent in these works— a quirky liveliness which is sometimes not apparent in the larger, more refined works. At the Hermitage, the some things share glass vitrines, treated as precious objects alongside Asian antiquities and sterling decorative art. They are sly imposters waiting to be identified. The effect is reminiscent of an 18th Wunderkammer, or "cabinet of curiosities"; all of the objects contribute to a gestalt effect. This is an installation not to be missed.
For more information on [un]natural landscapes contact Hermitage Museum & Gardens, Marketing Manager, Jennifer Lucy- 423-2052 x208 or jlucy@thehermitagemuseum.org. Visit the museum's website here: http://www.thehermitagemuseum.org/roberley-bell-unnatural-landscapes
For more information on Roberley Bell's larger body of work, contact BT&C Gallery Director, Anna Kaplan at 716-604-6183 or anna@btandcgallery.com.
ABOUT THE ARTIST
Roberley Bell spent her childhood in Latin America and Southeast Asia. She attended the University of Massachusetts and State University of New York at Alfred from where she holds an MFA. Bell is the recipient of many grants and fellowships including the New York Foundation for the Arts, Pollock Krasner Fellowship, a summer Fulbright to the Netherlands and a 2010 Senior Scholar Fulbright to Turkey. In 2012 she received a Fellowship for the Turkish Cultural Foundation and Dave Bowen Projects. Bell has received several residency awards both nationally and internationally, including a residency to the Stadt Kunstlerhaus in Salzburg Austria and a Studio fellowship from the international Studio Program in NY. Bell's work has been exhibited nationally and internationally including at the State Tretyakov Gallery, Moscow; Alan Space, Istanbul; Virginia Museum of Fine Arts, Richmond; Denise Bibro Gallery, NY; and most recently in a solo exhibition at the deCordova Museum and Sculpture Park, Lincoln, MA. A solo exhibition of Bell's work is scheduled to open September 2015 at the Hermitage Museum and Gardens in Norfolk, VA. Bell has completed public projects in Cambridge, Pittsburgh, Chicago, Baltimore, New York, Russia, Turkey and most recently installed her sculpture at the Albany International Airport. Bell lives in Bethany, New York and teaches in the School of Photography at Rochester Institute of Technology.
Follow Artists In This Show