Spencer Finch: The Western Mystery
At the Olympic Sculpture Park, Finch has installed a nebulous formation of suspended glass panes that are, in his words, "creating a moving abstraction of a sunset, based on actual sunsets photographed from Seattle over Puget Sound.
Apr 1st, 2017 – Mar 3rd, 2019
Seattle , Olympic Sculpture Park 2901 Western Avenue
Map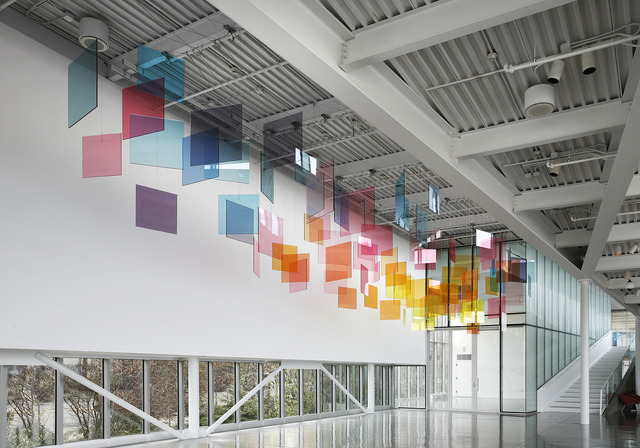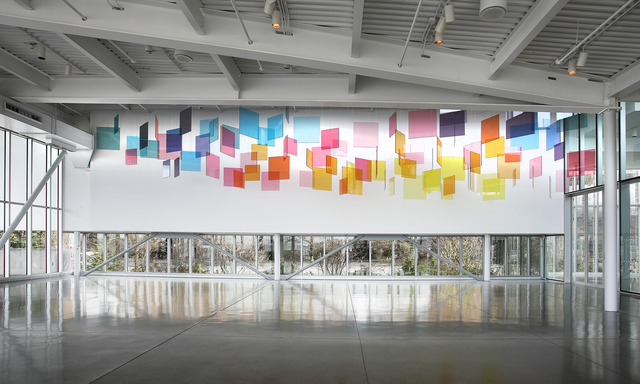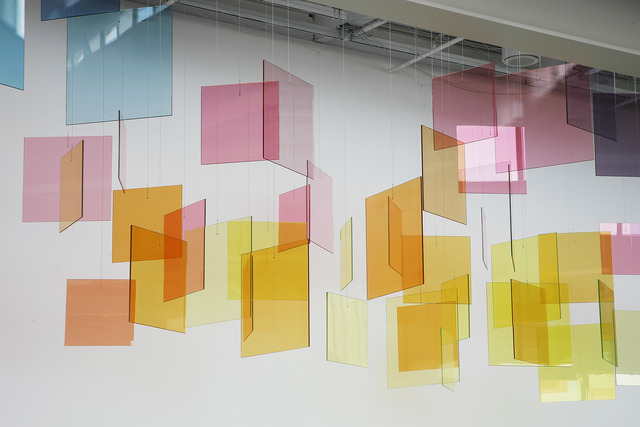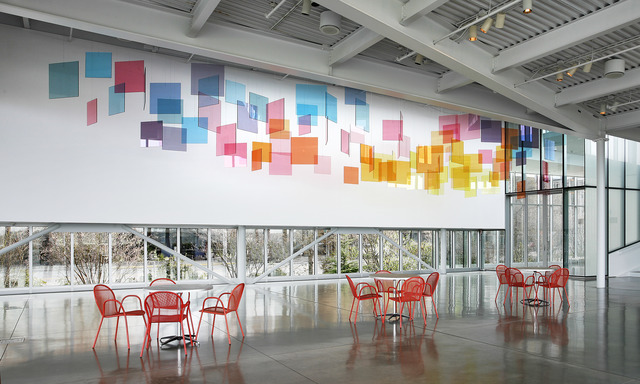 Press Release
OLYMPIC SCULPTURE PARK DEBUTS NEW INSTALLATION BY NEW YORK-BASED ARTIST SPENCER FINCH
Large site-specific installation The Western Mystery explores the changing light of Pacific Northwest sunsets
SEATTLE, WA – SAM's Olympic Sculpture Park presents Spencer Finch: The Western Mystery (April 1, 2017–March 3, 2019), a site-specific installation for the sculpture park's PACCAR Pavilion. Composed of 90 glass panels suspended from the ceiling, the installation by the internationally celebrated artist creates an overlapping and constantly moving constellation of colors—pinks, purples, oranges, yellows, and blues—based on sunsets photographed from the sculpture park over Puget Sound.
New York–based artist Spencer Finch is renowned for his work exploring the perception of light and color. For this installation, Finch has created an "abstract landscape" from a collection of visual data intricately connected to the atmospheric conditions of the site. In the glass-enclosed pavilion, each viewer's experience of the work will differ depending on the weather, time of day, and the season.
The title of the installation, The Western Mystery, is borrowed from a line of poetry by Emily Dickinson, a major inspiration to the artist. Much like the poet, Finch is interested in concrete perceptions of ephemeral natural phenomena.
The Western Mystery is the latest in Finch's body of work that features suspended panes of glass. A Certain Slant of Light (2014), created for the glass atrium of New York's Morgan Library, reflected the colors of the four seasons, and his recent solo show at James Cohan, My business is circumference (2016), included installations inspired by fog, the light of a passing cloud, and the colors he noted during a hike through Yellowstone National Park.
Finch's best-known commissions include The River that Flows Both Ways (2009), created for the debut of New York City's High Line park, and Trying to Remember the Color of the Sky on That September Morning (2014), the only work commissioned for the National September 11 Memorial and Museum.
In 2015, he was a memorable part of the inaugural Seattle Art Fair with his Sunset ice cream truck. Originally created for Contemporary Art Museum St. Louis in 2008 and also presented in New York's Central Park in 2015, the truck—powered by solar panels—delivered an "edible monochrome" with cones of soft serve in colors derived from sunsets.
"Spencer Finch's radiant work sensitizes us to the subtleties of light and color, rewarding those who look closely and visit often," says Catharina Manchanda, SAM's Jon and Mary Shirley Curator of Contemporary Art. "Because this work is completely dependent on the light conditions and time of day, each visit to The Western Mystery will be a fresh experience and opportunity to appreciate its complexities."
ABOUT SPENCER FINCH
Spencer Finch (born 1962, New Haven, Connecticut) lives and works in Brooklyn, New York. He has had extensive international solo exhibitions and projects including A Certain Slant of Light, The Morgan Library & Museum, New York, NY, The Skies can't keep their secret, Turner Contemporary, Margate, UK (2014); Painting Air, Rhode Island School of Design Museum of Art, Providence, RI (2012); Lunar, The Art Institute of Chicago, Chicago, Rome, Museum of Contemporary Art San Diego, La Jolla, CA, Between the light - and me, Emily Dickinson Museum, Amherst, MA (2011); My Business, With the Cloud, Corcoran Gallery of Art, Washington, D.C., Evening Star, Pallant House, Chichester, UK, Between The Moon and The Sea, Frac des Pays de la Loire, Carquefou, France (2010); As if the sea should part and show a further sea, Queensland Gallery of Modern Art, Brisbane, Australia (2009).
He has taken part in numerous group exhibitions at The Fruitmarket Gallery, Edinburgh, The Hirshhorn Museum and Sculpture Garden, Washington, D.C., deCordova Museum and Sculpture Park, Lincoln, MA, Scottsdale Museum of Contemporary Art, MACRO, Rome, Museum De Fundatie, Zwolle, The Solomon R. Guggenheim Museum, New York (2010); Making Worlds: 53rd International Art Exhibition, La Biennale di Venezia (2009); 50 Moons of Saturn, Turin Triennial (2008). His work can be found in the collections of the Hirshhorn Museum and Sculpture Garden in Washington, D.C.; the High Museum of Art in Atlanta, GA; the Museum für Moderne Kunst in Frankfurt, Germany; The Kemper Museum of Art, St Louis; The Rhode Island School of Design, Providence, RI; the Museum of Contemporary Art in Chicago, IL; and the Solomon R. Guggenheim Museum in New York, NY.
ABOUT SEATTLE ART MUSEUM
As the leading visual art institution in the Pacific Northwest, SAM draws on its global collections, powerful exhibitions, and dynamic programs to provide unique educational resources benefiting the Seattle region, the Pacific Northwest, and beyond. SAM was founded in 1933 with a focus on Asian art. By the late 1980s the museum had outgrown its original home, and in 1991 a new 155,000-square-foot downtown building, designed by Robert Venturi, Scott Brown & Associates, opened to the public. The 1933 building was renovated and reopened as the Asian Art Museum in 1994. SAM's desire to further serve its community was realized in 2007 with the opening of two stunning new facilities: the nine-acre Olympic Sculpture Park (designed by Weiss/Manfredi Architects)—a "museum without walls," free and open to all—and the Allied Works Architecture designed 118,000-square-foot expansion of its main, downtown location, including 232,000 square feet of additional space built for future expansion. The Olympic Sculpture Park and SAM's downtown expansion celebrate their tenth anniversary in 2017.
From a strong foundation of Asian art to noteworthy collections of African and Oceanic art, Northwest Coast Native American art, European and American art, and modern and contemporary art, the strength of SAM's collection of approximately 25,000 objects lies in its diversity of media, cultures and time periods.
Follow Artists In This Show