NORTH Janette Kerr PhD Hon RSA PPRWA new works from Shetland to Svalbard
In 2016 artist Janette Kerr sailed on a tall ship around Svalbard in the Norwegian High Arctic to experience the vastness of mountains and glaciers. This exhibition is her response to that experience and to Shetland where she lives part of the year, researching and drawing.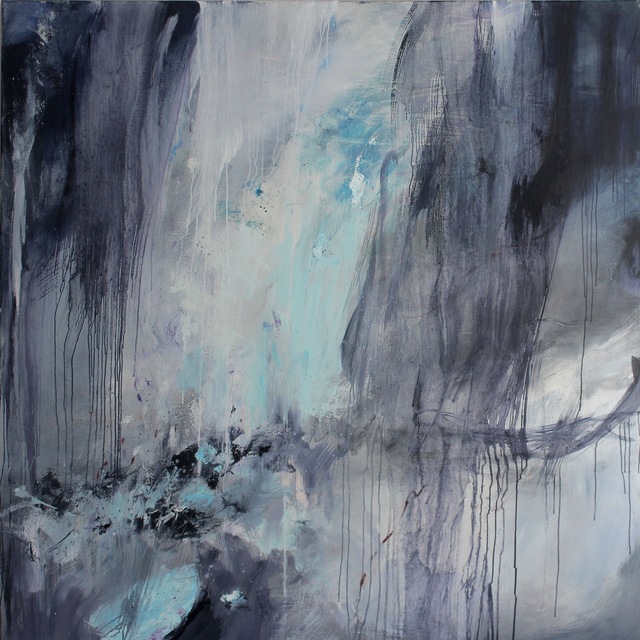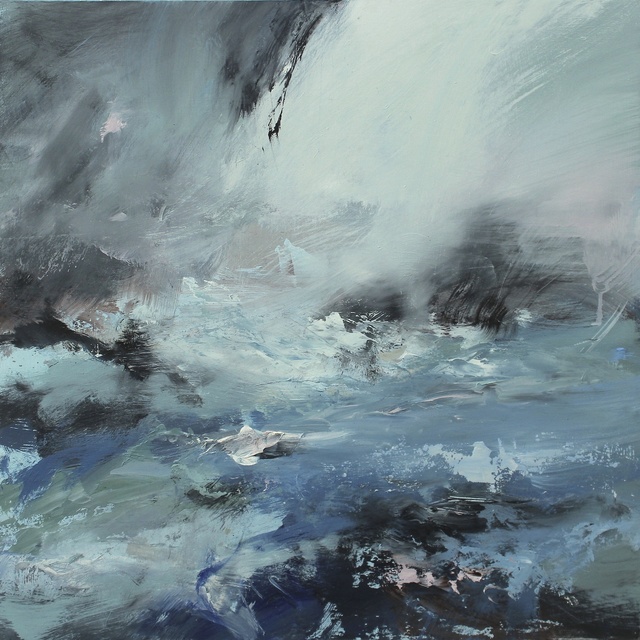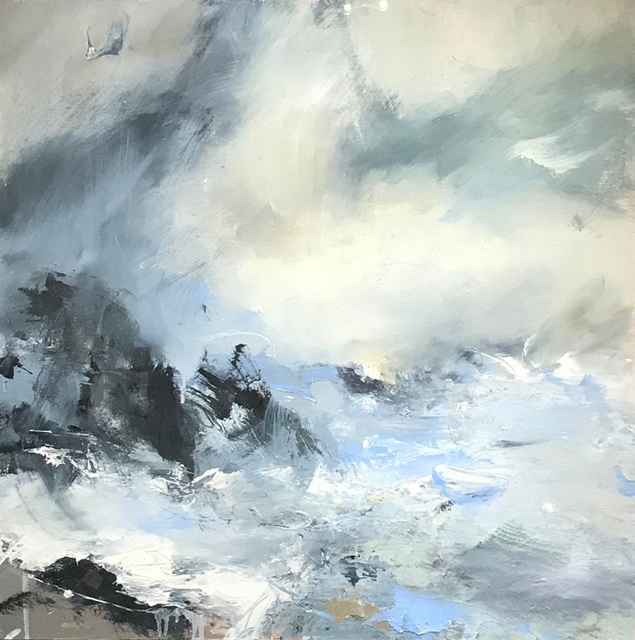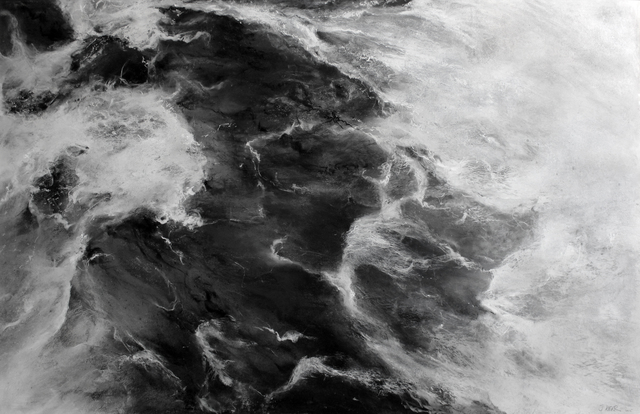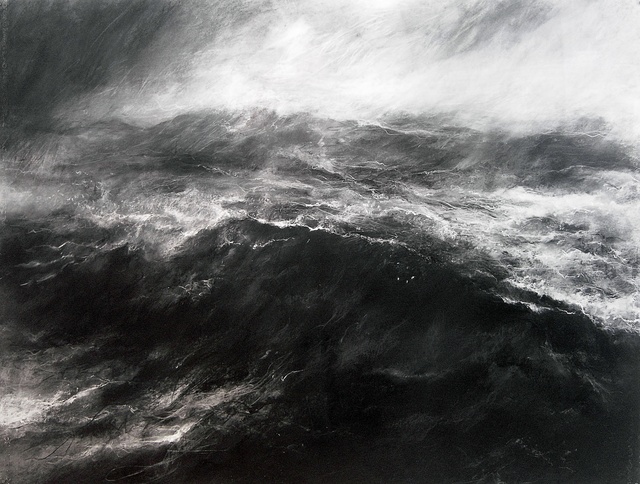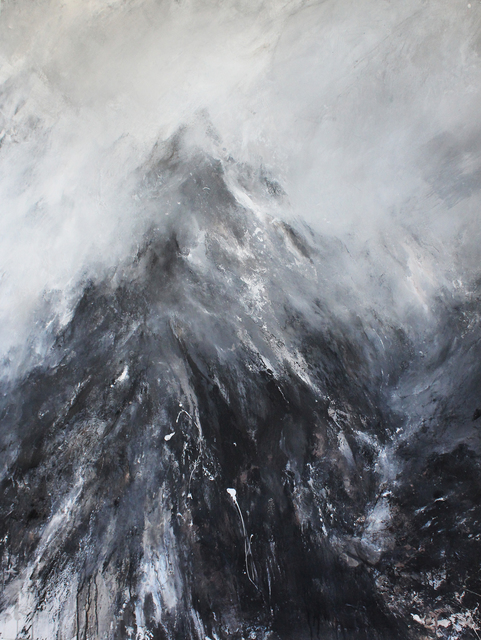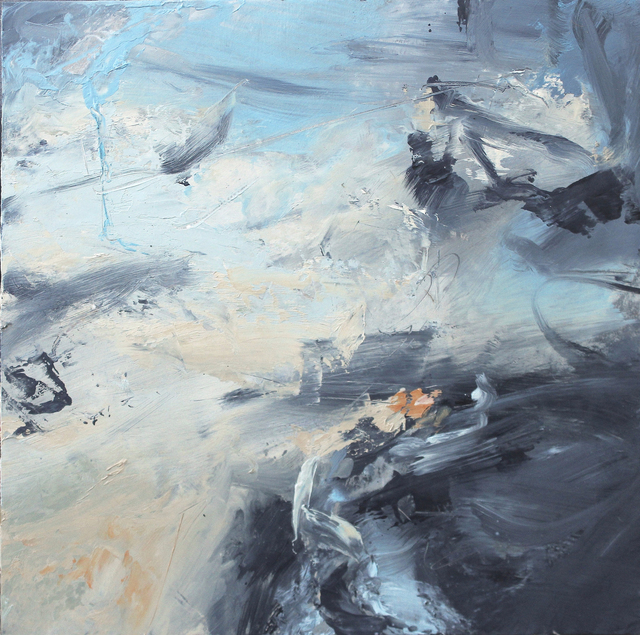 Press Release
NORTH
Janette Kerr
New work from Shetland to Svalbard
Saturday 10 March to BH Monday 7 May 2018
Janette Kerr Talk: Friday 20 April 6.30pm Tickets: £10 or £25 with dinner to follow.
Janette Kerr is the ultimate sea painter. Her bold expressive exploratory work begins outside with the salt in her paint and the sea heaving and crashing around her, the wilder the better. Not only will she be there on the rocks or in a boat painting and drawing, responding directly to the elements, she will also have studied the archives and talked with the locals, looking for the stories of people who have lived, fished, explored or even died there. For an artist who works alone in her studio or on site, she is also exceptionally collaborative, working on projects with environmentalists, oceanographers, scientists and other artists to enrich her active engagement with the places she paints.
Back in the studio she has time to gather all these ideas and feelings together, combining them with the energy she captures in her studies en plein air, to create much larger drawings and oil paintings. The powerful works that result combine a Romantic experience of the sublime – both terrifying and thrilling – with exploratory contemporary abstraction. She moves between the representational and the abstract, her work underpinned with exceptional drawing skills. Janette's relish for the physical process of drawing and painting can be felt in the dynamic quality of her marks and brushstrokes. The exhibition includes three spectacular large graphite drawings as well as oil paintings and the outdoor studies.
In 2016 Janette Kerr sailed in a tall ship from Svalbard in the Norwegian High Arctic to experience the vastness of mountains and glaciers appearing and disappearing in flowing mist, the darkness, the cold and the silence, interspersed with the massive crashes of glaciers calving followed, after a pause, by the sea's dramatic response. The boat sailed close to the glaciers on areas of the map marked as solid ice.
The Arctic work in this exhibition is a response to that experience as she grapples to express the fear and the majesty of the place. Janette's brushwork is loose and expressive, capturing the essence of constant change in a place where everything is moving and time takes on a whole new meaning. Glaciers thousands of years old are melting. Mountains revealed through the mist may never been seen before. The newly exposed land should be pristine, but there is rubbish. Where there should have been snow, there was rain. This uncomfortable C21st twist on our relationship with nature has to be part of any artistic response to the Arctic.
Janette's studio is safe in the West Country near Bath but between residencies and trips she divides her time between the studio here and Shetland, 200 miles north of Aberdeen and west of Bergen, Norway. She has been going to Scotland for a long time. Her ancestors were Scottish and she was always drawn to the Shetlands. Since 2012 she has had her own bothy there where she goes regularly to paint.
In 2012 she took up a residency with the Meteorological Institute and the Marine Research Centre in Bergen. The Oceanographers are concerned with the study of the unpredictability of waves and wind and the constantly shifting surface of the sea. Working with them affected the way Janette looked at the sea. Her Shetland paintings are about movement and rhythm of sea and wind, welling and breaking waves, merging of spray with air, advancing rain and mist, shafts of sunlight, peripheries, promontories, exposed headlands, edges and ledges. Add to this Janette's profound intellectual and emotional understanding of her subject matter, her instinct to embed herself in the landscape both physical and cultural and the rich depth of these paintings begins to be explained.
Janette Kerr has a PhD in Fine Art. She is an Honorary Royal Scottish Academician, Past President of the Royal West of England Academy of Art and a Visiting Research Fellow, Fine Art, UWE Bristol. She has a long-standing history of showing work, exhibiting regularly across the UK and abroad. Her work is held in national and international collections. She has worked on residencies in Somerset, Wales, Ireland, Shetland, Norway and Svalbard. She has curated high profile exhibitions and accompanying programmes and has a strong track record of initiating/working collaboratively on successful projects with funding - most recently a Creative Scotland funded collaborative project, Confusing Shadow with Substance, on Shetland. This film installation includes the line which touches on the theme of so much of Janette's work: 'The interplay between that which is gone, that which remains and that which drifts between the two.'
Janette's new work will be shown alongside the furniture of award-winning Norwegian designer craftsman, Petter Southall. Petter's family come from the fjords around Bergen. His furniture designs are inspired by the traditional boats he made as a young man in Norway to designs that reach back to the Bronze Age. Since 1991 he has been making his distinctive furniture at his studio outside Bridport. He makes his designs by hand using an innovative combination of traditional Norwegian boat-building and fine cabinet-making techniques. Petter's designs have a distinctive Scandinavian confidence and simplicity. He finds unique and beautiful pieces of oak, ash, elm and other Northern European hardwoods, often using wood sourced from the local area to a commission. He specialises in steam bending thick solid boards into the arches, twists, curves and rings so striking in his designs. His work is built to last, using through-joinery and as little glue as possible. Finished with natural oils and tactile textures, his furniture brings pleasure every day to the home, work place or public space.
Commissions include the directors' dining room at the National Gallery, the boardroom for Barbican Art Gallery, reception and boardroom furniture for companies and corporations in London and Norway as well as for the Bridport Town Hall and most recently a large sculptural piece called The Enlightenment Wall for Bridport's newly refurbished Literary and Scientific Institute. He has made public art seating for Cambridge Science Park, the Wessex Ridgeway Sculpture Trail, Sanctuaries for Newton Abbott and Minehead Hospitals & the Macmillan Garden at Hereford Hospital, and his many private commissions are in houses and offices worldwide.
Sladers Yard
Contemporary British Art, Furniture and Craft Gallery
Licensed Café and Live Evening Events
West Bay Bridport Dorset DT6 4EL
Open: Monday to Saturday 10am – 4pm, Sundays and Bank Holidays 12 – 4pm
For more information or pictures please contact Anna Powell t: 01308 459511
e: gallery@sladersyard.co.uk
www.sladersyard.co.uk
Follow Artists In This Show