STILL LIGHT new paintings by Alex Lowery, soda-fired porcelain by Jack Doherty, steam bent furniture by Petter Southall
An exhibition of simple yet sophisticated forms in minimal yet luxurious colours and textures. All three artists in this show are masters in their artform. All three eliminate fuss and unnecessary detail to reach the essence of timeless, intelligent and irresistible work.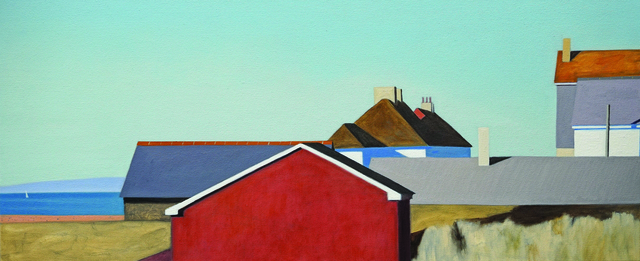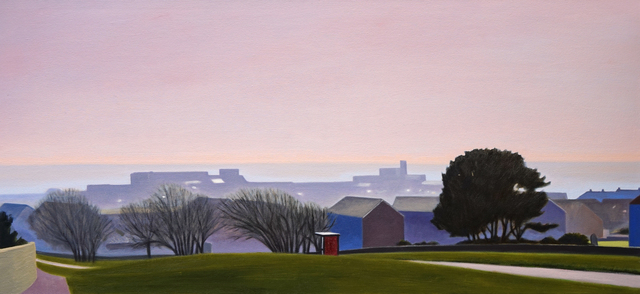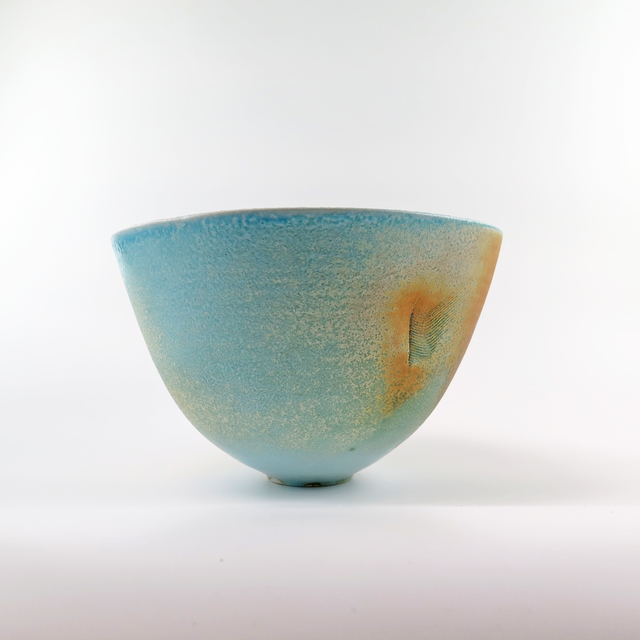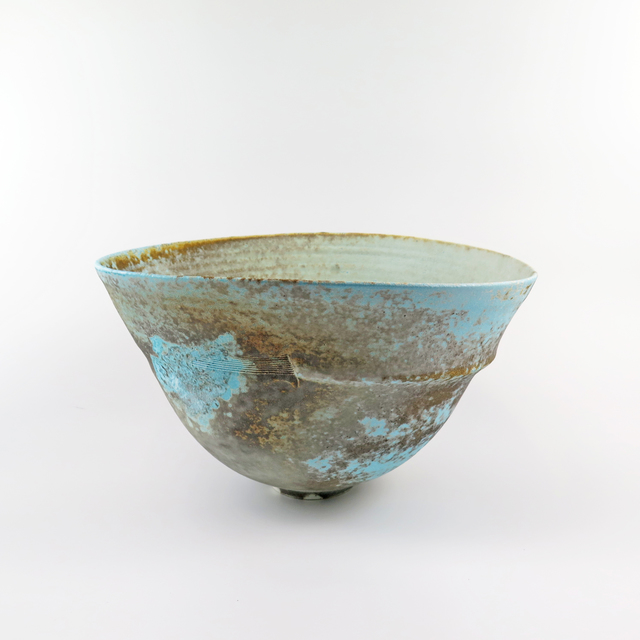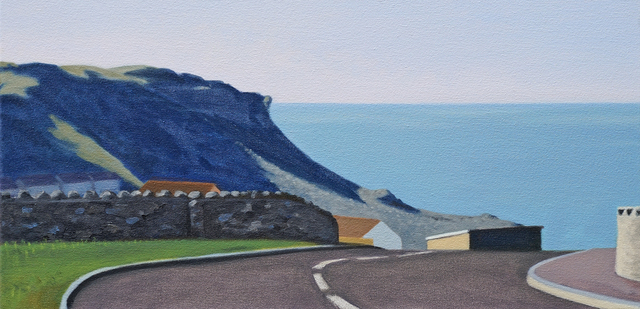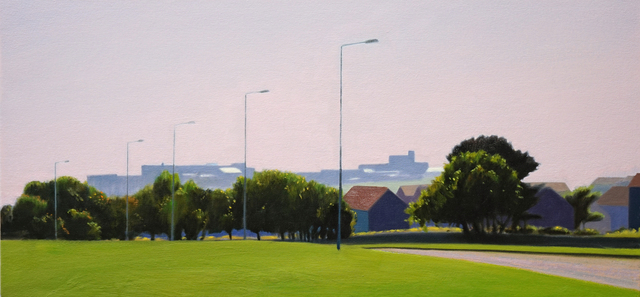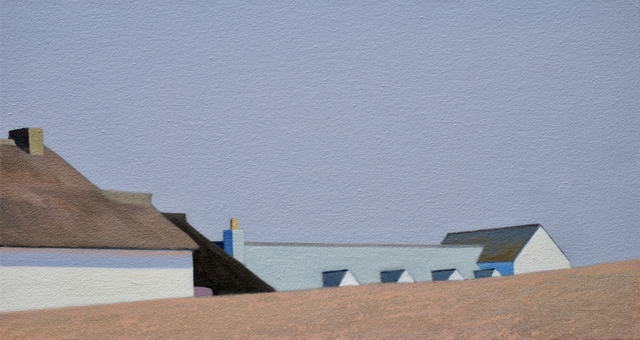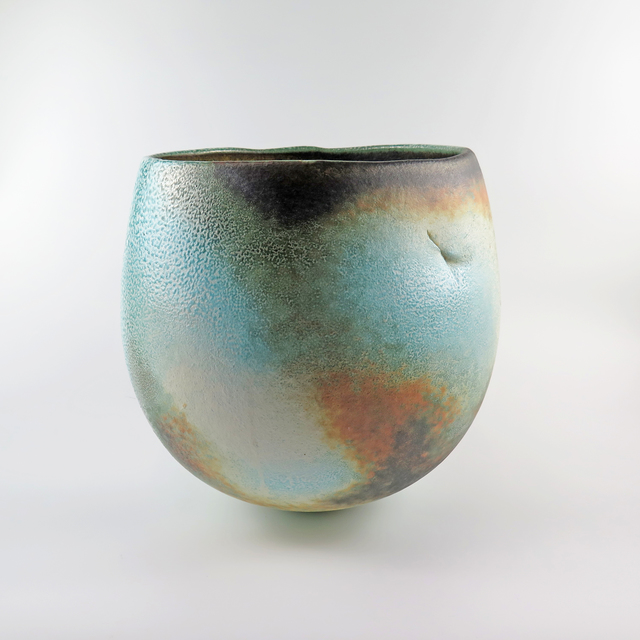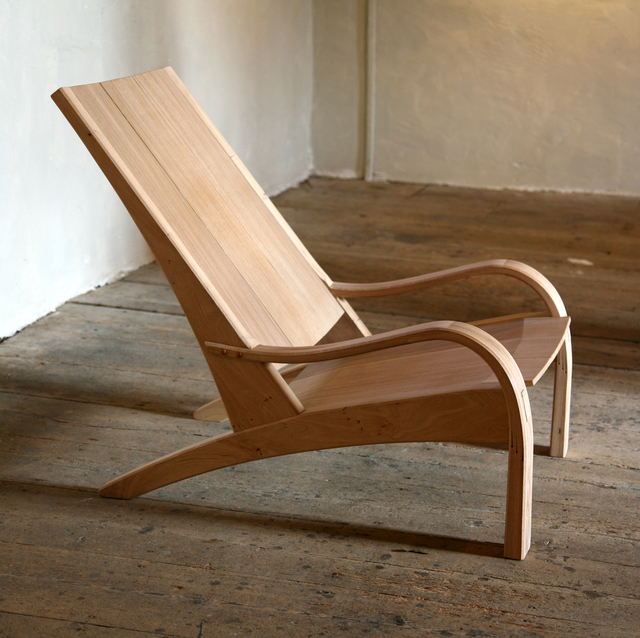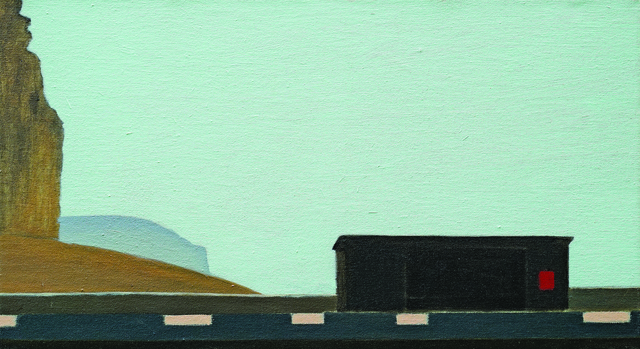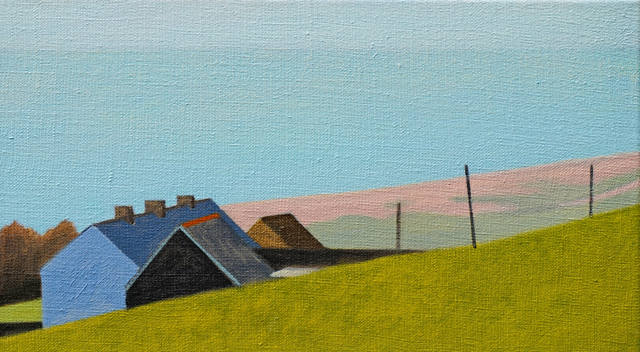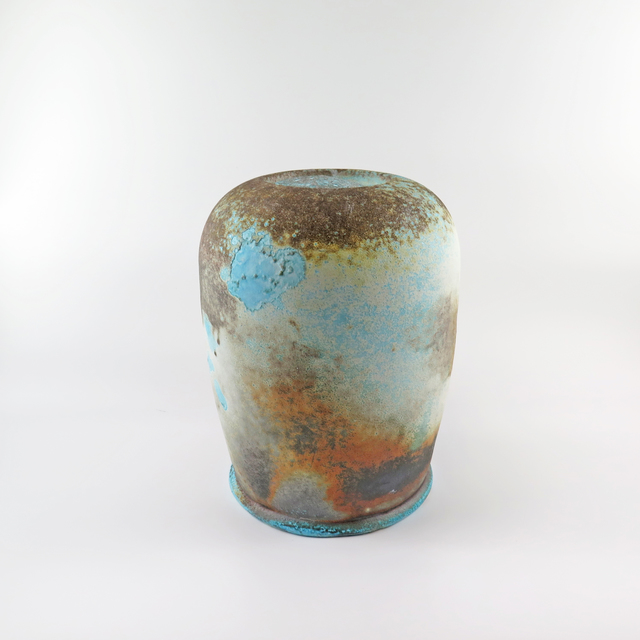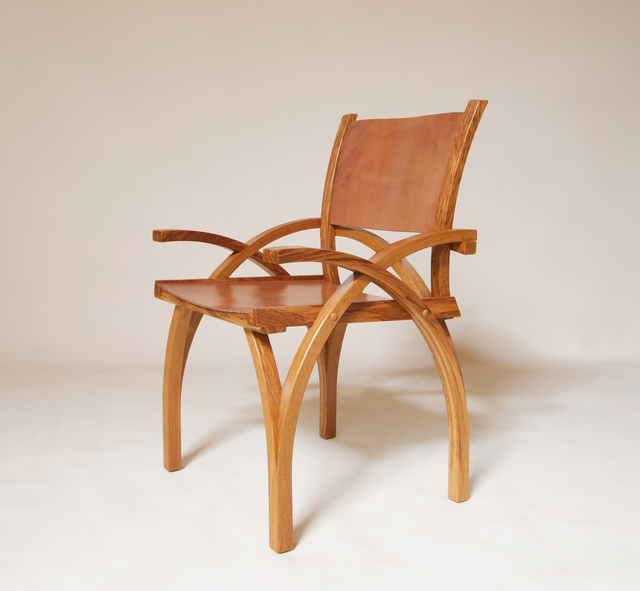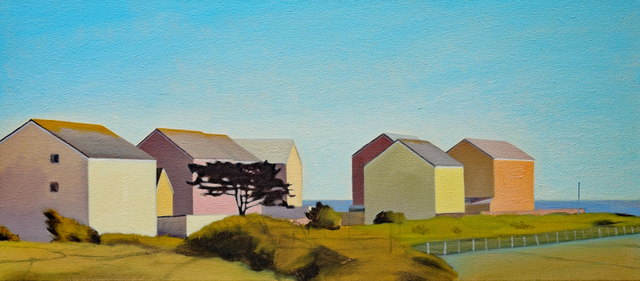 Press Release
STILL LIGHT new paintings by Alex Lowery, soda-fired porcelain by Jack Doherty, steam bent furniture by Petter Southall
Continues until Sunday 16 September 2018
Over the summer Alex Lowery fills Sladers Yard with his luminous paintings of West Bay, the Chesil beach and Portland. This is his fifth solo show here in the harbour at West Bay that has inspired so much of his work over many years. Alongside the paintings, showing for the first time at Sladers Yard, is the eminent ceramicist Jack Doherty whose timeless porcelain pots are soda-fired and glazed with copper to give astonishing turquoise colours and beautiful textures. The furniture of Petter Southall completes the exhibition of sophisticated simple forms in luxurious but minimal colours and textures.
All three artists are masters in their artform. All three eliminate fuss and unnecessary detail from their work to reach the essence of timeless, intelligent and irresistible pieces. Using repeating forms whether they are rows of bollards in a painting, or a repeated curved component in a chair or a shape in a row of vessels, creates a strong simple statement in the work of all three.
No-one seems to capture the breath-taking light of the Chesil beach like Alex Lowery. Often focusing on unnoticed buildings seen from unusual angles, his eye and his paintbrushes transform the places we think we know – or should know. Low mist over Portland, a line of lampposts, shingle piled up in front of buildings, these are the simple-sounding things that catch his imagination and that catch ours, thanks to him. From West Bay to Portland via a new series called Chesil, his work seems to distill place and light over time into something potent and seriously addictive.
Lowery's most recent paintings reveal an artist who is absolutely confident with colour. Daring unexpected combinations feel deeply satisfying, like a line of poetry that expresses something not put into words before. His colours and all aspects of his paintings stem from observation, relating back to the real world as he has seen it. Unpeopled, but full of the evidence of people, these intriguing paintings play in the mind. They are beautifully structured to take the eye on an exploratory route around and through the image, using contrasts from foreground to background, rough foliage and the flat planes of buildings to clear sea and sky, the present to the infinite. Taking transitional edgy places and throwing radiant light on them, Alex Lowery's paintings improvise and abbreviate to find and capture something exceptional.
Born 1957 in London, Alex Lowery studied at Bath Academy, Sir John Cass School of Art and the Central School of Art in London. He has painted and shown regularly in Dorset and London since 1994. He exhibited for many years with Art First in London and has shown at the Estorick Collection and at Browse and Darby. His work is in many distinguished private collections as well as the Dorset County Hospital Art Collection, Great Ormond Street Hospital, St George's Hospital Tooting and the Fidelity International Art Collection. He lives in Charmouth with the artist Vanessa Gardiner.
A highly eminent ceramicist whose work shows nationally and internationally, Irish potter Jack Doherty lives and works from his home and studio in Mousehole, Cornwall, overlooking the sea. He makes porcelain vessel forms that are thrown on the potter's wheel then carved and shaped when the clay is soft to reflect the fluidity of the material and physicality of making. The elemental colour and surface texture are created by the fusion of fire and soda in the intense heat of the kiln, leaving behind a subtle palette of smoky grey, lemon, russet and turquoise.
Over the years his working practice has become simpler and more refined in the belief that stripping away the unnecessary can produce work of complexity and depth. He works in one clay, one colouring mineral and a single firing with sodium bicarbonate. Jack's pots are not glazed in a traditional sense. A smooth thin layer of liquid porcelain slip containing copper carbonate, as a single colouring material, is applied to the thrown and altered forms before firing. The copper mineral produces the characteristic blue and turquoise colours particularly associated with Jack's work.
Soda firing is a mix of chemical reactions and personal alchemy. Sodium bicarbonate dissolved in water is sprayed into the kiln at high temperature. The vapour reacts with elements in the clay during the white heat of the firing to create a rich patina of surface texture and colour. For Jack the kiln is both a practical tool and a creative space. His family groupings of vessels show how objects in a confined space develop dynamic relationships during the firing.
'The ceramic forms I enjoy most are often simple shapes that come from pre-history. Vessels and containers that in their time were essential to survival, storing food and keeping people safe in this world and beyond. My visits to Japan have shown me something of the immense diversity of contemporary ceramics practice but have also enriched my understanding of how traditional and spiritual values can be inspirational in a changing technological world.' – Jack Doherty
Born in Co Derry, Jack Doherty studied at the Ulster College of Art and Design in Belfast deciding he wanted to make pots for a living after a visit to Lucie Rie's studio. He worked at Kilkenny Design Workshops before establishing his first studio in Co Armagh and then relocating to Herefordshire. From 2008 – 2013 Jack was the first lead potter and creative director of the refurbished Leach Pottery in St Ives, Cornwall.
In 2016 he received the Janet Mansfield Memorial Award in recognition of his work with soda-fired porcelain. He currently works independently from his home studio in Mousehole and is resident potter at the Newlyn School of Art where he fires his gas kiln.
Jack Doherty has done much to promote and raise the profile of contemporary ceramics through lecturing, writing, curating exhibitions and organising conferences. He is a fellow and former Chair of the Craft Potters Association of Great Britain and was a founder member and Chair of the organising committee of Ceramic Art London for twelve years. He has been guest editor and a consultant to Ceramic Review magazine. His book, Porcelain, was published in 2002 by A&C Black. Most recently Jack has enjoyed travelling to Japan, China and Taiwan where he was invited as artist in residence and showcased his work at the Mashiko Museum of Ceramic Art and Fuping Pottery Village, Xi'an.
He has an international reputation as a ceramic artist. His work is in many public collections including the Irish Contemporary Ceramics Collection at the Hunt Museum, Limerick; the National Museum of Ireland, Dublin; the Ulster Museum, Belfast; Potteries Museum, Stoke-on-Trent; Liverpool Museum; Cheltenham Museum; Castle Museum, Nottingham; Mashiko Ceramics Museum, Japan and Princeshof Ceramics Museum, Netherlands.
Award-winning designer craftsman, Petter Southall, has been making his distinctive furniture at his studio outside Bridport since 1991. He makes his designs by hand using an innovative combination of traditional Norwegian boat-building and fine cabinet-making techniques.
Petter Southall's designs have a distinctive Scandinavian confidence and simplicity. He works in unique and beautiful pieces of oak, ash, elm and other Northern European hardwoods, often using wood sourced from the area local to his clients. He specialises in steam bending thick solid boards into the arches, twists, curves and rings that are so striking in his designs. Finished with natural oils and tactile textures, his furniture is made to be used, bringing pleasure every day to the home, work place or public space.
Commissions include the directors' dining room at the National Gallery, the boardroom for the Barbican Art Gallery, reception furniture for 2 Temple Place, a number of London corporations, Eidesvik shipping company, Norway, and more locally Bridport Town Hall and a permanent installation at the Bridport LSI. Public art seating commissions include Cambridge Science Park, Wessex Ridgeway Sculpture Trail, Sanctuaries for Newton Abbott and Minehead Hospitals & the Macmillan Garden at Hereford Hospital. Petter's work is in many private houses and offices throughout Britain, Italy, Norway and in USA.
After a peripatetic childhood, Petter studied traditional wooden boatbuilding in his native Norway both as an apprentice and at boatbuilding college. In a museum-lead programme to save the design, he was one of eight boatbuilders taught to build the Oselvar Færing by the last two members of the traditional family. Petter still sails his first Oselvar, an open sailing/ rowboat known as the Stradivarius of the sea, and voted Norway's national boat in 2009, from West Bay harbour.
In 1984 Petter went to the College of the Redwoods in California to study cabinetmaking with James Krenov, acclaimed as 'the intuitive cabinetmaker'. In 1989 he came to UK to study sustainable design in wood at John Makepeace's forward-looking Hooke Park College. His first commission was a dining room for Dame Elisabeth Frink and he has gone from there, making for private, public and corporate clients. He started his studio i tre – Norwegian for 'in wood' – in 1991 and has trained numerous apprentices to high levels of skill. From 2001-4 Petter's i tre Gallery was on Pimlico Road, Belgravia. In 2006 he and his wife Anna Powell opened Sladers Yard in West Bay Dorset, now a highly respected art gallery, showroom and award-winning licensed café.
Sladers Yard
Contemporary British Art, Furniture and Craft Gallery. Licensed Café. Live Evening Events.
West Bay Bridport Dorset DT6 4EL Open: Mon to Sat 10am – 4.30pm, Sun and BHols 12 – 4.30pm.
For more information or pictures please contact Anna Powell t: 01308 459511 e: gallery@sladersyard.co.uk
Follow Artists In This Show