STOA
Art New York 2017
Stoa presents a project based on three representative artists of the gallery, sculptures of the French artist Eric Aman, abstracts paintings of the Mexican artist Astrid Sommer, and paintings of figurative urban landscapes of the Spanish artist Conchi Alvarez. All of them very rec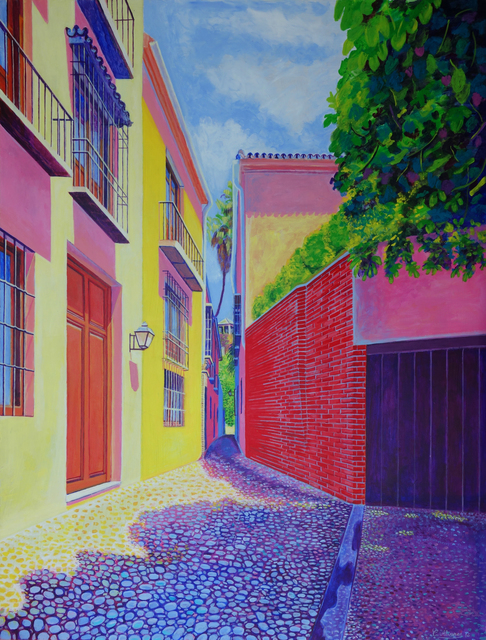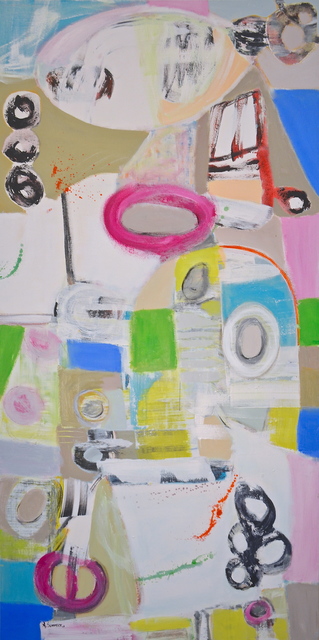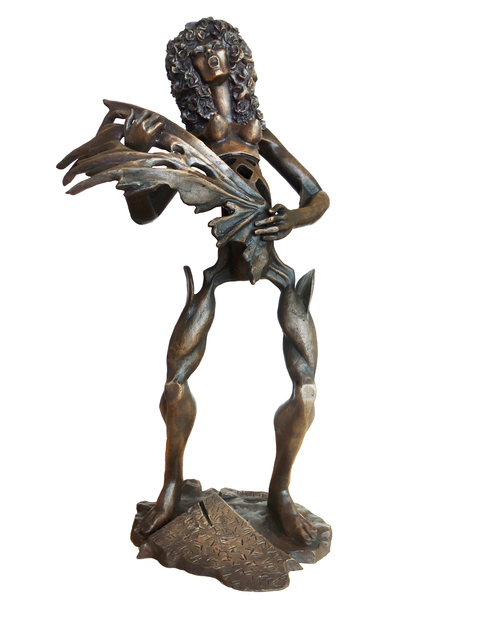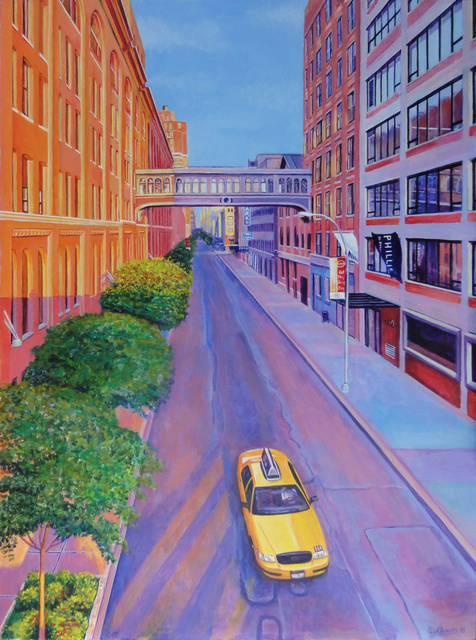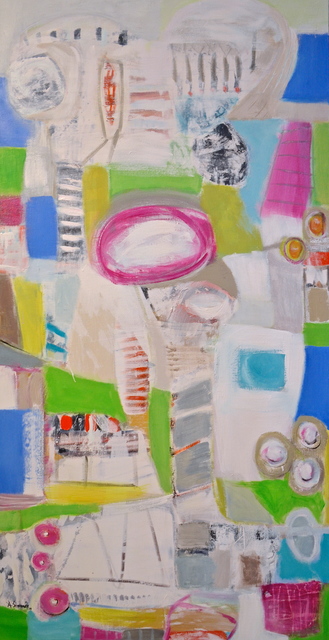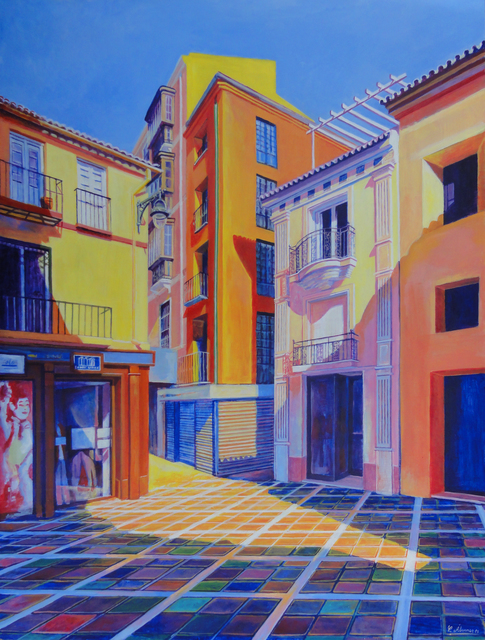 Press Release
ABOUT WORKS OF ERIC AMAN TO BE EXHIBITED IN ART NEW YORK 2017
We present the new series in which the French sculptor, now living in Spain, Eric Aman, is working on. The original idea comes from the book "Iconology" by Cesare Ripa, the great classic of the seventeenth century on the theory of images, essential to enter the world of allegories, as well as the reason of the images in a determined context. Eric takes Ripa´s text as a starting point to elaborate his own mythology, in which anthropomorphic beings represent concepts, states of mind, virtues, vices, passions...
For Ripa, any allegory must be enigmatic, and it should not be easily understood. Faithful to that advice, Eric endows his works with enigmatic letters and signs. Therefore they are epigraphic sculptures in which they appear with incised letters and signs of ancient alphabets not deciphered, or legible, like the Iberian or the Etruscan, whose reading is possible, but not its translation. As Ripa used for his book numerous sources of information, emphasizing the classic mythology, Eric recurs to multiple channels, product of his formation, eminently classic. Sculptor trained in France first, in the principles of French classicism, later he completed his training in Italy, country where he lived for 17 years and where he still has a workshop in Carrara. All this flow of influences is synthesized in this series.
ABOUT WORKS OF ASTRID SOMMER TO BE EXHIBITED IN ART NEW YORK 2017
Mexican abstract artists, the titles of her paintings are a bunch of abstract concepts: "Impulse", "Distinction", "Visceral"... Surely the work of Astrid belongs to abstraction, to the most elegant, optimistic and colorful. In it the "vibration of the soul" is perceived, without which, Kandinsky said, the work cannot be produced. And there it is, in each painting, a reflection of the most intimate Astrid, confirming another statement from the great master of abstraction, "the spirit of each artist is reflected in the form. The form bears the stamp of the personality". Astrid herself states that colors have an emotional meaning and it is easily noticeable. We are looking at a great example of subjective abstraction... and poetic. Because, as another artistic poet states, Ai Wei Wei, "(...) the poetry serves to keep our intellect in the previous state to rationality. It takes us to a pure sense of contact with our feelings". And this is precisely what we have with Astrid´s paintings, pure feeling. But not the expression of feelings "as experienced in real life, but those feelings imaginatively lived, in that level where reality and unreality merge". The feeling of the artist is, no doubt, in a work she claims to gestate in a fun and spontaneous way, hoping it will be the personal experience of each one, their personal baggage, which guides the reading of her acrylics. She yearns for each piece to communicate with the viewer, to "say" something without being mediated, appeal to the ability of each eye to interpret and find out what happens in each canvas and, better yet, what it provokes in each one. There is no conceptual basis to guide the work, because she is not a fan of explanatory texts but, although the titles are of a calculated vagueness, she cannot help but bring with them significant clues that, like it or not, will affect that particular and nontransferable immersion. Many artists are not interested in what their work may provoke in the viewer. This is not the case. For Astrid, to know what impressions, ideas or feelings her paintings have provoked, becomes essential.
ABOUT WORKS OF CONCHI ALVAREZ TO BE EXHIBITED IN ART NEW YORK 2017
Artist from Spain. She belongs to figurative painting, full of vibrant color and powerful. The urban landscape is particularly relevant in her production, consolidating a series that the artist calls "Urban Daydreams". An urban landscape, its own, with sharp features, setting her own stamp where the vibrant colors flood each work, applied with loose brushstrokes and using many glazes, often painted with fingers. Saturated colors bathed in a light so powerful, that one can only speak of "Southern Mediterranean Luminism". The journey can not be more subjective, just through the loved cities, cities where the artist takes long walks to live and feel the city. It is never the city, but "her" city, and always the old town where urban history is concentrated, where many essences and experiences that explode in her paintings, overlap, in layers, in a metamorphosis of color that does not affect the forms, because the corners and streets can be easily recognized. Moments and lonely spaces, without people, but full of that humanity that seems to have lived it, just waiting to be revealed to the artist. With her camera, she is able to retain the precious moments in all its details, photographed moments of inestimable help, no doubt, to recall later in the study, all that experience, all the magic that wrapped this moment of seduction between the city and artist. Surely it is no coincidence the author's passion for archeology to understand the creative process of "urban itinerary", spaces full of immeasurable code of shapes, lights and colors only accessible and interpretable by its discoverer that, layer to layer, unravels, studies …"Urban Itineraries", perhaps vital itinerary, because the gaze of the artist toward the city becomes a mirror of her own existence, or of her own desire, returning to her a more friendly and beautiful image, the more optimistic, the bottle half full.
Follow Artists In This Show