STOA
Art New York 2018
STOA proposes a project based on 4 artists represented by the gallery: Sculptures of the French artist Eric Aman, and paintings of 2 artists from Spain, Paz Aymerich and Conchi Alvarez, and the Mexican artist Astrid Sommer.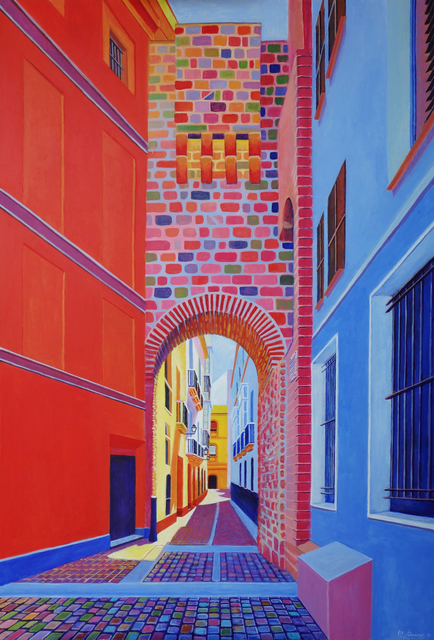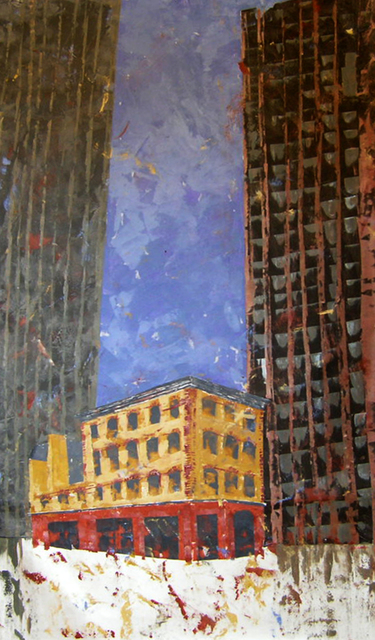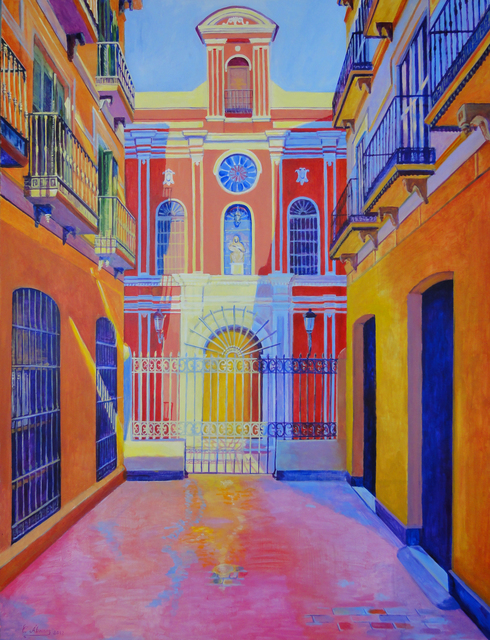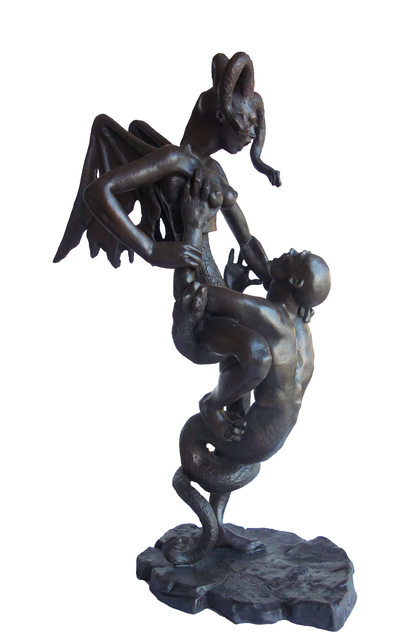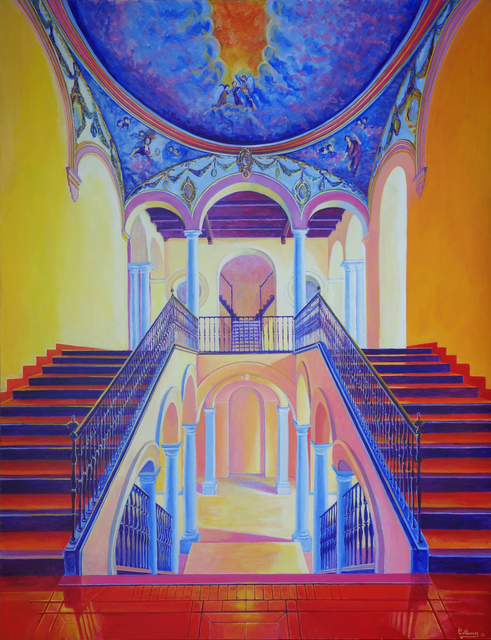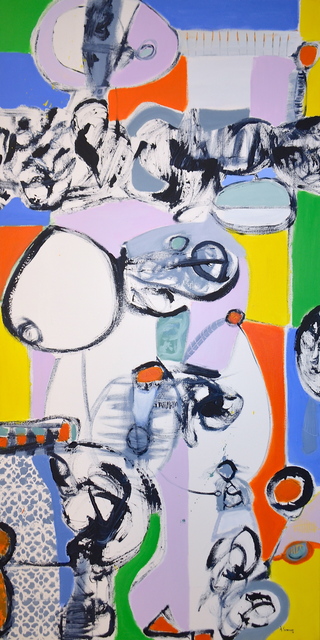 Press Release
Artist: ASTRID SOMMER
Title: Zandunga
Year: 2018
Technique: acrylic on canvas
Measures: 183 x 92 cm/72¨X 36¨
The title, Zandunga, is a popular dance, typical of the Mexican states of Chiapas and Oaxaca, and of Guatemala; It is characterized by being very ceremonial. Astrid describes this dance in her characteristic abstract language. Indeed, this is the way this Mexican painter of German origin use of signs and shapes in which the "vibration of the soul" is perceived. The work of Astrid belongs to abstraction, to the most elegant, optimistic and colorful. The feeling of the artist is, no doubt, in a work she claims to gestate in a fun and spontaneous way, hoping it will be the personal experience of each one, their personal baggage, which guides the reading of her acrylics. There is no conceptual basis to guide the work, because she is not a fan of explanatory texts. She yearns for each piece to communicate with the viewer, to "say" something without being mediated, appeal to the ability of each eye to interpret and find out what happens in each canvas and, better yet, what it provokes in each one.
About represented artist Astrid Sommer:
Born in México City, where she gets a bachelor's degree in advertising and studies plastic arts with Alfredo Nieto. In 1996 participates in her first group show in the I.M.S.S. That same year she moves to Guadalajara, Jalisco, where she participates in the etching atelier of Cornelio García, and learns drawing with José Fors. In 2009 she returns to México City where she lives and works now. She has participated in more than 50 group and solo exhibitions in México as well as abroad. She works with STOA Gallery since 2014.
Artist: PAZ AYMERICH
Title: I´m here 1
Year: 2018
Technique: acrylic on canvas
Measures: 183 x 92 cm/72¨X 36¨
This work belongs to the series in which this Spanish artist is working at this moment, about the disappearance of the small buildings in the big cities, engulfed by the skyscrapers. The growth of cities in recent times, and the disappearance of neighborhood urban life, in which neighbors know each other, talk to each other, communicate, give way to isolate, in communication, selfishness and the loss of quality of life. That's why the small buildings that see how the big ones invade their space, projecting their long shadow over them denounce in the paintings of Paz their disappearance.
It is a beautiful and a silent vision of the great city but we perceive its human heart beat, its essences, nearly its interior hubbub, but there is no one visible. It is a bespoke world in which every single spectator gives every sight of oneself provoking a different sensation. She is able to get tangible atmospheres in which you can predict the dialogues, murmurs, laughs, tears... horizons with silhouettes of a forceful plasticity that become the ownership identity of each city.
About represented artist Paz Aymerich:
Spanish artist, her academic training was in Fine Arts and Interior Design. She has worked first as an Interior designer. She works with the STOA Gallery since 2006. The urban landscape is the protagonist of her paintings. She was born in Madrid and lives and works in that city. The dialogue between them, the city and Paz, is notorious, and she becomes the interpreter of those conversations. Paz´s paintings provoke a very strong impression. It seems that our eyes are before an integral nude, a nude from the soul, a pure interior world. Her cityscapes reflect her vision of life: lover and friend of people, her friends, but afraid of people, even though when she needs them.
Artist: ERIC AMAN
Title: Gorgon
Year: 2018
Technique: Lost wax bronze. Unique piece
Measures: 55 x 15 x 25 cm/ 21,6¨x 6¨x 9,9¨
This sculpture belongs to the new series in which the French sculptor, now living in Spain, Eric Aman, is working on. The original idea comes from the book "Iconology" by Cesare Ripa, the great classic of the seventeenth century on the theory of images, essential to enter the world of allegories, as well as the reason of the images in a determined context. Eric takes Ripa´s text as a starting point to elaborate his own mythology, in which anthropomorphic beings represent concepts, states of mind, virtues, vices, passions...For Ripa, any allegory must be enigmatic, and it should not be easily understood. Faithful to that advice, Eric endows his works with enigmatic letters and signs. Therefore they are epigraphic sculptures in which they appear with incised letters and signs of ancient alphabets not deciphered, or legible, like the Iberian or the Etruscan, whose reading is possible, but not its translation. As Ripa used for his book numerous sources of information, emphasizing the classic mythology, Eric recurs to multiple channels, product of his formation, eminently classic.
About represented artist Eric Aman:
French artist born in Argelia. She is a professional sculptor and painter. He lives and works between Spain and Italy. Sculptor trained in France first, in the principles of French classicism, later he completed his training in Italy, the country where he lived for 17 years and where he still has a workshop in Carrara. Represented by STOA from 2014. He has an extensive curriculum and important awards.
Artist: CONCHI ALVAREZ
Title: CAI
Year: 2017
Technique: Acrylic on panel
Measures: 100 x 75 cm/39,4¨x 29,5¨
The title is the name of the city of Cadiz (South of Spain) pronounced by their habitants, "Cai".
This work is part of one of the most prolific pictorial series of this artist that she has called
"Urban Daydreams". A subjective journey , just through the loved cities where the artist takes long walks to live and feel the historic city. This work reflects one of the most beautiful and suggestive corners of Cadiz, the oldest city in Spain, founded by the Phoenicians and a meeting of civilizations for centuries. Moment and lonely space, The Arch of The Rose, without people, but full of that humanity that seems to have lived it, just waiting to be revealed to the artist. Surely it is no coincidence the author's passion for archeology to understand the creative process, spaces full of immeasurable code of shapes, lights and colors only accessible and interpretable by its discoverer that, layer to layer, unravels, studies …"Urban Itineraries", perhaps vital itinerary, because the gaze of the artist toward the city becomes a mirror of her own existence, or of her own desire, returning to her a more friendly and beautiful image, the more optimistic.
Artist: CONCHI ALVAREZ
Title: Abadía de Santa Ana. (St. Anne Abbey)
Year: 2012
Technique: Acrylic on panel
Measures: 130 x 100 cm/51,2¨X 29,5¨
The title is the name of the one catholic church of the XVII Century, in the city of Malaga, belonging to the Cister order. This painting is part of the series "Urban Daydreams". A subjective journey, just through the loved cities where the artist takes long walks to live and feel the historic city. This work reflects one of the most beautiful and suggestive corners of Malaga, a city in the South of Spain. Moment and lonely space, small street facing the façade of the abbey, without people, but full of that humanity that seems to have lived it, just waiting to be revealed to the artist.
About represented artist Conchi Alvarez:
Artist from Spain. Her academic and professional training was in Ancient History and Archaeology. She has worked as an Art History Professor, later, she changed, professionally speaking, in the Art World. She lives and works in Spain. Represented by STOA Gallery since 2006. She has made numerous solo exhibitions, and has also exhibited in many international art fairs such as Art New York (USA), Scope Miami (USA), Scope Basel (Switzerland), LA Art Show (USA), KIAF (Seoul, South Korea), Art on paper New York (USA), Art Marbella (Spain), Art Zurich (Switzerland).
Follow Artists In This Show