Liberation/ Revelation/ Representation: The art of Bhupen Khakhar
Mundane realities of the everyday and personal fantasies fuse to form an inimitable language unique to the artist. Large parts of his works are confessional and autobiographical making it progressive, controversial and cathartic. Elements of kitsch make his art relatable to the
Mar 12th – May 15th
Noida, D-85, Sector-2, Vyapar Marg, Noida
Map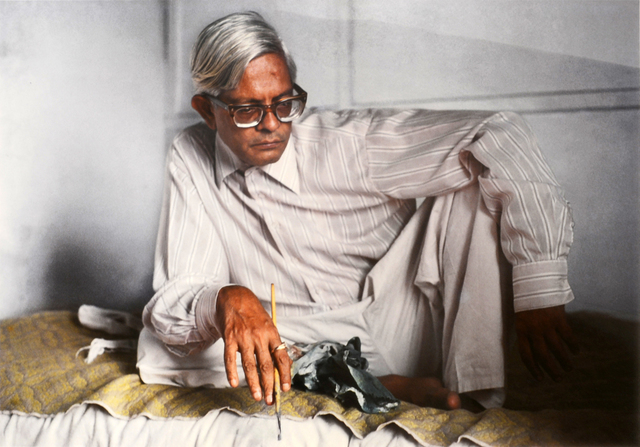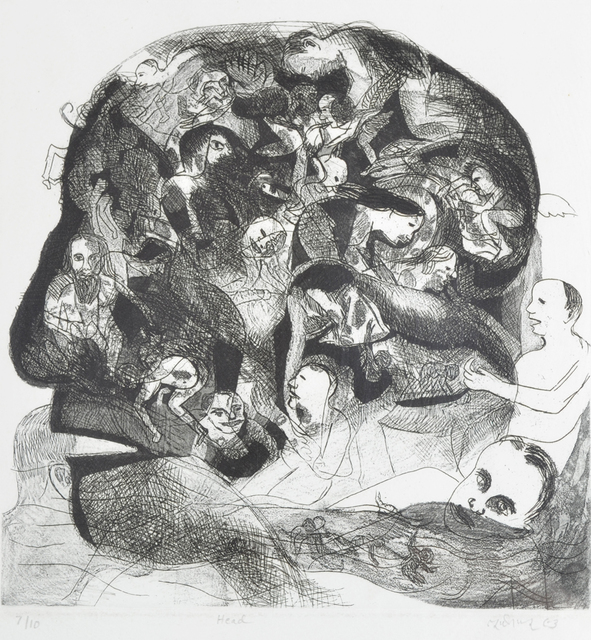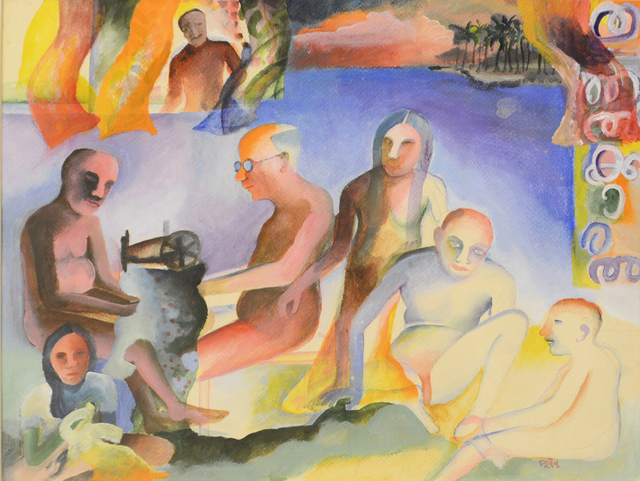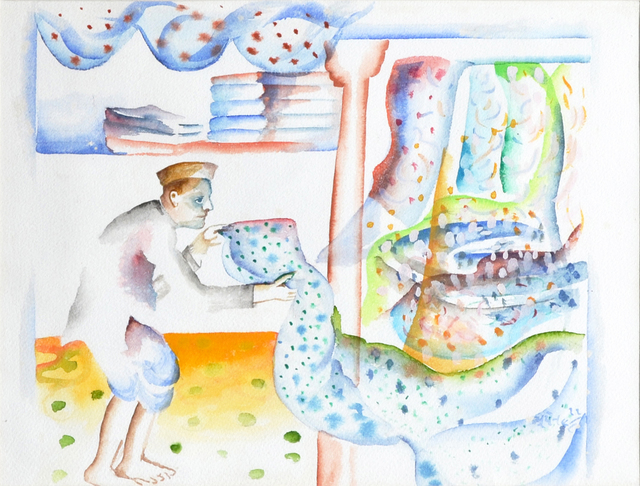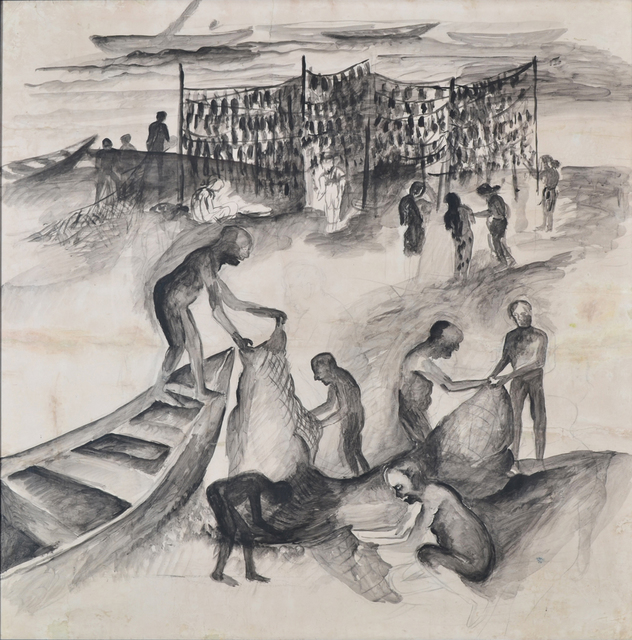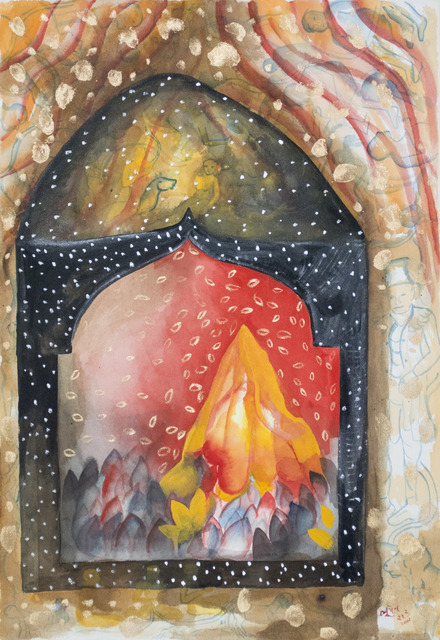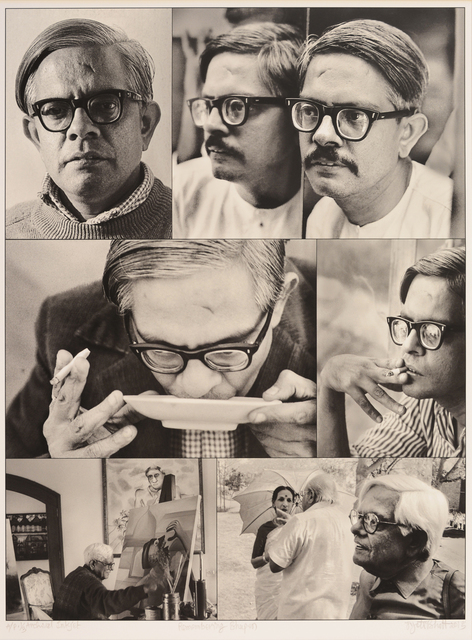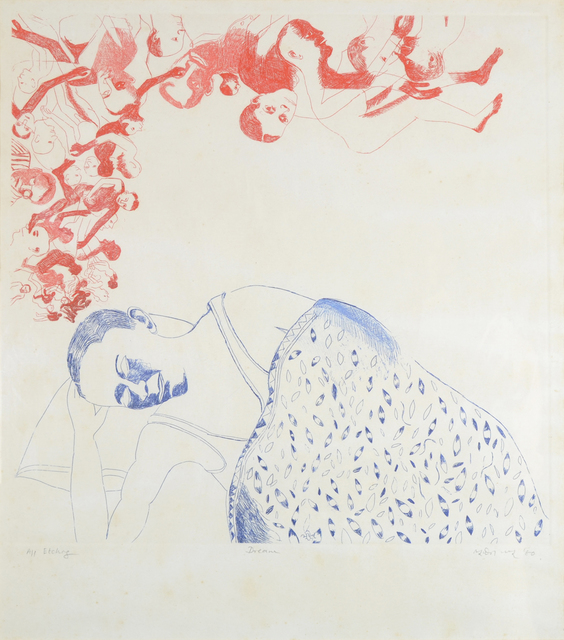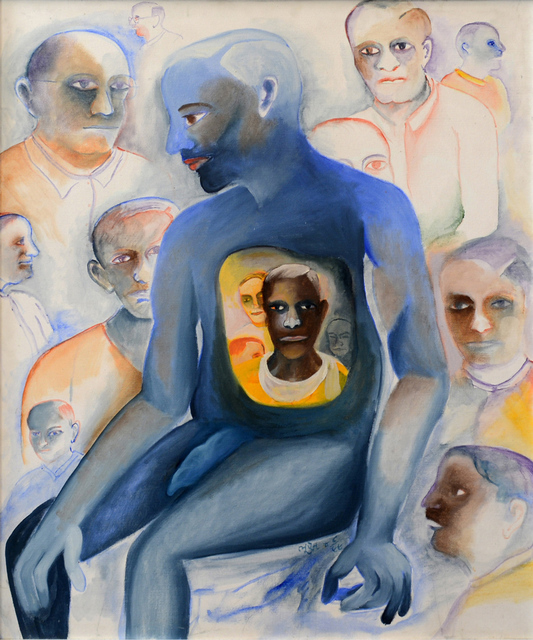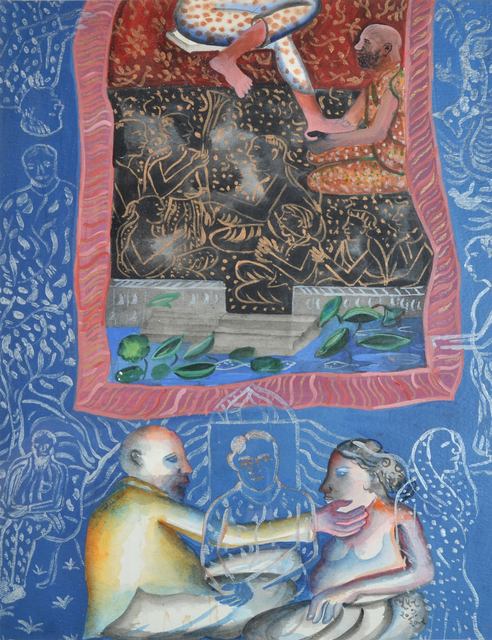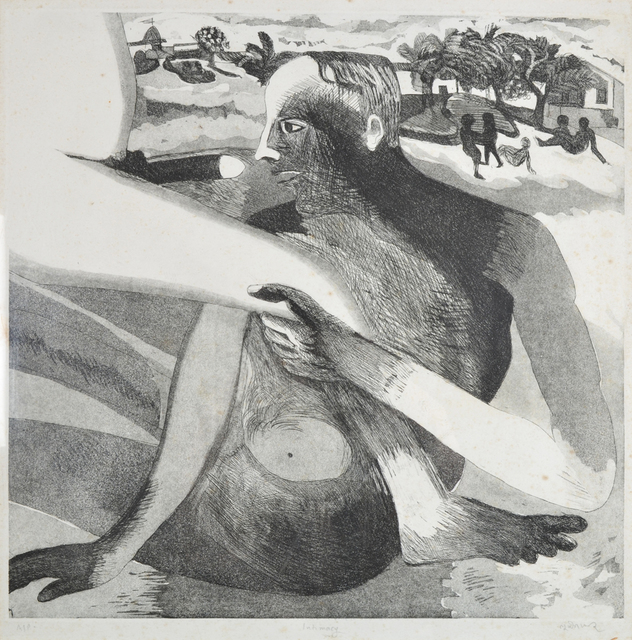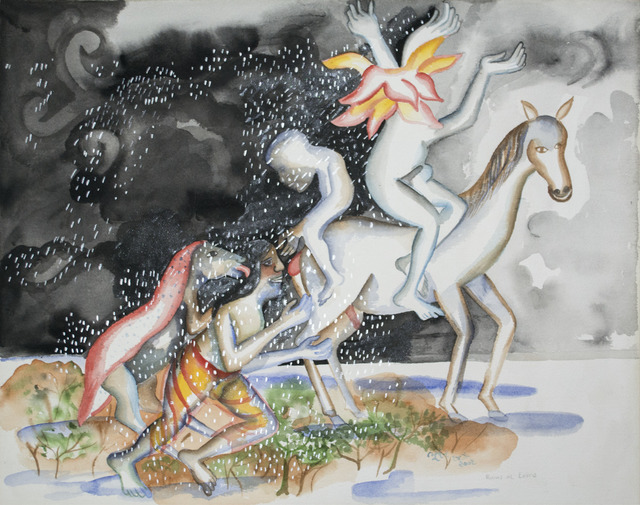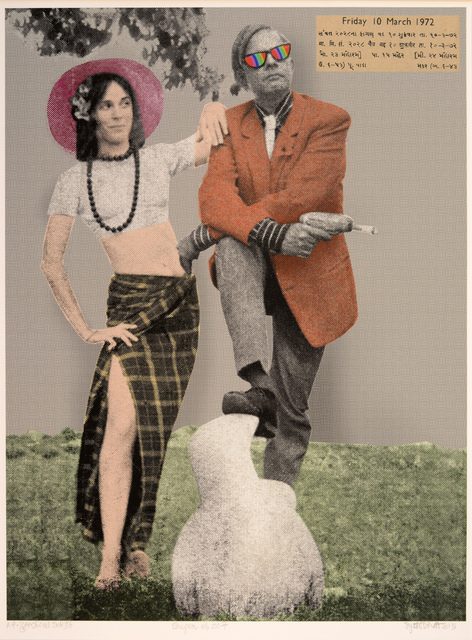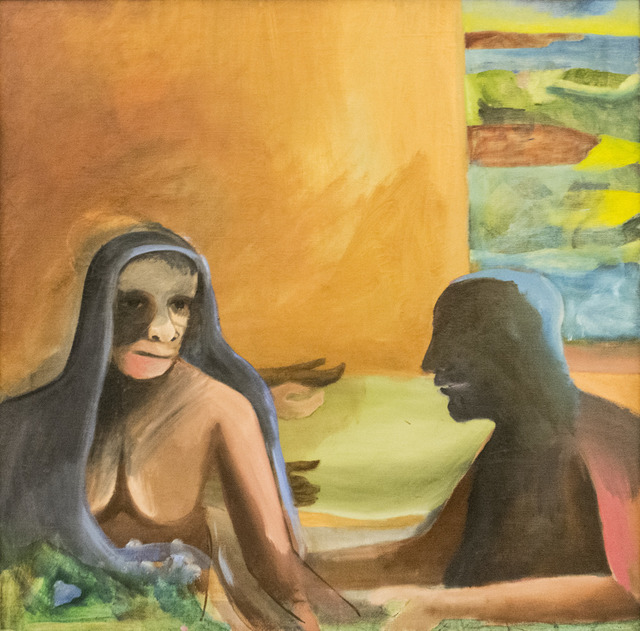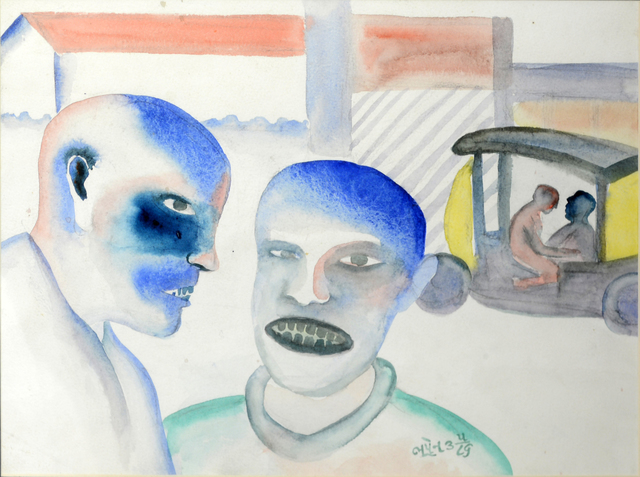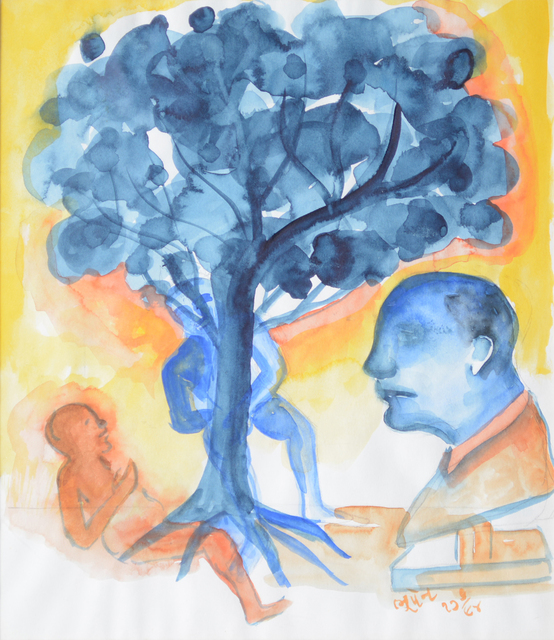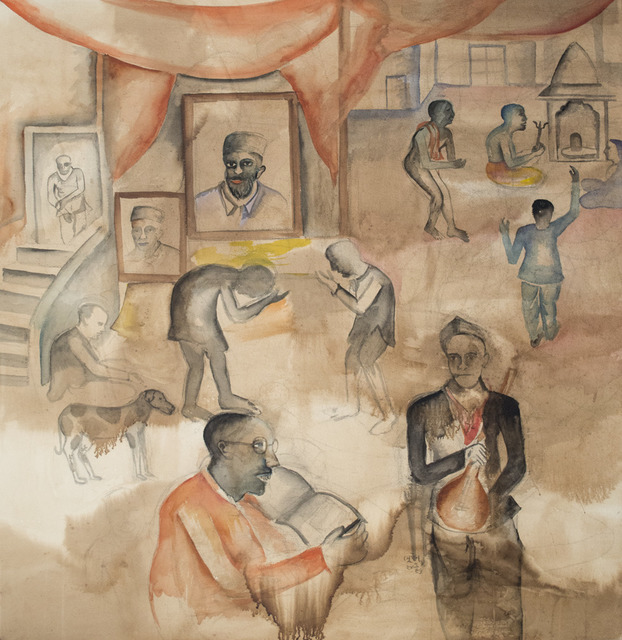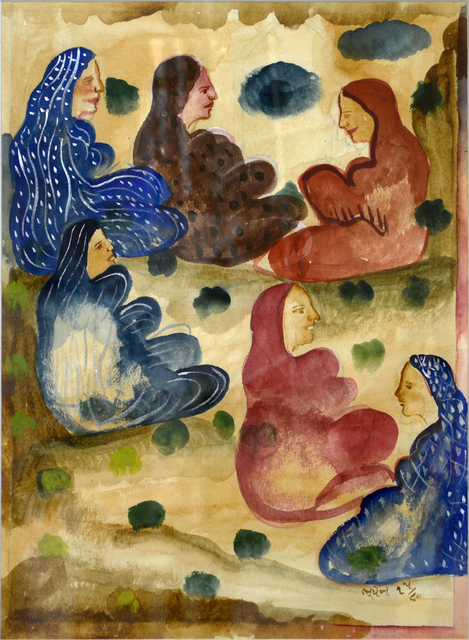 Press Release
LIBERATION / REVELATION / REPRESENTATION:
THE art of Bhupen Khakhar
Curator - Professor Rajeev Lochan
Curatorial Assistant – Prarthana Tagore
Bhupen Khakhar established himself amongst the very few Indian artists who have been celebrated both within the country, as well as internationally during his lifetime… not to forget, he lived on his own terms and also created according to his personal preferences and priorities.
'Ideas can be hypothetical but they need to be governed by their own logic to formulate their own meaning,' a statement which I believe is aptly applicable to this charismatic man.
I have been absolutely privileged to have closely observed Bhupen's oeuvre objectively in the various stages of his career and life and to have experienced the evolution of his pictorial language, his persona, and his motivation behind the creations.
A renowned French writer once wrote, 'Each one of us is similar and dissimilar to each one of us as many as there are eyes and minds that awaken every morning'… it is not one universe but many universes… the role of a creator is to provide an image to it as our observations are not mere passive records.
During the early nineties, I had the opportunity of curating my first exhibition for the CMC Limited, culling out works from the A. Ramachandran Collection of popular paintings from Nathdwara and the minor schools. I distinctly recall having used a phrase - 'naïve, supple sensuality' - which reminded me of Bhupen's approach. I almost wanted to cite his name but refrained from doing so in the catalogue then, well, for obvious reasons. We are all aware how much he was inspired by this genre of popular representation.
The lack of formal art education turned out to be a boon as this provided him ample freedom and liberty to delve deeper into the self and evolve a language pertinent to his inner calling, and to my mind, that is exactly what provided him unconditional freedom and liberty of thought, content and expression.
In spite of a full-time job in Mumbai, Bhupen managed to attend evening classes at the Sir J.J. College of Arts and developed a fairly good relationship with S.B. Palsikar, one of the then most progressive teachers of the school. When he moved to Baroda, under the guidance of his peers and friends, he joined the M.S. University and studied Art Criticism at the ripe age of 38. His belief then was 'I was interested in the expressionistic style…which had no wit and humour…now I am more involved in wit, painting and the environment around me.' These anecdotes have been beautifully enumerated in G.M. Sheikh's extremely lucid and evocative piece "Buddy".
A Chartered Accountant by profession, an avid collector of mass-produced art and essentially a self-taught artist, Khakhar was led by passion, commitment and guidance by his peers which shaped his artistic journey and brought him widespread recognition.
By collecting film posters, oleographs and company paintings, he consciously displayed his preferences. Khakhar's familiarity and fascination with Indian streets and their humble spots was legitimised after learning about art influenced by similar sources. His mind was exposed to the arts of the world during his years in Baroda. His interaction with a cultural exchange student from Royal College of Art, Donovan, was instrumental in Khakhar's understanding about Pop art.
His art is not about depicting the phenomena of the everyday life frivolously on the surface level; rather it is injected with close observations, perceptivity and humour. His works exist as comments on the functioning of the human relationships with each other and with the society. His interest in the ordinary, his affinity towards the weaker and the broken, his nature of embracing the ones on the peripheries, it all extended to his artistic language as much as in real life.
As observed by Jyoti Dhar, 'What made Khakhar stand out was his distinctive life path, which gave him the exceptional ability to operate between careers, classes and sexualities.'
With little confidence in his ability to draw, Khakhar happily explored the possibilities of a collage and therefore, his initial works were primarily collages. He assembled and appropriated popular imagery obtained from mass produced oleographs and posters found in the local marketplaces with his satirical interventions. Use of vernacular images and language was prominent in many of these works. Eventually his creative expression transitioned into drawing and painting to enable him to express the desired more freely. His style may be referred to as tongue–n-cheek. It seems like he was attempting to gauge the level of tolerance and humour in people at large through his works.
Depicting the life around him, with an emphasis on the classes, Khakhar's art is unpretentious and bold, with imagery embedded within these connotations of life. The naïve quality and the freedom with which he expressed was due to the fact that he was untouched by academic training. Scenes belong to everyday life, however the dramatized saturated colours within which the narratives are usually set, take the scenes beyond their mere mundane reality. The artist provides a glimpse into the finer nuances, overlooked realities and myriad idiosyncrasies of the society we inhabit.
As enumerated by Ranjit Hoskote, 'Khakhar demonstrated the Other, not as deviant or antagonistic to Indic society, but as part of that complexly figured human tapestry.'
Sonal Khuller, in her publication, observes 'Khakhar's paintings set out to achieve more than an auto ethnography and self-inscription. They reimagined art through the other: the Bazaar, Khakhar was less concerned with citing the visual styles and motifs of the bazaar exemplified by the bold forms of Kalighat painting or the brash colour of calendar art, than with channelling its transactional modalities and vibrant image practices. In other words, Khakhar produced a modernist art allied with mass reproduction and vernacular cultural industries. He declared; works of picture postcards, calendars are not part of the artistic heritage-they are pure untouched, and objective.' Khakhar's oeuvre mapped a constellation of sexuality, subjectivity and sociability that was not limited to his gay period; or private pictures of the 80's and 90's. A queer beauty was evident in the strange kinship and surreal spaces of his earlier paintings. This queerness was a form of aesthetic and political critic that he refined in his late works. To see queerness as a mere function of the artist biography would be to discount his achievements and to misunderstand its function. Khakhar's art truly reinvented modernism and made it so much more contextual to our land and culture. In this fashion, his approach can be aligned to the post- colonial studies as was articulated in the 70's and 80's by Partha Mitter, Edward Saeed, Gayatri Spivac, amongst many others.
Versatility of Bhupen Khakhar is truly remarkable. Mundane realities of the everyday and personal fantasies fuse to form an inimitable language unique to Bhupen Khakhar. Large parts of his works are confessional and autobiographical making it progressive, controversial and cathartic. The imagery and colours influenced from ordinary life, subconscious, experiences and desires make his personal fantasies engaging.
I would like to share an extremely interesting passage from Gulammohammed Sheikh's "Buddy": 'What he flaunted was a love of the mundane, the trivial and the trite, even kitsch. He would collect the most ordinary object discarded and despised the genteel society, spurned by the art establishment. Plaster of Paris Gods and plastic toys, Hindi film posters, maps sold at street corners, religious oleographs, all these would be brought home and displayed in a glass showcase or on a shelf. He would get his cubist triangular living room cum studio painted in a brazing blue in a feigned contempt for modernity. He would play and sing Hindi film songs loudly and relish the resulting cracks on bourgeois sensibilities. But behind this theatre of the trivial lay his true love; his deep abiding and intimate involvement with the common man, the lonely aging individual, grouping his way through the labyrinth of life and the world. This man was urban, suburban, immersed in the daily cycle of life. Each one of them appearing in his painting ̶ the tailor, the cobbler, the tea vender, the circus acrobat ̶ his long line of lovers. Each character painted with the colour of love tinged with the subtle or explicit sense of erotic. Everyone encountered in the daily wanderlust was a handy character to paint; roadside buddies sharing dirty jokes, the pious on the way to the temples or mosques, or companions at prayer gathering. Bhupen entered the lives of many such men and turned them upside down. I remember Bhupen's remark about a man's clothes; look at the shirt he is wearing, it is so cheap and vulgar-- - but the immense delight with which he flaunts it melts my heart.'
As observed by Anita Dube, 'This was real to him. Nothing else made sense. Art and love; the rest were props.'
Bhupen's sexuality became even more explicit and an open phenomenon after his visit to England in the 80's and his physical revelations began to be suggestive in his characters. His search became even more obvious and exhibited a stark combination of aggressiveness on one side and subtle sensuality on the other.
Howard Hodgkin's love for India is well known. The vast repositories of the objects in his collection bear their ample testimony of his source of inspiration. It would indeed be erroneous if the deep bond and friendship between Bhupen and the great British painter is not mentioned. Bhupen spent a long time in Hodgkin's company during his early visits to England which brought about a bond that went far beyond creative and intellectual pursuits, both had a common interest of collecting objects and mutual intimate sharing of desire.
Early in the 70's, the distinguished poet critic and professor of English at the Mumbai University, Nissim Ezekiel, enumerated Khakhar's contribution as, 'The paan shop paintings create a kind of inverse sophistication in the viewer and then successfully appeal to it. One is surprised in liking them considering the means used. I mean the taste which is cultivated to take in Ajanta or El Greco and remains flexible enough to be delighted by the authentic innocence of the Iranian restaurant painting on a mirror. Popular images can be used to make art. It all depends on who does it and how. The merit of the process is the urge to restore a link with mass reality, which is at least one kind of reality, though not the only one with which art is concerned.'
It doesn't matter where you buy your chicken from, what matters is what you do to it or with it!
Geeta Kapur ascribed a special role to the artist in the quest of post-colonial identity. "Because the artist possesses the ability; through his innate non-conformism to resist; environmental conditioning, he bore the responsibility of absorbing element of his environment; to strip off the mass of habit repression and condition to reveal perhaps subtler, more profound reality."
She further elaborates "Khakhar's oil paintings theatrically set like tableaus are at times morbid. The lustrous surface of paint has at the same time a sticky substantiality. The translucent top layer of pigment hides as much as it reveals. It is a veil conspicuously camouflaging secret silhouettes and masturbatory acts. Over the years there has been a dense existential grind, a laboriousness of representation in Khakhar's works. His painterly struggle is also an act of love for his forsaken protagonist even as they appear to be among themselves engaged in perversion. I use this nasty term to remind ourselves of its continued use in psychoanalysis. For while such terms as perversion have been firmly superseded in gay discourse, they still feature in the moral and scientific domain and surface inevitably as moments of blind guilt seeking equivalence in pictorial representation."
While observing and recording the unfathomable realities of conditioned societies, Khakhar deals with these complex issues with a sense of straightforwardness and simplicity. By mocking the absurd truths of civilised society, the artist puts us face to face with the realities that we conveniently overlook and ignore. Unveiling of this hypocrisy, initially repulsed many people from Khakhar's artworks.
Elements of kitsch make his art relatable to the popular. His works may be perceived as a bridge linking the reality of everyday and the inner world of emotions, feelings and prejudices. Khakhar's palette primarily consists of loud colours. However, careful tonal gradation with a generous amount of watery treatment considerably balances the effect of the saturated hues. The meticulous details reflect an influence of Indian miniature paintings in the approach.
His use of kitsch and depiction of the immediate context was not a deliberate decision to connect with the masses but an honest portrayal of what he knew and understood from the world around him. The humour in his art and his honest disapproving attitude, in a way, protected him from an outright rejection by others.
In the words of Jyoti Dhar, 'Indeed, it can be difficult to ascertain where the character of "Bhupen" ends and his art begins, and how the appreciation of one biases the other, as the two seem to inhabit the same space of fictionalized truth.'
Khakhar's appropriated kitsch, not to reaffirm the popular, rather, challenged the collective norms and notions prevalent in the art practices of the time. Through his works, he reflects and comments on the accepted and prevailing notions of the society. The word 'kitsch' is actually synonymous with poor taste. In Khakhar's case, the chosen themes were thought of as kitsch since they did not go down well with the dominant conventional notions. He rejects the concept of exclusivity and discovers alternative means for his pictorial expression. In fact, the very element of kitsch truly elevated and liberated his artistic language.
Clement Greenberg called kitsch an 'anathema to progressive, avant-garde' but Khakhar's art effectively challenged such orthodox definitions. Negative associations with the element of kitsch have gradually dissipated from the contemporary art vocabulary. Khakhar was one of the first to use kitsch in Indian art leading the way for the numerous contemporary artists involved with similar expressions.
I wish to raise a personal question:
'Appropriate skill for an appropriate sense, or an appropriate sense for an appropriate skill?'
Bhupen intelligently chose his themes revalidating tradition and evolved a personal language synonymous with the provocateur, the titillator, and the evocator. I am reminded of a wonderful thought, 'The idea is not the illustration; the illustration is the idea.' Bhupen invented his idea and his illustration for the idea.
I am indeed privileged to have been asked by Mr Vijay Kumar Aggarwal to curate this exhibition from the Swaraj Art Archives, where he has very passionately collected the works of this multi-faceted artist.
The exhibition attempts to showcase the many facets of a provocative titillator with a sense of revelation, liberation through his representations.
Professor (Dr.) Rajeev Lochan
Follow Artists In This Show