Todd Merrill Studio
Design Miami/ Basel 2018
Todd Merrill Studio presents historically inspired contemporary design from thirteen artists.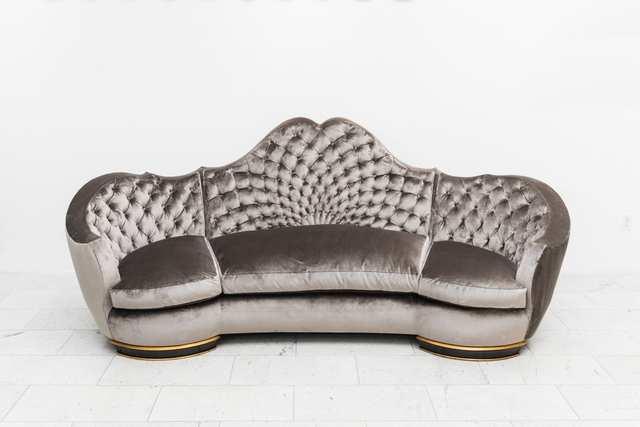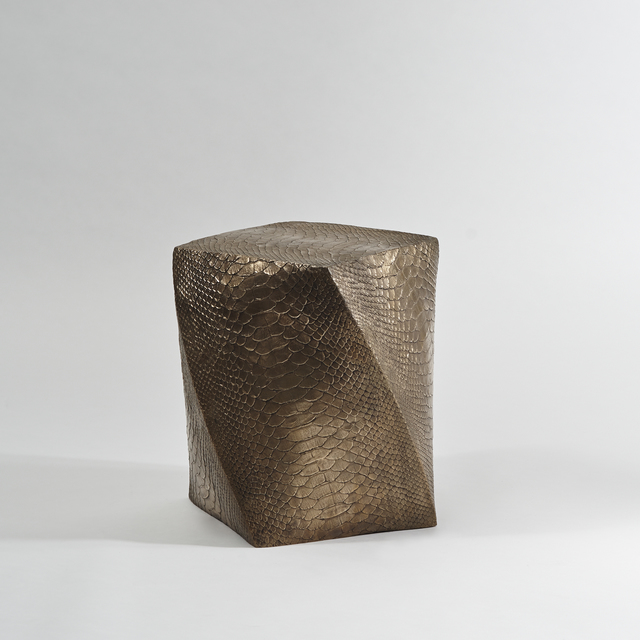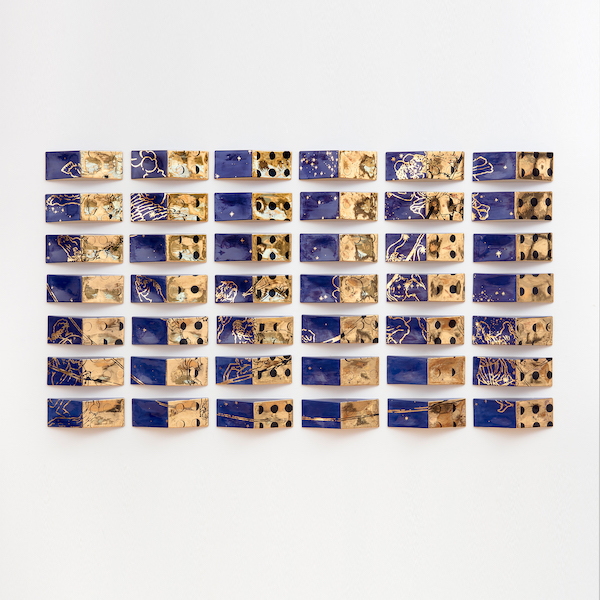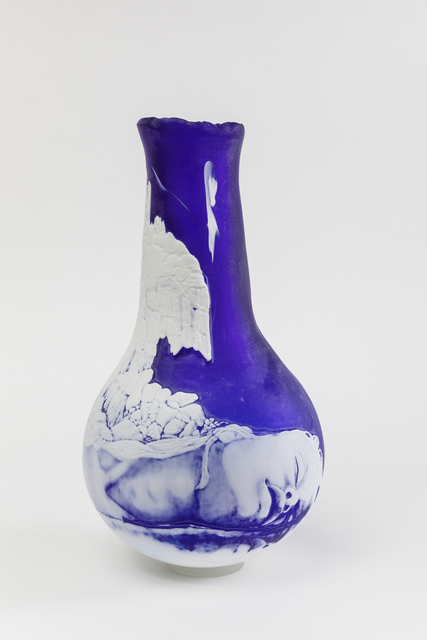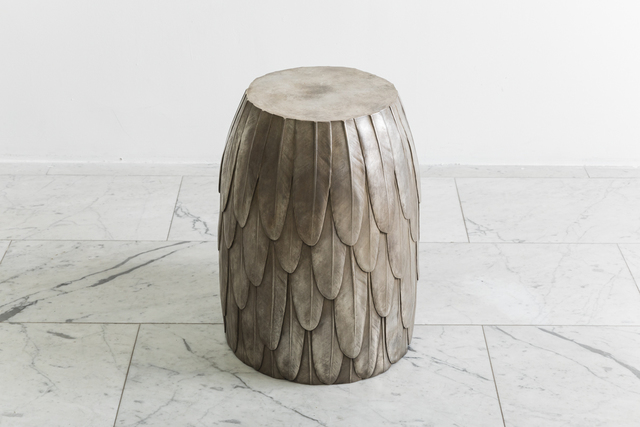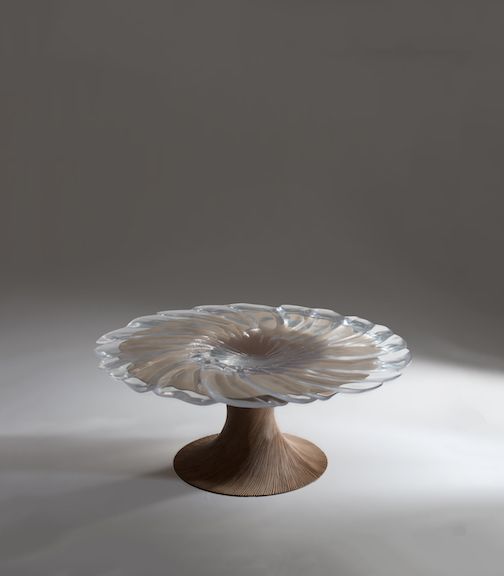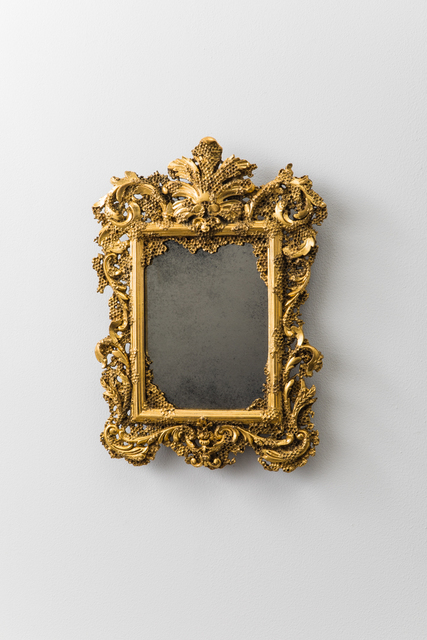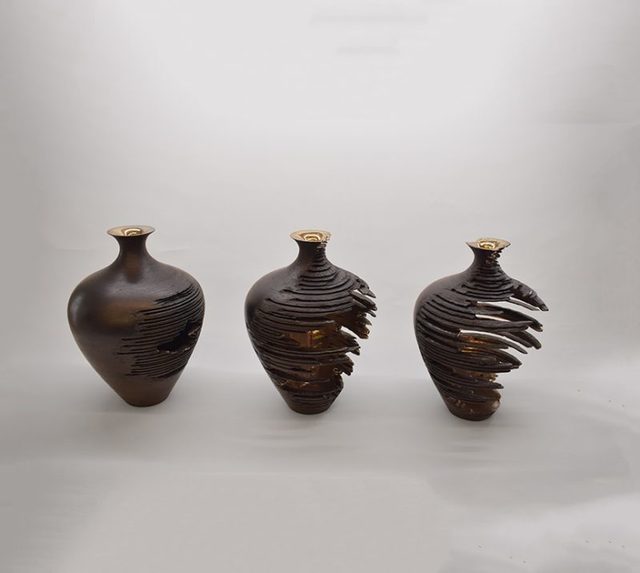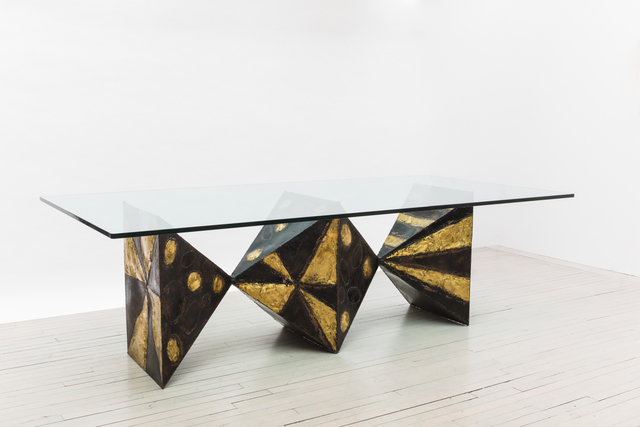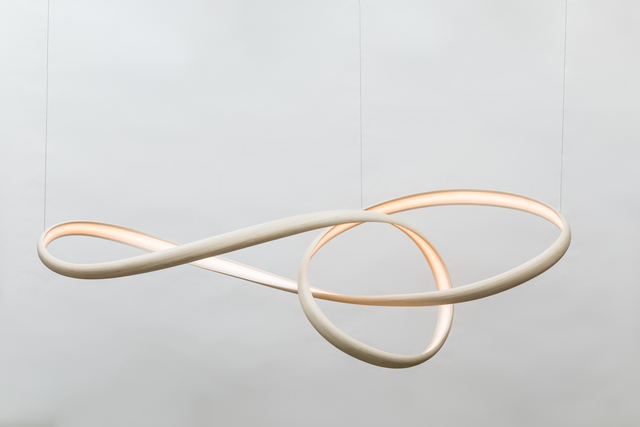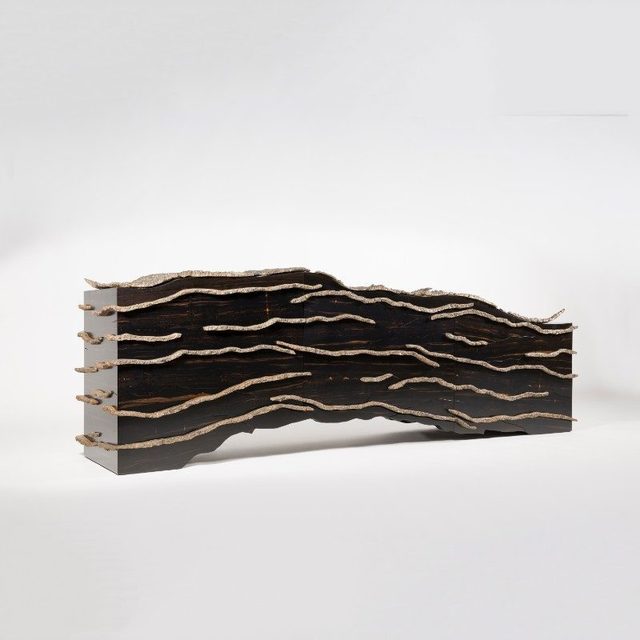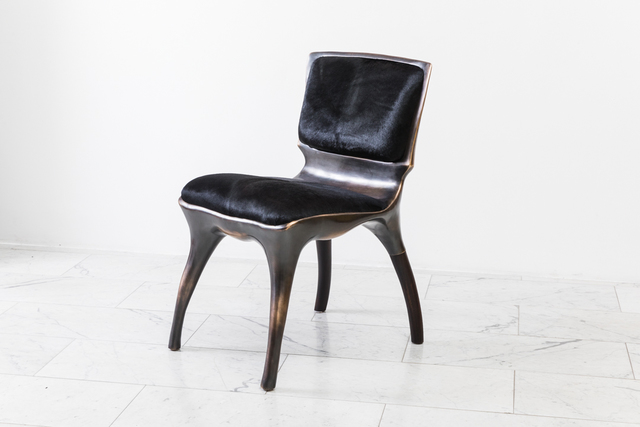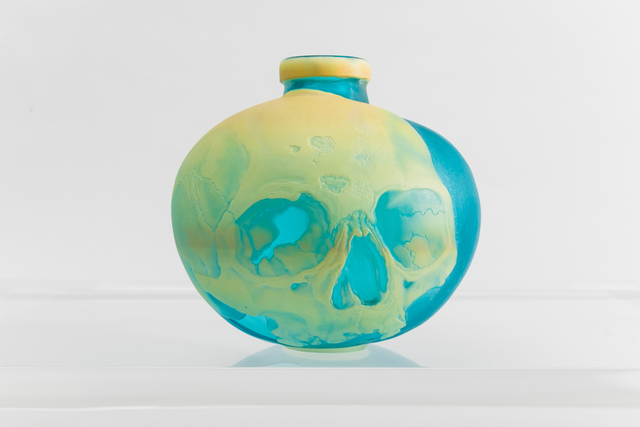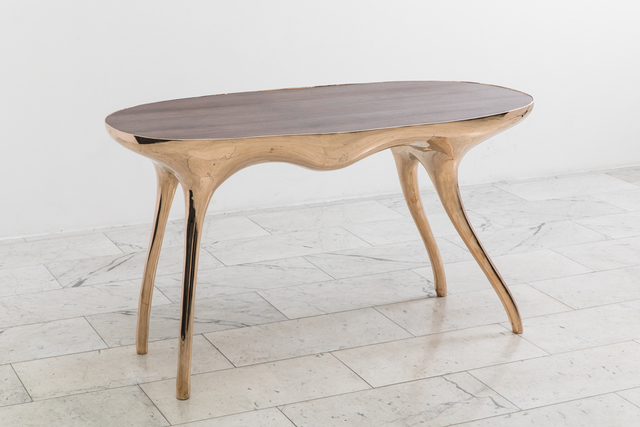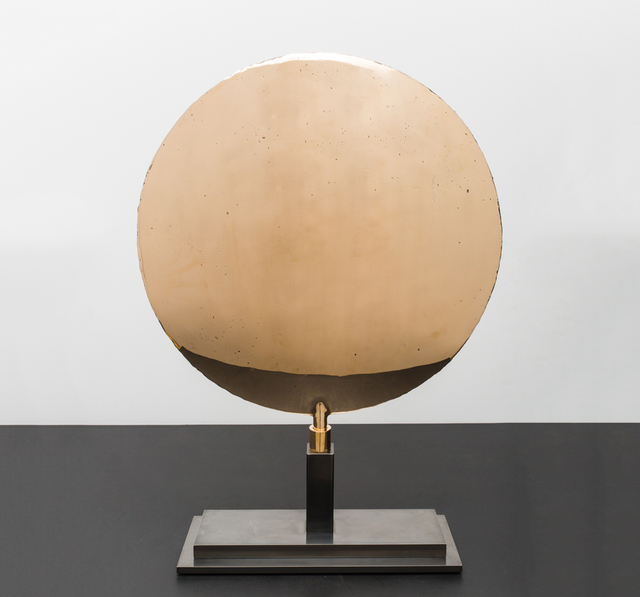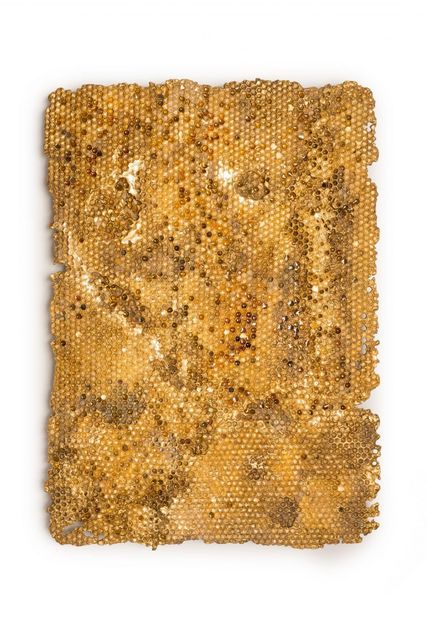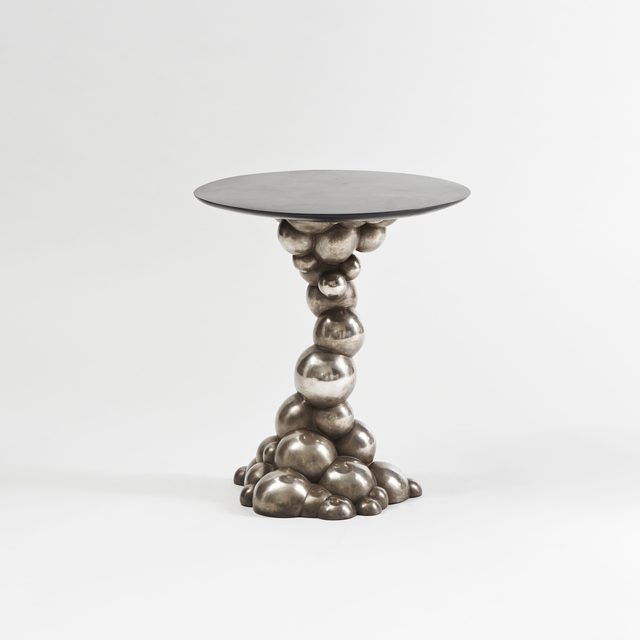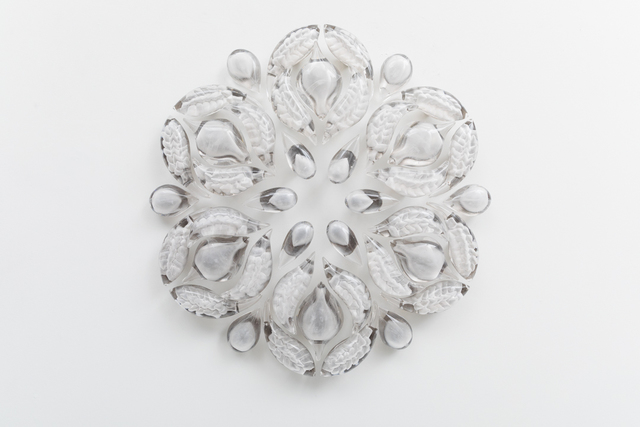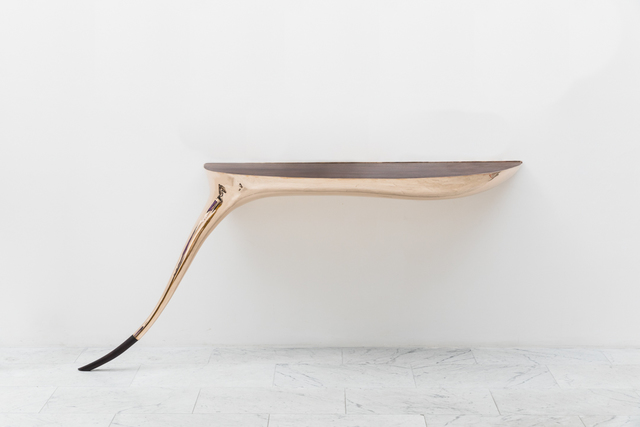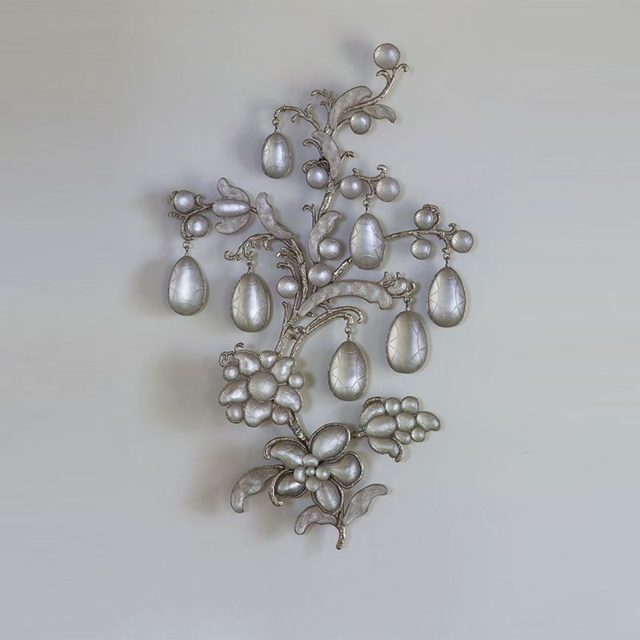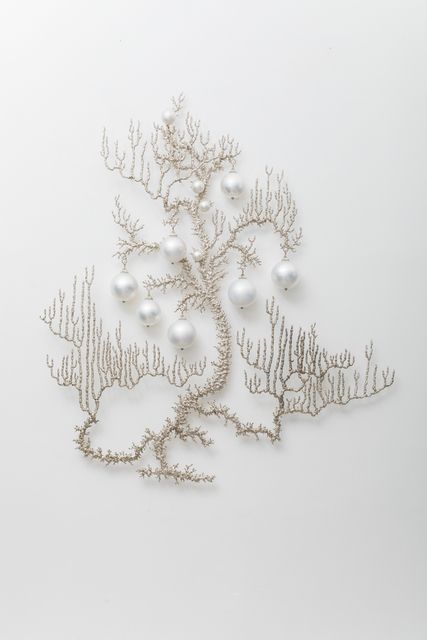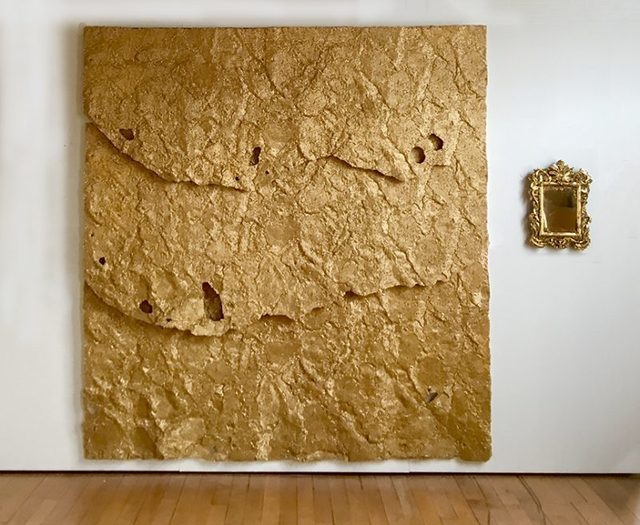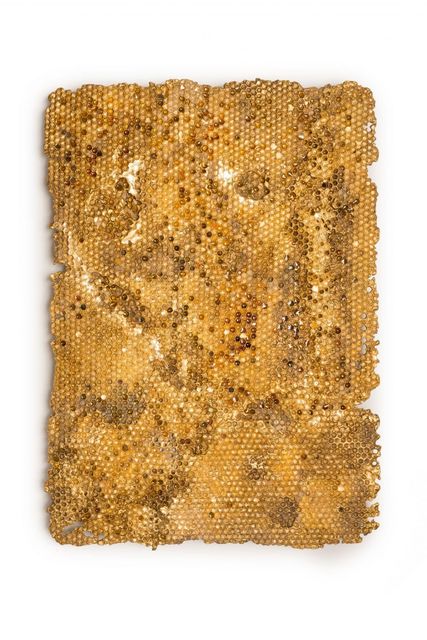 Press Release
At Design Miami Basel 2018, Todd Merrill Studio presents a tightly curated selection of mid-century vintage and contemporary work taking inspiration from historic design, specifically a Victorian fascination with natural curiosities and ornamentation. Using modern techniques to push materials each piece transcends its historic reference for a timeless collect-ability.
The centerpiece of the exhibition is a significant historic sofa from mid-twentieth century designer JEAN ROYERE. This anomalous design exemplifies how looking to the past for inspiration can set a designer on a groundbreaking path of development, and is a superb early example of Royère's playful design sense.
Framing the sofa are works from thirteen highly distinctive artists, crafted using innovative techniques from a diverse array of media including wood, metal, ceramics, glass, plastic and stone. Each piece on view has the stamp of the singular artist's hand while highlighting historical references from furniture, jewelry, fashion and architecture. Together, these highly collectible works exemplify avant-garde techniques used to create timeless works with a meticulous attention to craftsmanship.
Looking to the past for inspiration JEAN ROYERE referenced the classic design of Louis XV corbeille sofas, while looking forward, he exaggerated the scale for a modern audience, giving it an oversized and whimsical shape. The curved back form of the sofa is a precursor to one of Royère's most timeless and sought-after designs – the "Ours Polaire" or Polar Bear Sofa. By over-emphasizing elements of the sofa such as the serpentine back, the curved sides, and the elaborate button tufting, Royère created a timeless piece that has engaged admiration for decades.
Made in Paris, c. 1938, by legendary furniture makers Maison Gouffé, the sofa retains its original frame, feet, and horsehair and muslin understructure. It has been recovered in hand-stitched Rose Cummings Fortuny silk velvet.
The sofa has an illustrious provenance, procured first by the Duke and Duchess of Windsor, and later by painter, John Currin via Sotheby's in 2004.
In 2002 the sofa appeared in "Blithe Spirit: The Windsor Set", an exhibition at The Metropolitan Museum of Art, New York, which highlighted the close relationship between fashion and interior design, situating the romantic and spectacular evening gowns of the Windsor's within the larger context of the fine and decorative arts of the period.
MARC FISH - Marc Fish's hand-carved sculptural furniture showcases the most refined practices in micro stack-lamination today. Manipulated into sinuous, layered shapes, Fish's delicate designs reveal the artist's hand at work, while exuding a seemingly organic, unprecedented form. Fish creates only a few select designs per year, making his work highly sought after.
At Design Miami Basel, 2018 Fish is debuting The Vortex Table. This unique dining table is constructed from over 2000 hand-cut oak and sycamore veneers, carbon fiber, and resin. The poured resin top is hand carved, sanded and highly polished until crystal clear, in a swirling, centrifugal direction, mimicking the twisted form of the tables base. Expanding on his reputation for logic defying works, The Vortex Table is at once a functional object and an sculptural anomaly. While the curvilinear forms of Fish's works harken back to Art Nouveau, his process pushes the limits of twenty-first century furniture design. His sublimely unique works possess a timelessness that could be found seamlessly in the most contemporary of settings to the most traditional.
SOPHIE CORYNDON - Sophie Coryndon's work, inspired by elements of the natural world, is rooted in historical aesthetics. Coryndon especially draws inspiration from the influential the 18th century Neoclassical designer and architect, Robert Adams. The Adams style incorporated elements of classical Roman design alongside Greek, Byzantine and Baroque styles. Imaginative and innovative, Coryndon has forged a successful career of combining traditional craftsmanship and specialist finishing techniques in a fine art realm. Often material and process driven, employing multiple disciplines including bronze casting, painting, embroidery, and sculpture, her work has found a large audience with collectors and designers worldwide.
Coryndon will be on view with Adams Vine. This unique wall hanging, inspired by Robert Adams is made up of 1000 cast and gilded husks strung on brass wire and trained up an interior wall in Classical Rococo style. The composition is versatile. It can be trained up a vertical interior wall, across a ceiling or floor or suspended within a framework to create a division of internal space.
Recent works of Coryndon's explore the exquisite nature of honeycombs using cast bronze, gilded plaster, and precious and semi-precious stones. Coryndon became interested in bees after learning about the current global crisis facing the insects. In an effort to capture abandoned "ghost ship hives," Coryndon employs the lost-wax method, an ancient and labor-intensive technique. Two small rococo-style mirrors, which appear to have been taken over with honeycomb, will also be on view.
Inspired by innovative designers including Richard Serra, Wendel Castle, and Constantin Brancusi, ALEX ROSKIN's works blend functional and artistic design. Roskin's Biche Desk and Heron Console reflect the artist's modernist and primitive influences. Both pieces reject outright anthropomorphic mimicry in favor of subtle, sculpted muscular forms, sinuous movement and a bit of whimsy. Of his own work, Roskin notes: "I try with each piece to create a stance and a presence, some with more contrapposto. I aim to give each piece a feeling that it's inhaling or ready to make a move. I try to steer clear of the decorative, but to draw on mass, volume, line, negative space, and my love of materials and the craft of working with them."
British born artist, JOANNA MANOUSIS lives and works in the United States, creating sculptural objects and installations in glass and mixed media. Her work, predominantly composed of glass the works induce reflection in the viewer, both physically and metaphorically.
Demeter II takes on the formation of an oculus window, commonly found in churches of the Gothic architectural style. Rather than infiltrating light into a sacred space, Demeter refracts light to its viewer. The clear crystal segments act as apertures for the residual details of wheat and seed-like formations that lie within. Here, both the wheel and the wheat pay homage to the ever-flowing cycle of life and death, a rhythm that is embodied in Demeter, the Greek goddess of the harvest.
For centuries, the 'wheel window' has been used as a symbol of spirituality and that, which is infinite: the universe or the cosmos. Demeter is stripped of the color and grandiose iconography usually presented in church windows to deliver what is essential and unifying to us all.
SHARI MENDELSON creates handmade sculptures that are made of discarded plastic bottles and inspired by ancient vessels. Her interest lies in the balance between emulating the ancient objects she loves and creating her own original sculptures. Mendelson spends hours studying ancient artifacts from various museums. While looking at these works, she considers what they were used for, the great civilizations that made them, and what the remaining objects from our time— largely plastic waste— will communicate about us to future civilizations.
With Grand Celestial, artist MOLLY HATCH has expanded on her celebrated approach to deconstructing historic patterning and surface through an installation of pyramidal wall tiles that create a large scale, three-dimensional ceramic lenticular. When viewed from the right perspective, Hatch's interpretaion of the elaborately decorated astronomical ceiling of Grand Central Terminal's Main Concorse reveals itself on a deep cobalt glaze with painterly detail. From the left perspective the astronomical motif continues while the phases of the moon create a dotted pattern rendered in brilliant gold luster and black underglaze. The dual composition of historic rendering and contemporary pattern work are combined to create this new and exciting wall installation.
In the past decade the name Molly Hatch has become synonymous with contemporary ceramics. Hatch's ceramic installations, inspired by historical decoration, have been exhibited and collected all over the world and garnered her a loyal and fervent following. Todd Merrill Studio has represented Hatch since 2013.
Todd Merrill Studio has also represented New York City based artist ERIN SULLIVAN since 2013. Sullivan works primarily in bronze to create unique, material-driven studio pieces inspired by landscape and organic, undomesticated life forms. The concepts of time and memory initially attracted Sullivan to bronze as a medium. The material's ability to survive several millennia brings poetic potency to Sullivan's process. Sullivan creates customizable sculptural furniture pieces using a complex process of three-dimensional assemblage and sculpting. Employing advanced casting techniques, Sullivan constructs exquisite, realistic bronze interpretations of her organic subject matter.
Sullivan's pieces are defined by their intricate surfaces and the versatility of their forms; a solid bronze table base may be used as a decorative pillar, a console, a low table base, or a freestanding sculpture. Her repertoire presents a visual, elegant equilibrium between artifact and nature and art and design. Hundreds of feathers were molded and sculpted to create Silver Nitrate Feather, a work that is at once a functional object and a unique free-standing sculpture. The density of the work's material elegantly contrasts with the lightness of the delicate feather forms.
The focus of TIM HORN's work is the meeting point between the natural and constructed worlds, where he attempts to locate the area of slippage between the organic and artificial. Scale is important, but he also chooses to work with materials for their inherent physical and metaphorical qualities. For the past decade, Horn has been inspired by 17th-century jewelry patterns by Gilles Legaré, court jeweler to Louis XIV. Silver Stardust, is constructed of nickel plated bronze with oversized detail work in cast crystal to resemble an over-scaled piece of antique jewelery such as a hair comb or brooch. Similarly, Gorgonia 11 with its unusual texture and cast crystal "pearls" resembles the coral jewelry that was highly coveted for is mystical properties and preciousness.
"Sparkling like gem-laden stomachers fashioned for a fairy-tale giant or standing their ground like delicate escapees from a fever dream, Timothy Horn's bizarrely beautiful sculptures are baroque fantasias that the Australian-born, US-based artist has described as "taking objects from an historical realm and re-contextualizing them, using the language of the decorative arts," states decorative arts authority, Mitchell Owens.
French cabinetmaker JEAN-LUC LE MOUNIER lives and works in Brittany (North-West of France). His passion for woodwork developed most notably during his ten year apprenticeship with Les Compagnons du Devoir (Guildsmen). In turn, an association with legendary iconoclast designer, Maria Pergay helped shape Le Mounier's penchant for eccentric furniture design driven by a deep relationship with sometimes unconventional materials. In his Dinard workshop, in the heart of his native Brittany, Le Mounier now conducts of team of master craftsmen to create elegant and graphic furniture deeply rooted in tradition with decidedly modern motifs.
Origine, a chest of drawers featuring a playfully deceptive facade, resembles a natural deadfall with its large form naturally curving downward. The rich color of the ebony grain is emphasized by sculpted bronze details which protrude, masking the chest's six drawers, and acting as drawer pull. The top's sculpted bronze surface is uneven, mimicking tree bark. Origine is finished on both sides allowing it to float in a room.
Artist CASEY McMAINS has made a name for herself through her intricately carved cameo glass vessels. Her interests in mythology, symbolism, comparative religion, and history have strongly influenced the themes and perspectives in her remarkable works. While her process is rooted in old-world craftsmanship, it is implemented with a decidedly contemporary perspective. After meeting Todd Merrill in 2017, the two collaborated on the concept of a cohesive collection of works with a distinctly narrative direction in a Gothic style, using the poetry and stories of Edgar Allen Poe as the genesis. Mc Mains will be making her debut with Todd Merrill Studio at this years Design Miami Basel.
McMains' painstaking process, which involves a number of disparate skills, begins with the creation of a "blank," the name for the body of the vessel. First the vessel must be created through glass blowing with multiple layers of colored glass fused through a technique called a Swedish Overlay. The action of bringing out the image and revealing the individual layers of glass is done through direct carving. In reduction, the work is actually built up. McMains uses a very traditional technique of hand engraving allowing for a much greater range of results, textures, gradual fading, and a more organic feel then modern sandblasting techniques produce.
McMains' works have been celebrated for their dynamic imagery and meticulous balance between form and image. She believes that the form of the vessel gives shape to the image and the image gives life to the vessel. "When someone handles the piece; to touch and feel the art, another connection is formed with the artwork and the viewer; with the viewer and the artist," she says. The alchemy of glass work, with its reliance on each of the four classical elements (Earth, Air, Fire, and Water) is of particular interest to McMains. In working with glass she has found a certain kind of magic – sculpting with light and shadow, transparency, translucency and opaqueness to create something both timely and timeless.
Todd Merrill Studio has represented artist/designer JOHN PROCARIO since 2016. Having grown up around his carpenter father's workshop, Procario brought his love of woodworking to the world of design. After studying sculpture in graduate school, Procario developed a unique aesthetic that influences his sculptural furniture and lighting.
"I would describe my work as having a heartbeat," says John Procario of his custom-made bent-wood luminaires. "Each one has so much personality and as you move around them, the forms look like they are changing." It's not surprising for Procario to anthropomorphize his work; it's something the Cold Spring native has been doing since studying sculpture at State University of New York at Purchase, where he began to conceptually think of wood as a metaphor for the human body. "Just as we push the limits of our bones and muscles, I enjoy pushing the limits of wood to create a sense of strain in the material's gesture," he explains. Procario pushes the limit of breakage to create a sense of strain in the otherwise fluid gestures of his wooden works. Conceptually, this allows beauty to be the product of stress.
Procario's furniture and sculptural lighting are composed of micro-laminated, bent wood. With, at most, only a rough sketch in his mind, Procario freeform bends it into one of his signature undulating shapes. The process is a delicate one, but thanks to months spent intentionally breaking wood—whether with a hydraulic press or simply his own strength—the designer gained a deep understanding of its structure and learned where to draw the line before hitting that breaking point. "Wood doesn't always want to work with you when you are freeform bending so you have to work with it," he says. "But I really enjoy that. Sometimes it takes you in new directions that would never have happened if everything was planned out."
In this way, the artistic process becomes a collaboration between the artist and the wood's respective personalities. The outcome is an organic, fluid design balanced with a sense of motion.
Extending the theme of traditional design concepts and hand-crafted design, Todd Merrill Studio has collaborated with design studio MOSS & LAM to create a one-of-a-kind, hand-painted canvas wall covering for this years exhibition. Moss & Lam, established in 1987 by Deborah Moss and Edward Lam, has been commissioned by the world's leading interior designers and architects to create bespoke large-scale bespoke wall surfaces, 3-dimensional art installations for high-end designers, architects, as well as international hospitality and retail luxury brands.
Moss & Lam focuses on the entire design process: from initial concepts, sample creation, and in-house fabrication, to completion of installation. Their team of designers and artists work closely with clients to understand the design direction as well as the spatial qualities to develop inspired concepts.
Through material research, concept sketches, digital renderings, and by looking back at historic wall coverings, from decorative plaster work to hand-printed 19th century wallpaper, and Moss & Lam and Todd Merrill Studio have created a rich background to further enhance the exquisite works on view.
Follow Artists In This Show