UNIX Gallery
Seattle Art Fair 2018
For his new series 'Virtually Fragile' Rowell has taken inspiration from images of broken screens in order to paint digital landscapes of complex colour and form, simultaneously geometric and spontaneous in their composition.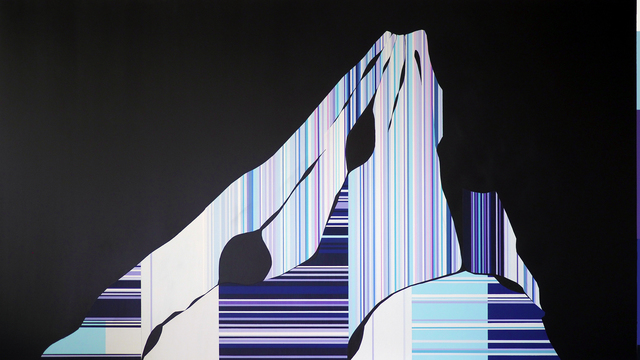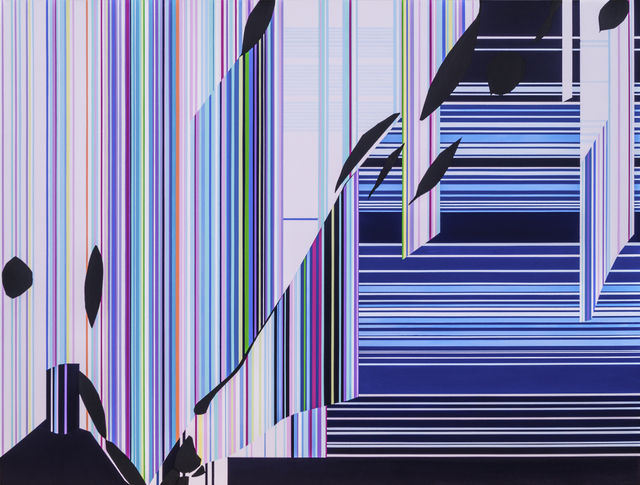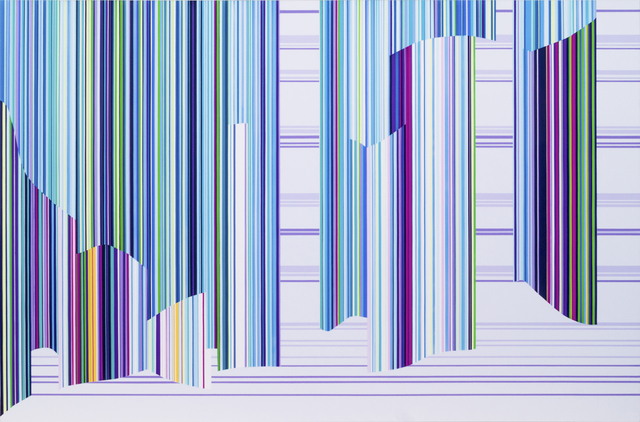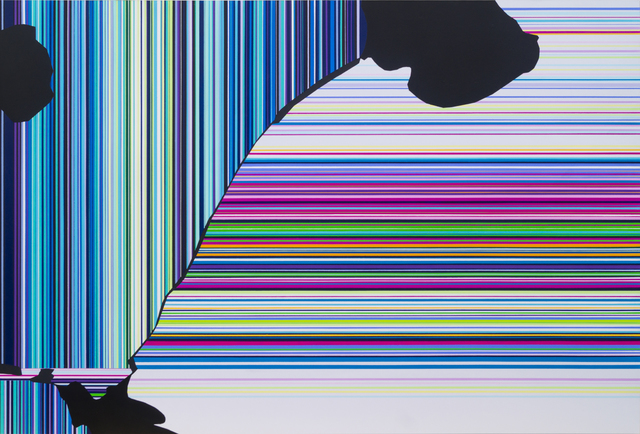 Press Release
Our daily interaction with screens is perhaps one of the most significant relationships to
emerge in light of the ever-increasing digitalization of our contemporary lives. Whether
through our cell phones, computers or television screens; at work or at home, this dramatic
change in human behaviour has become a complex and deeply significant development. A
2016 report went so far as to suggest that adults in the United States spend an average of
10 hours and 39 minutes each day consuming media through screens 1 .
Through his practice, British artist Josh Rowell has continually questioned and interrogated
the role that the digital world is playing in reshaping our current notion of 'reality'. The
artist finds different ways to manifest these changes, constantly exploring the space
between the real and the virtual, fascinated by the way in which these two worlds interact.
The artist looks at ways to break down, blur, and sometimes even reaffirm, these
boundaries.
For his new series 'Virtually Fragile' Rowell has taken inspiration from images of broken
screens in order to paint digital landscapes of complex colour and form, simultaneously
geometric and spontaneous in their composition. Working from found images of a variety of
broken devices, Rowell seeks to highlight the fact that the digital world, despite its
seemingly limitless potential, is not yet immortal. Like all things, our personal relationship
with the virtual realm is temporal; as we enter into the digital world through our screens,
the gateway through which we travel can just as soon be taken away from us with one false
move, one simple drop of our cell phone. Ultimately, we can understand here that the
digital world is still answerable to the physical world.
The function of the screen in contemporary society lends itself naturally to Rowell's work.
Screens represent the border between our natural, tangible and potentially limited reality,
and the intangible yet expansive realm of the virtual. Through painting broken screens
Rowell is taking away from the common conception of 'digital perfection', and instead
creating a dialogue that is arguably more accurate than the myth of perfection. In this sense
the 'Virtually Fragile' series can be understood as hyperreal, both on a conceptual and
aesthetic level.
Whilst the broken screen is representative of the instant in which the real and virtual worlds
collide, or 'the happy accident' as Rowell sees it; the booth is brought together as a single
installation by a second, significant artwork, this time placed on the floor of the booth. The
concept of the 'floor as screen' plays on the philosophical ideas of surface and depth, as well
as ideas of hyperreailty, in which our lives have become increasingly illusionary, simulated
experiences. Taking inspiration from Brian Massumi's text 'Realer than Real', discussing the
ideas of Jean Baudrillard, Massumi says, "The airless atmosphere has asphyxiated the
referent, leaving us satellites in aimless orbit around an empty center. We breathe an ether
of floating images that no longer bear a relation to any reality whatsoever. 2 " In this vein, the
floor becomes and abstracted digital video of myriad floating images, live streams, tweets,
pop-ups and other internet-related detritus, all 'in aimless orbit'. These internet triggers are
caught in constant cycle, occasionally floating to the surface of the screen, like fish in a lake, where they can then be consumed by the viewer, before sinking back into the depths of the
digital sludge, where they remain invisible, waiting for their next chance to be seen.
In a society that is often labelled as surface level, Rowell has designed a digital floor that
operates and builds on the idea of 'screen as surface'. Truth is often found in depth, the
surface is too often where superficiality is allowed to dwell, the floor can be understood as
an attempt to mirror our surface-level society through a contemporary means of
production. The idea of the floor being made into a surface-level screen operates as a way
of mirroring our society; it explores and comments on the point we have reached in society
where we are only able to consume that which presents itself to us on the surface, in a time
where depth is all but lost. Much inspiration for this idea has been found in the philosophies
of Baudrillard who claimed that contemporary society is now all simulation, a state of affairs
he does not find particularly appealing. The simulations of this society, which are
exemplified in such creations as television and Disney World (this can now be extended to
the internet as well), are representations that no longer represent anything - they are a self-
generating realm of images, an endless surface with no underlying reality.
Follow Artists In This Show