VI, VII
Frieze London 2016
Frieze London Focus section Booth G18 With works by Mikael Brkic, Than Hussein Clark and Jochen Schmith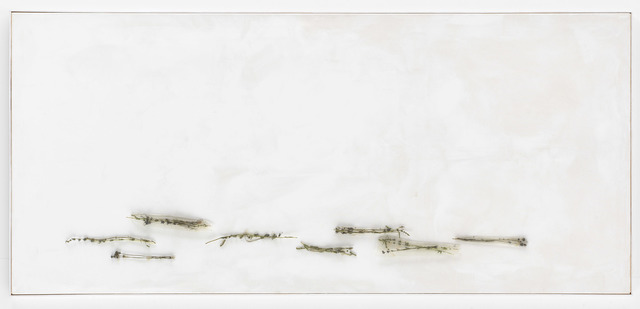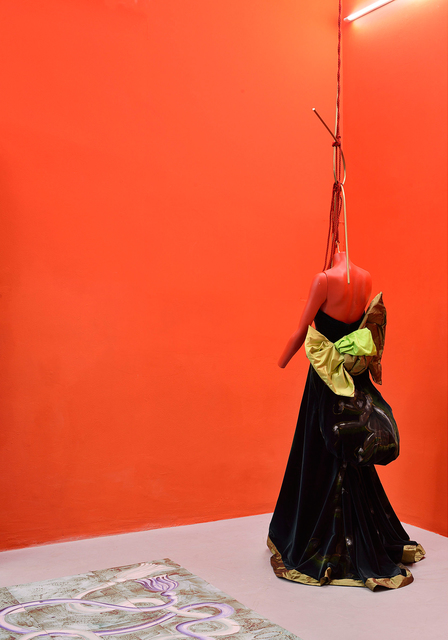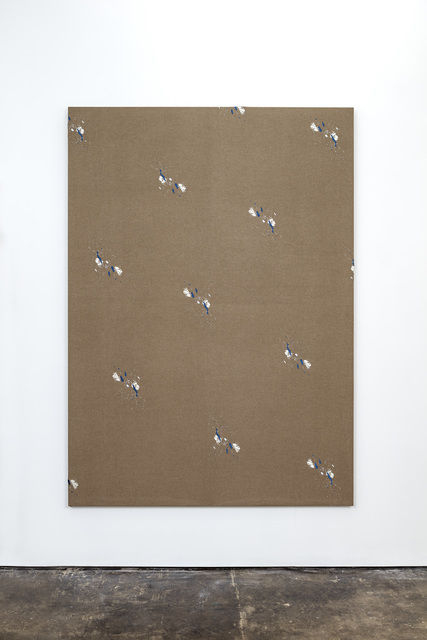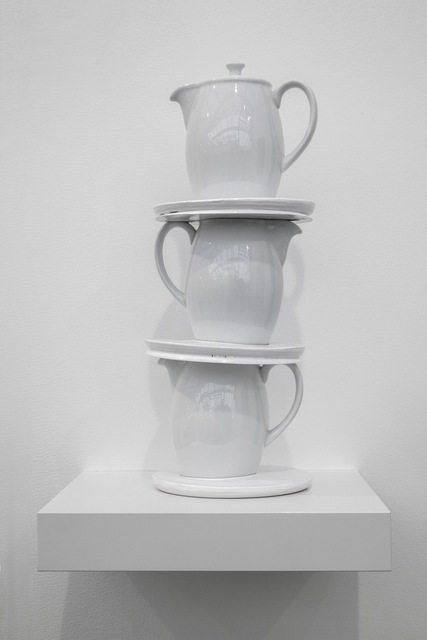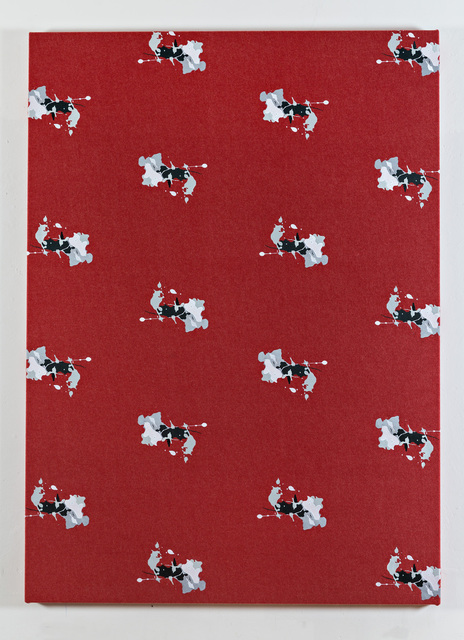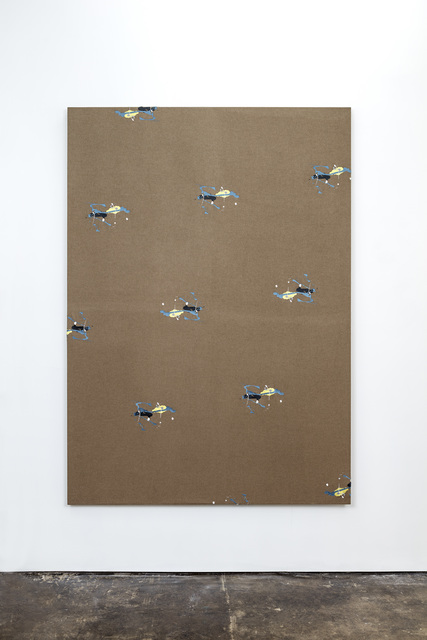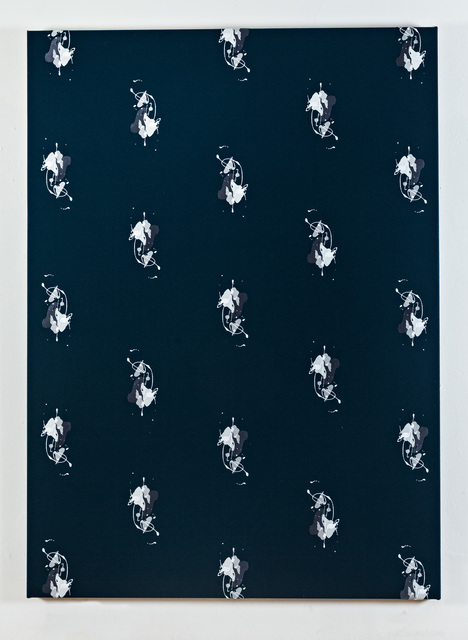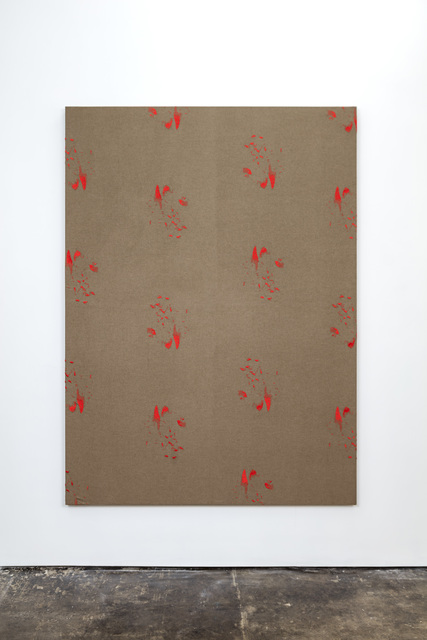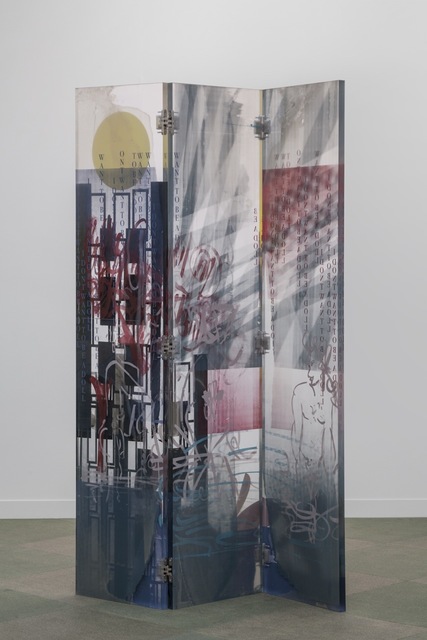 Press Release
VI, VII's booth at Frieze London features custom-made and site-specific flooring as well as a bamboo structure, both designed by the Hamburg-based collective Jochen Schmith.
Gates along the structure allow three points of entry into the space.
Made entirely of organic material, and operating between artwork and exhibition architecture, it joins a careful selection of works, each of which deal in their own way with interpretations of value.
JOCHEN SCHMITH
The work of Jochen Schmith is often centered around different kinds of 'life scripts.'
It also deals with use value and relationships between artistic labor and luxury concepts and commodities.
In one corner of the booth, an abstracted image woven out of shredded money reads like a picnic blanket (Picnic Blanket, 2016). These are joined by #haveaniceday, 2016 a new audio piece by the collective referring to "value" as it relates to constructed identities in social media.
On a series of untitled works, fake splatters of paint, the kind that grace 'painters pants' by designers such as Helmut Lang, Ralph Lauren and Dolce and Gabbana, have been embroidered onto cashmere, re-appropriating and setting back into 'painting' a symbol of artistic labor co-opted by the fashion industry.
THAN HUSSEIN CLARK
Gown Capuchin (For the Actress Laura Schuller) by Than Hussein Clark is one of three dresses dedicated to the work of Tennessee Williams.
Each of these dresses represents a thinking through Williams' time in Rome. This one in particular, his relationship with the actress Anna Magnani.
Among a very active sculptural practice, Clark also writes theater plays, and he very often works with the same actors. The dress was designed to fit the measurements of Laura Schuller, a German actress who has starred in several of Than's performances.
There is also inspiration from Williams' novel, The Roman Spring of Ms. Stone. In the novel, an actress moves to Rome and her descent into madness is linked to a return to wearing couture.
One one side of the paravent Julian Dreams of the Hudson (Tissot: I do do don't want to be a doll), 2016, features drawings by Clark, based on images of boys and girls painted by Tissot, a 19th century painter of known for his picnic scenes. On the other side of the screen, Julian, the protagonist of the novel by Charles Henry Ford, can be seen having an erotic dream of a gay picnic orgy, with a red tree and boys in the water. One side represents the city, the other, the country.
Works by Mikael Brkic investigate the use of technology throughout the ages and have been largely informed by his day-job as a copywriter for an online retailer of fashion.
Like Jochen Schmith, Brkic also deals with the commercial use of artistic labor, drawing strong parallels between his studio practice, and the corporate strategies employed by creatives in start-up companies such as the one he works for.
Often represented in his work is the concept of Eternal Return: the tendency for styles, concepts and approaches to fall in and out of fashion and to reoccur throughout philosophy and the history of art; the tendency of artists and philosophers to borrow from eachother, endlessly devouring and incorporating eachother's ideas.
His works at Frieze (part of his series 'White Paintings') illustrate business and marketing concepts such of End of Business Day returns and Fourth Quarter measurements using timeless materials and organic matter representing growth and decay.
FURTHER INFORMATION
Mikael Brkic (b. 1987, Oslo) was educated at the Staedelschule in Frankfurt am Main where he studied under the direction of Judith Hopf; The Mountain School of Art in Los Angeles, and The Academy of Fine Art at Oslo National Academy of the Arts in Oslo.
Previous exhibitions include To the Fans / Tü de Fans, VI, VII, Oslo; The Perfect Lie at Galerie Jeanrochdard, Brussels, 911.000 BC, Grand Century, New York; Never on Sunday, Tbilisi, Georgia and presentations at LISTE, Basel and Independent Brussels.
Brkic lives and works in Berlin.
Than Hussein Clark (b. 1981, New Exeter) lives and works between London and Hamburg.
Previous exhibitions include:Tete-A-Tete (A Dolls House), Frans Hals Museum, Haarlem; Tragedy Machine (with Villa Design Group), MIT, Cambridge, Mass; The 2016 Liverpool Biennial (with Villa Design Group); The Violet Crab at DRAF, David Roberts Art Foundation, London; DEBTS (Erotic Review Sinai), Futura, Prague; Republic Authorizations (L'Aigle à Deux Têtes), Mathew New York, New York; A Summer's Rest (Je T'aime Mont Blanc), with Villa Design Group, LISTE Performance Program, Junges Theater Basel; Inauguration of the Russian Season: The banquet (with Villa Design Group); Waves (Das Glückliche Rothschild), Mathew Gallery, Berlin; Royal Institute of British Architecture, London; The Pool's Edge or Gstaad Will Never Change, Swiss Insitute, New York.
Forthcoming exhibitions include: a group exhibition at Museion in Bolzano, and a solo exhibition at GAK, Bremen.
Jochen Schmith is collective based in Hamburg, Germany, who have worked together since 2000. Previous exhibitions include: Present Gifts, VI, VII, Oslo; Utopie beginnt im Kleinen, Triennale Kleinplastik Fellbach; Andere Räume, Bundeskunsthalle Bonn; Bleibender Wert?, Kunsthaus Bregenz; Grand Openings Pt. 1, Mathew, Berlin; Certain Arrangements, Haus Salve Hospes, Kunstverein Braunschweig; News from Nowhere, WCW Gallery, Hamburg.
For further information please contact Esperanza Rosales: esperanza@vivii.no / +47 902 79 862
Follow Artists In This Show