Wayne White: Monitorium
In 1862, the Battle of Hampton Roads took place and the first ironclad ships met in combat on the James River. One of those ships, the Union Navy's USS Monitor sets the stage for White's dynamic exhibition, a multi-media installation including monumental-sized puppets.
Sep 16th, 2017 – Feb 11th, 2018
Virginia Beach, 2200 Parks Avenue
Map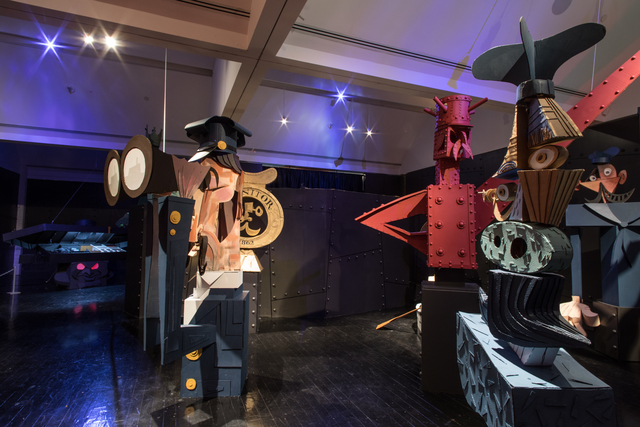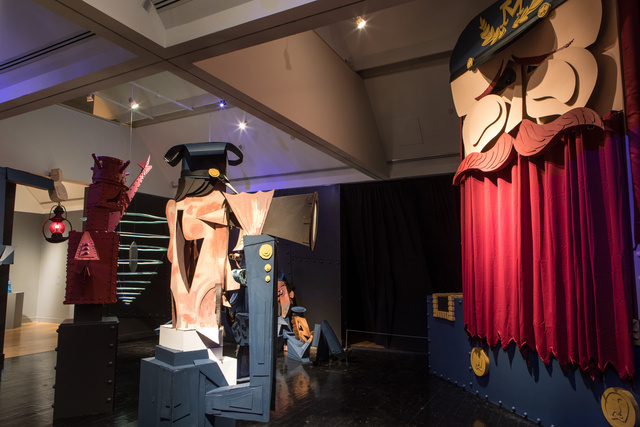 Press Release
Multi-Faceted Art World Phenomenon, Wayne White, Explores the Battle of Hampton Roads in Multi-Media Installation at Virginia MOCA
(Virginia Beach, Va.) Aug. 18, 2017 — The Virginia Museum of Contemporary Art (MOCA) announces the opening of their Fall/Winter Exhibitions on view Sep. 16, 2017 through Feb. 11, 2018 featuring an exclusive on-site installation; Wayne White: MONITORIUM. Artist, designer, author, entertainer and the subject of the 2012 documentary, Beauty is Embarrassing, Wayne White explores the 1862 Battle of Hampton Roads through a multi-media installation of the first battle of ironclad ships. Focusing on the intimate, human side of this game-changing moment in US naval history, the Union's USS Monitor will set the stage for White's dynamic exhibition. White's experience as set and character designer for shows like Pee-Wee's Playhouse and music video art direction for The Smashing Pumpkins and Peter Gabriel will transform MOCA's Towne Bank Galleries into an evocative world of maritime wonder. Monumental-sized puppets, props, dramatic lighting and sound will carve out White's unique perspective, featuring individuals who helped shape the Monitor's history.
MOCA first worked with White during their unprecedented, self-curated exhibition in 2016; Turn the Page: The First Ten Years of Hi-Fructose. The exhibition which traveled to The Akron Museum of Art in Akron, OH is now in its final leg at The Crocker Museum of Art in Sacramento, CA. Turn the Page showcases one of White's famous word paintings. Alison Byrne, MOCA's director of exhibitions and education admired White's installation work and appreciated his infusion of historical components. Knowing our region would provide a vast wealth of history to draw from the two began talking. As it turned out, White had been heavily influenced by the Battle of Hampton Roads as a child, "As a little kid, I used to draw pictures of the Monitor and Merrimac in battle. As an adult, I did watercolors of the ironclads in a History Painting series," said White in an interview with MOCA's curator, Heather Hakimzadeh.
It didn't take long for White to select the focal point for his exhibition. In concert with anything White produces, his vision for the installation would be larger than life. Creating a multi-media experience using lights, sounds and stories of the sailors aboard the USS Monitor to enlighten viewers about this historic battle.
The Mariners' Museum and NOAA's Monitor National Marine Sanctuary have been instrumental partners in facilitating the veracity of White's vision. These organizations, dedicated to maritime history, have been enormous resources; providing facts and data (and in one case – sound) about the USS Monitor.
"We are honored to not only be a resource in telling the story of the USS Monitor in such a unique way, but to partner in providing access to this story that is such a large part of our local history," said Howard H. Hoege III, President and CEO of The Mariners' Museum and Park in Newport News.
In celebration of MONITORIUM MOCA and The Mariners' Museum will launch a reciprocal membership program, allowing members of both museums free admission to their perspective institutions for the duration of the exhibition. Some joint programs will also occur, such as an exclusive gallery talk by The Mariners' focusing on the history of the Monitor. MOCA will bring its popular adult evening of interactive exhibition exploration, ART CRUSH to The Mariners', and additional programs are in the works.
Research Coordinator and Maritime Archaeologist of NOAA's Monitor National Marine Sanctuary, Tane Casserley, will also give a talk about the ongoing research to document the shipwreck of the USS Monitor and the maritime landscape of WWII's Battle of the Atlantic off the coast of North Carolina.
"We are thrilled to play a part in presenting the USS Monitor in a fresh new way," said Casserley. "Our story doesn't end in 1862. The ship has great relevance today, from its diverse, multi-racial crew to the shipwreck's creation as the nation's first national marine sanctuary. NOAA uses cutting edge technology to study the Monitor and the marine life that now call the shipwreck home, this National Historic Landmark holds layers of discovery."
MOCA's mission to education will branch into Hampton Road Public Schools in conjunction with MONITORIUM. MOCA will host A Day for Educators this fall to train interested art teachers how to create Wayne White inspired, over-sized cardboard puppets. Character selection will be based on each school's curriculum as it pertains to Virginia history. A "puppet parade" will occur in Virginia Beach's Creative District, the ViBe, in celebration of the student artwork.
"Creating works of art influenced by history affords students a unique, hands-on experience we hope translates into increased passion for learning – especially about subjects that can be more challenging to embrace," said MOCA's Director of Exhibitions and Education, Alison Byrne.
Alongside MONITORIUM are two other exhibitions. Small Works, Tall Tales present smaller scale sculpture from nine Virginia artists who infuse their work with sharp wit and a complex interpretation of the world around them. Artists include: Kim Overstreet and Robin Kranitzky, Wade Mickley, Deborah G. Rogers, Robin and Julia Rogers, Tracey St. Peter, John Tobin, and Aggie Zed. MOCA's Community Gallery presents Toobz Muir: Misshapen Demise, a collection of surreal paintings and detailed graphite drawings of Roanoke-based artist, Toobz Muir round out this exhibition suite swimming with narrative undercurrents.
ABOUT WAYNE WHITE: Artist, art director, illustrator, puppeteer, and more, Wayne White was born and raised in Chattanooga, TN. White's career has had a meandering path. Starting in the 1980's, he worked for the East Village Eye, New York Times, Raw Magazine, and the Village Voice. White designed sets and characters for the hit television show Pee-Wee's Playhouse, Shining Time Station, Beakman's World, Riders in the Sky, and Bill & Willis. As a fine artist, White's most successful works have been his word paintings. They feature oversized, three-dimensional text painted on top of vintage landscape reproductions. The paintings are thought-provoking and witty, with a pointed finger at vanity and ego. http://waynewhiteart.com
ABOUT THE MARINERS' MUSEUM AND PARK:
The Mariners' Museum and Park connects people to the world's waters because through the water – through our shared maritime heritage - we are connected to one another. The organization is an educational, non-profit institution accredited by the American Alliance of Museums and preserves and interprets maritime history through an international collection of ship models, figureheads, paintings, and other maritime artifacts. The Mariners' Museum is home to the USS Monitor Center, and is surrounded by the 550-acre Mariners' Museum Park, the largest privately maintained park open to the public in North America. The Mariners' Museum Library is the largest maritime library in the Western hemisphere. Because of the Museum's world-class collection and its reputation for high-level exhibits and programs, in 1999, the U.S. Congress designated The Mariners' Museum as one of only two maritime museums that comprise America's National Maritime Museum. For hours and information, visit MarinersMuseum.org, call (757) 596-2222 or write to The Mariners' Museum, 100 Museum Drive, Newport News, VA 23606.
ABOUT NOAA's MONITOR NATIONAL MARINE SANCTUARY: Situated just 16 miles off the coast of Cape Hatteras, North Carolina, NOAA's Monitor National Marine Sanctuary protects the shipwreck of the famed Civil War ironclad, USS Monitor. Since the Monitor's designation as the nation's first national marine sanctuary in 1975, NOAA has used cutting edge technology to document the ironclad warship and share its history with the American public. Visit the Monitor National Marine Sanctuary online for more details: https://monitor.noaa.gov
Visiting the USS Monitor is not easy as it lies on the bottom of the ocean at about 240 feet. Fortunately, there are many places that offer visitors the opportunity to discover the wonders of this great ship. Guests may visit the closest point of the shipwrecked vessel at the Graveyard of the Atlantic Museum, part of the North Carolina Maritime Museum Hatteras, Monday-Saturday from 10 a.m. – 4 p.m., though closed specific weeks during the year. Admission is free, though donations appreciated. Visit their website: http://graveyardoftheatlantic.com for official hours of operation.
Other museum partners include, primary visitor's center at The Mariners' Museum in Newport News, VA; Greenpoint Monitor Museum, Brooklyn, NY: the Hampton Roads Naval Museum; Jennette's Pier, Nags Head, NC; Nauticus in Norfolk, VA; North Carolina Aquarium on Roanoke Island.
ABOUT MOCA: The Virginia Museum of Contemporary Art (MOCA), located in Virginia Beach, is a non-profit that exists to foster awareness, exploration and understanding of the significant art of our time. MOCA is accredited by the American Alliance of Museums (AAM). As Virginia's only museum dedicated solely to the exhibition of contemporary art, MOCA encourages visitors to discover and explore art and to engage in hands-on art experiences. www.VirginiaMOCA.org.
MOCA is located at 2200 Parks Ave., at the entrance of I-264 in Virginia Beach. The Museum is open Tuesday-Friday 10 a.m. – 5 p.m.; Saturday and Sunday 10 a.m. – 4 p.m. Admission is $7.70 for adults and $5.50 for seniors/65+, students (includes children 5 and up) and active military. MOCA members and children four and under are admitted free of charge.
#
Follow Artists In This Show