Liz Hickok : Ground Waters
Liz Hickok creates miniature worlds where both natural and urban environments are overgrown by strange crystal formations.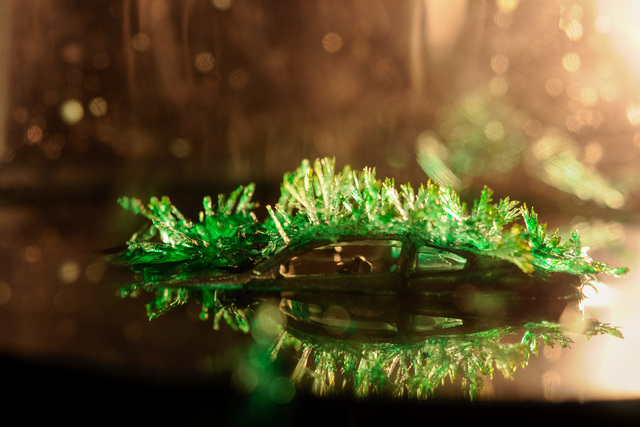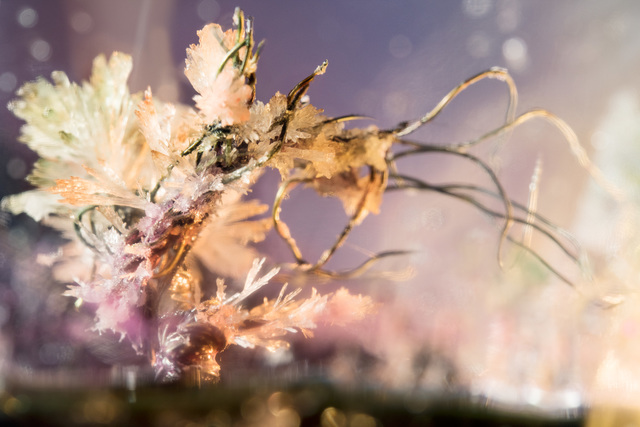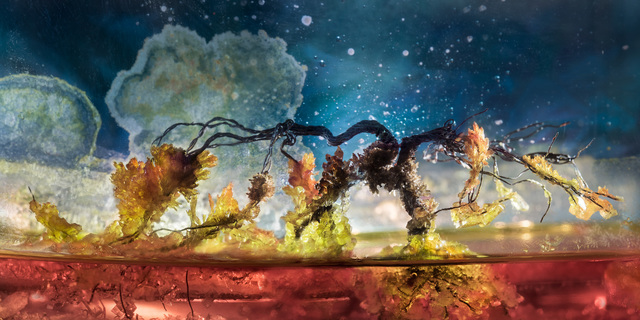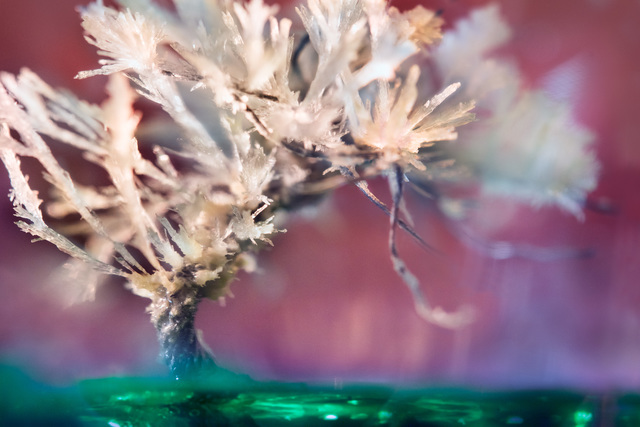 Press Release
Wall space gallery presents a look at the work of contemporary photographer Liz Hickok in a lecture and discussion with the artist, on September 12th, 2015. About her series entitled Ground Waters, Hickok says she "creates miniature worlds where both natural and urban environments are overgrown by strange crystal formations."
Hickok's unique vision and exploration of playful material combine, alluding to our "environment being saturated with pollution."
Hickok approaches each piece like a science experiment, assembling and combining various elements and then flooding the scene with a liquid crystal solution. "Over the course of a few hours, days, or weeks, the crystals re-form, permeating the small model. Of this process, Hickok says she enjoys "the conflicting processes of control and lack thereof." As with the rest of her work, this project brings to life her cross-disciplinary explorations by marrying sculpture with photography and video, allowing her to capture the fleeting moments during a process of alchemical transformation.
In creating her own geologic timeline, being patient yields vibrant weird results. Her images give us a deeper narrative to chew on, that of toxicity, of the chemicals we ingest, what are we dumping into our water systems and how is it affecting not only our environment but us? Her entre into that conversation is playful, interesting and refreshing. It not only has me asking how she creates the work, but also furthers conversation about why the work is important.
About Liz Hickok -
Liz Hickok is a San Francisco-based artist working in photography, video, sculpture, and installation. Hickok received her Masters in Fine Arts from Mills College in Oakland, California. She earned a BFA and BA from the School of the Museum of Fine Arts and Tufts University in Boston, Massachusetts. Hickok lived and worked in Boston for over ten years before moving to the San Francisco Bay Area.
Hickok's artwork has been exhibited across the country and is included in international collections. Her photographs and video have been shown in many Bay Area venues, including Yerba Buena Center for the Arts, San Jose Museum of Art, Southern Exposure, the Headlands Center for the Arts, Works/San Jose, and the Kala Art Institute. She has also exhibited internationally at the Ha'Kibbutz Israeli Art Gallery in Tel Aviv, and nationally at the Seattle Center of Contemporary Art, Pittsburg State University (KS), and the Arts and Literature Laboratory (CT). Hickok has created elaborate installations in the San Francisco area at the Headlands Center for the Arts and the Exploratorium, as well as in Scottsdale, Arizona, through the Scottsdale Public Art Program. Hickok also completed a large public art project with UCSF, Mission Bay.
Hickok's Fugitive Topography: Cityscapes in Jell-O has become a popular subject of media coverage. Her work has been covered by The New York Times, Harper's, San Francisco magazine, Gastronomica, 7X7 magazine, and has appeared on the cover of Artweek as well as the French magazine, Gusto. She has been featured on national and local news and radio programs that include The CBS Early Show, Offbeat America (HGTV), Current TV, Spark* (KQED, Bay Area), All Things Considered (NPR) and Talk of the Nation (NPR). Hickok also appeared on the Food Network Awards Show, where she won an award for Best Use of Food as Art Medium.
About wall space gallery -
wall space gallery opened in Santa Barbara in 2010. The only gallery in Santa Barbara focused on the craft of Contemporary Photography taking the lead in showcasing artists who transcend the medium, looking to expand the photographic arts. In addition to our exhibition schedule, we have a series of artist lectures, studio and community events.
First opened in Seattle, Washington in 2005 wall space focuses on emerging and mid career artists and expanding the ideas of what photography is as well as what it can be. Our artists are craftsman, using photography as an integral part of their work, but layering emotional stories with techniques and processes that enhance the visual experience. The gallery has gained an international reputation for finding and showcasing new artists and exposing new ideas.
wall space gallery is located at 116 East Yanonali Street in the Funk Zone of Santa Barbara. Open hours: Tu-Sa 11-5, Sun 12-5, and by appointment.
For more information about wall space gallery or Liz Hickok please contact the gallery at 805.637.3898, via email at gallery@wall-spacegallery.com or contact Gallery Director Crista Dix directly at crista@wall-spacegallery.com.
Follow Artists In This Show