City Stories
Apr 2nd – 27th 2016
New York, 210 11th Avenue Suite 303
Map
Opening Reception: Thursday, Apr. 7th, 6pm -8pm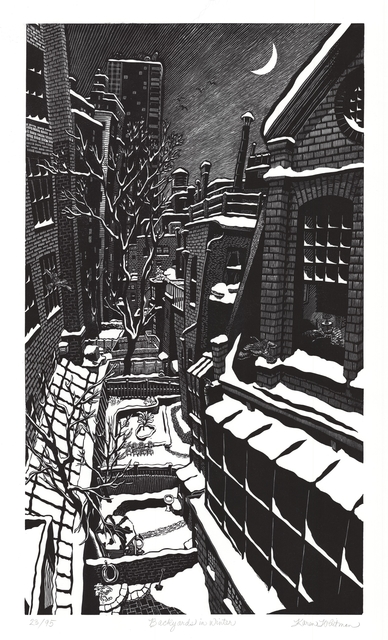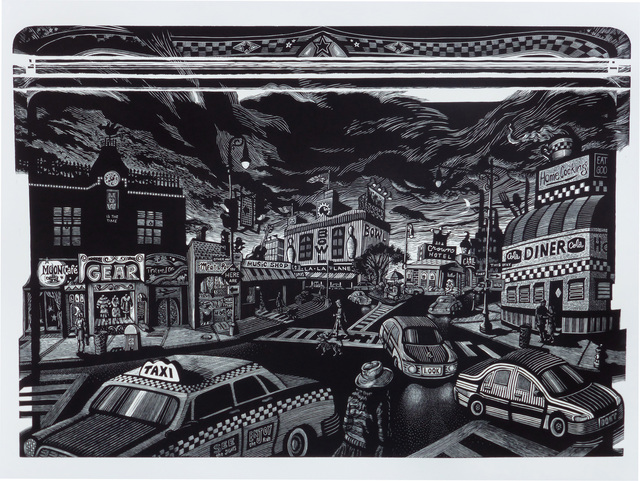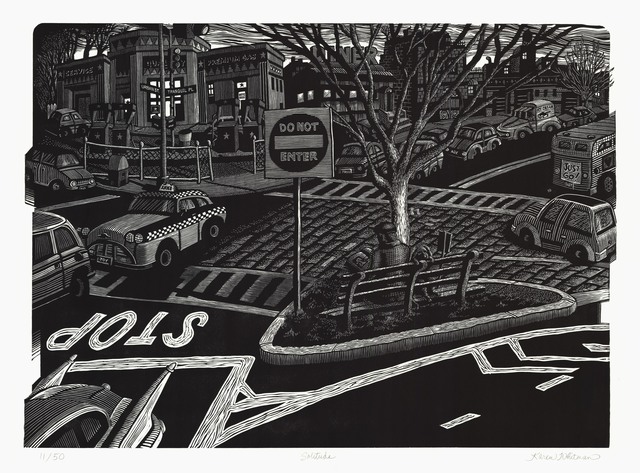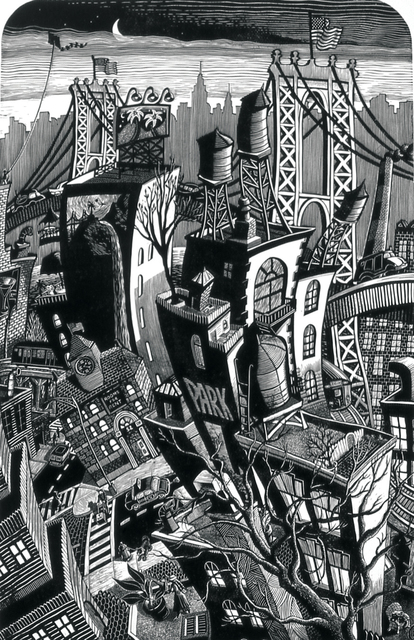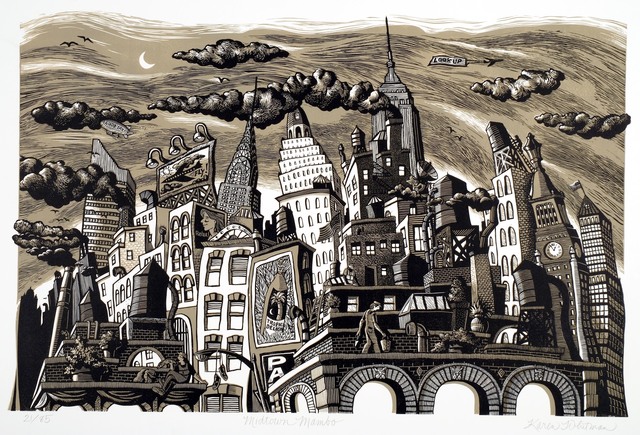 Press Release
"CITY STORIES" is a must see contemporary printmaking exhibition featuring the work of two widely renowned artists Richard Pantell and Karen Whitman, from Woodstock, NY. On view from April 2-April 27, will be artistically and masterfully executed block prints, etchings and lithographs by these award winning printmakers who are also a married couple. Although Woodstockers, they spend much of their time in NYC, the subject of and inspiration for most of their work.
Richard Pantell's prints are primarily etchings, the subjects of which range from architectural panoramas to solitary moments of urban individuals gazing from a window to the elevated subways below; playing electric guitar in the nude near a bay window; skateboarding down the city streets; or gazing thoughtfully at skulls and bones at the American Museum of Natural History. His work can be found in such collections as The Butler Institute of American Art, The Museum of the City of New York, The Newark Museum and The British Museum. He has won many awards including those from The National Academy of Design and Allied Artists of America. Articles about his work have appeared in American Artist Magazine and Journal of the Print World; and he has had work reproduced in the New York Times and The Christian Science Monitor. Richard has been teaching printmaking at the Art Students League for 20 years and is listed in Who's Who in American Art and Who's Who in the East.
Karen Whitman specializes in linoleum block prints which include dog walkers and hot dog vendors; the backyards behind snowy brownstones; cats on cornices and in alleys; The Empire State and Chrysler buildings dancing a mambo; and giant Checker cabs cruising down the busy boulevards. Her work is in the collections of the Museum of the City of New York, The New York Public Library, The Zimmerli Museum and The British Museum, among others. Her awards include Medals of Honor from Allied Artists of America, Audubon Artists, The Catharine Lorillard Wolfe Art Club and The National Association of Women Artists. An article about Whitman's work and career appeared in the December, 2002 issue of American Artist Magazine. She is also listed in Who's Who in American Art.
Karen and Richard met 23 years ago in Woodstock and before long, they were (quite literally) showing each other their etchings. They developed a wonderful partnership, giving support to each other's art careers, encouraging and celebrating each other's successes. In this increasingly competitive world, it is refreshing to see a couple working together so cooperatively. Making art can be a very isolated endeavor, but for them, working side by side takes the isolation out of the creative process. The affinity they have for each other is apparent in the compatibility of their work. It is very warm and alive, with streets and buildings twisting and turning as if they breathe; and their people invite you to participate in their worlds. Come and pay them a visit - You'll be glad you did.
Follow Artists In This Show