Wentrup
Art Basel 2017
UNLIMITED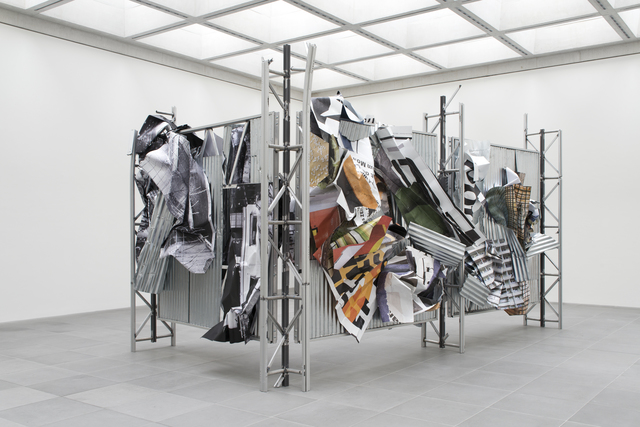 Press Release
On a partition wall the height of a border fence, made of corrugated iron panels and placed across a
corner, Metzel places a series of his characteristic crumpled newspapers, entangeled with sections of
the metal panels like scraps of posters after a particularly destructive tornado. Reality itself appears
here as a whirlwind that puts to rest any notion of a nicely ordered minimalist aesthetic. By
illustrating public discourses the artwork structures the world chaos by obstructing and confronting
current topics.
Metzel's oeuvre deals with the public we all share. In his work the sculptor transforms the entire
spectrum of social issues, ranging from politics to the arts, economy and sports, philosophy and
popular culture into artistic terms.
Articulated by sculptural means Metzel portrays our era, lending it a shape, highlighting current
topics, and prompting us to think about virulent socio-cultural questions. The artist's main objective
lies in creating three-dimensional images of our society, and the sculptures are both portraits of our
time and powerful constructs evoking a fundamental tension through the contrast of material and
form.
The thought of "the art of NOT being governed (like that), quite so much" is the proposal of French
philosopher Michel Foucault for a first definition of critique, which inherents a critical attitude and a
basic distrust facing the Governmentalization of society and individuals.
In his oeuvre Metzel questions authority in the sense of domination through power relations and
reign, implying a critical approach/stance directed towards and against the prevailing form of society
and its representatives. This notion of art as critique shines through in Metzel's work in all its facets
between the poles of emotion and reason, aggression and sensitivity; limiting and sizing up the art of
governing, transforming it, like the material he works with, (in)to a sculptural response.
For his sculptural collages Metzel selects information and visual material drawing inspiration from
the pool of objects and images we surround ourselves with. Among others he uses newspapers as a
direct source of input for creative and thought processes without claiming total global insight or full
political sovereignity. In times of information overload and mass media confronted with the supposed
manipulation of public opinion his work as artist focusses on problematic social issues, actively deals
with its inacceptable aspects and engages a process of critical transformation by undermining the
control of the public opinion by the media.
In coded concentrations, like a piece of contemporary history, the installation holds the mirror up to
the society and our media-based collective consciousness. In view of the current political affairs
Metzel's ability to treat present as history and history like the present couldn't be more relevant
nowadays.
Most recently Olaf Metzel was honored with two major solo exhibitions at the Neues Museum Nürnberg in
Nuremberg and at the Neue Pinakothek in Munich, Germany. Both exhibitions were accompanied by
comprehensive new catalogues.
Follow Artists In This Show