FLOW
In this exhibition, objects leap through a series of rhythms and slippages.
Jun 3rd – Jul 10th 2016
London, 1 White Conduit Street
Map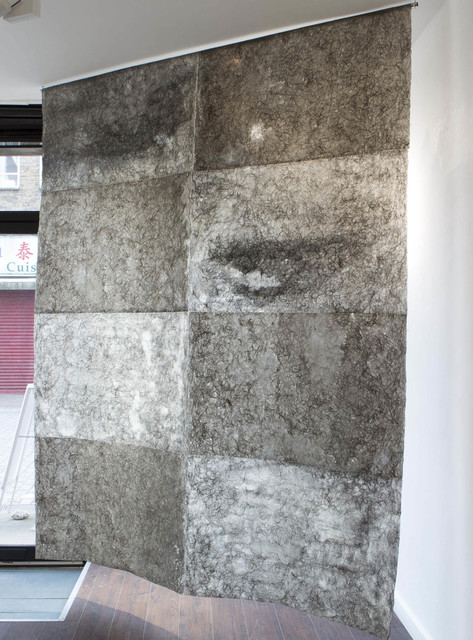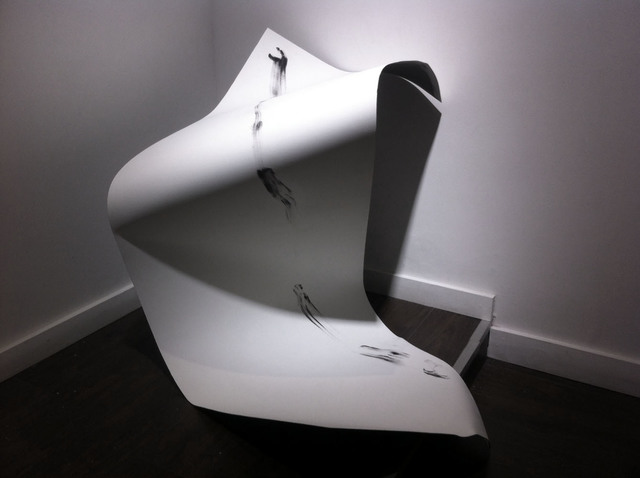 Press Release
For a new site-specific installation, Market Chapel, Mackrell has invited composer and vocal performer Leo Loebenberg to perform a sound response from a recording of the bustling and transient noise of the adjacent Chapel Market. Loebenberg is lofted high up over a subwoofer speaker, ingesting the market's reverberations directly through his upper back before expelling them out through his throat.
The surrounding objects continue to grapple with modes of, ingestion, translation and transportation of the body. In A way to go Mackrell turns the fibrous make up of Tenzin, a rare Japanese paper into a map of endless routes and dead ends. A thin line has been added over the top of the fibres, in an attempt to seek a way out. The material's luminous quality also hides this line intervention, which only becomes visible after dark. Mackrell has a strong interest in the magic of night, where as he sees it his subconscious runs with a tenuous thought extracted from his chaotic processes during wakefulness.
In Aquarius ritualistic patterns of singular mark making reoccur in a photograph depicting a partially visible head floating in water. However the strands of hair have been painstakingly cut out one by one from the image. This restless absence presence dialectic builds throughout the remainder of the show and into the downstairs video installation, Three Points of View via a temporal sense of being trapped in a loop of expectation and exhaustion.
Follow Artists In This Show