Edward Cella Art + Architecture announces an online exhibition "Survival Strategies" by Aili Schmeltz. While sheltered in place in Joshua Tree, California; Schmeltz discovered a deeper appreciation of the rugged landscape, rich in botanical wonders, and its cycles of life and survival. Turning to nature and leaning in, Schmeltz created two new bodies of work.
The beacon of light to pull me through has always been and will continue to be the thrill of discovery and experimentation in the studio.
Hunkered down on a five acre homestead parcel and a 1958 jackrabbit cabin, the property is situated on a mesa with Pipes Wash to the East and South, Black Lava Butte and Flat Top Mesa looming as negative trapezoidal shapes into the impossibly blue desert sky. Here Aili Schmeltz has unearthed her own survival strategies and in turn two entirely new bodies of work presented here for the first time. Taking to heart, Pema Chodron's cri de cœur, "If we commit ourselves to staying right where we are, then our experience becomes very vivid. Things become very clear when there is nowhere to escape." In a location where geologic time lays itself bare, where everything is incomprehensively old; Schmeltz recognizes that she will only witness a small sliver of time in this place's evolution. In turn, Schmeltz began a new series of ceramic sculpture that are fired slowly at high temperatures to create lava rock like forms that are at once geologic and architectonic. Modest in scale, but with stout, weighty visual power; they are for the artist optimistic monuments. Building on the artist's ongoing investigation into the notion of representing utopic philosophies, the forms embody a new attempt to communicate the idealized strategies for a better tomorrow though form, volume, and shape. Likewise, Schmeltz's six-month unexpected residency in the Mojave Desert has fostered a renewed appreciation of the tenacity of the plants that find home in desert. In the face of harsh conditions, some shoot taproots down one hundred and fifty feet or more, others lay dormant for fire to split their seeds, grow dagger like spines as defense or seed dispersal vehicles. Drawn to these superpowers, Schmeltz, began to study the surrounding native plant forms, pattern, and color. Channeling the transcendental power of the desert, and its spiritual forms as crystalized in influences such as painters and architects Agnes Pelton, Agnes Martin, and Paolo Soleri; Schmeltz has come to see this extraordinary time and location as a way to bloom new ways of thinking of her work and place in the world. Image above: Aili Schmeltz on her property in the Mojave Desert with her sculpture entitled 1:1:2 (Modern Proportion Study calibrated to the Spring Equinox, site specific installation), 2017, in the foreground. Photographed by Lance Gerber.
To navigate the riots of impossibly beautiful spring blooms surrounding her homestead; Schmeltz took up an iconic 1971 publication, Mockel's Desert Wildflower Notebook. Illustrated and written by local artist Henry Mockell and his wife Beverly, the book is full of folksy texts and delicate drawings of the region's unique flora created from firsthand observations and study over many years.
Spring Bloom in the Mojave Desert 2020 as photographed by Lance Gerber
Watching the world from afar; Schmeltz found inspiration in Mockel's advice. "Pick just one primrose. Forget the acres of color and find yourself a solitary bloom. Visit it daily. Observe as the colors cycle from morning to night." Seeking a means to square the chaos of the distant world, Schmeltz committed herself to making daily meditational drawings that grow her "Desert Flowers" series.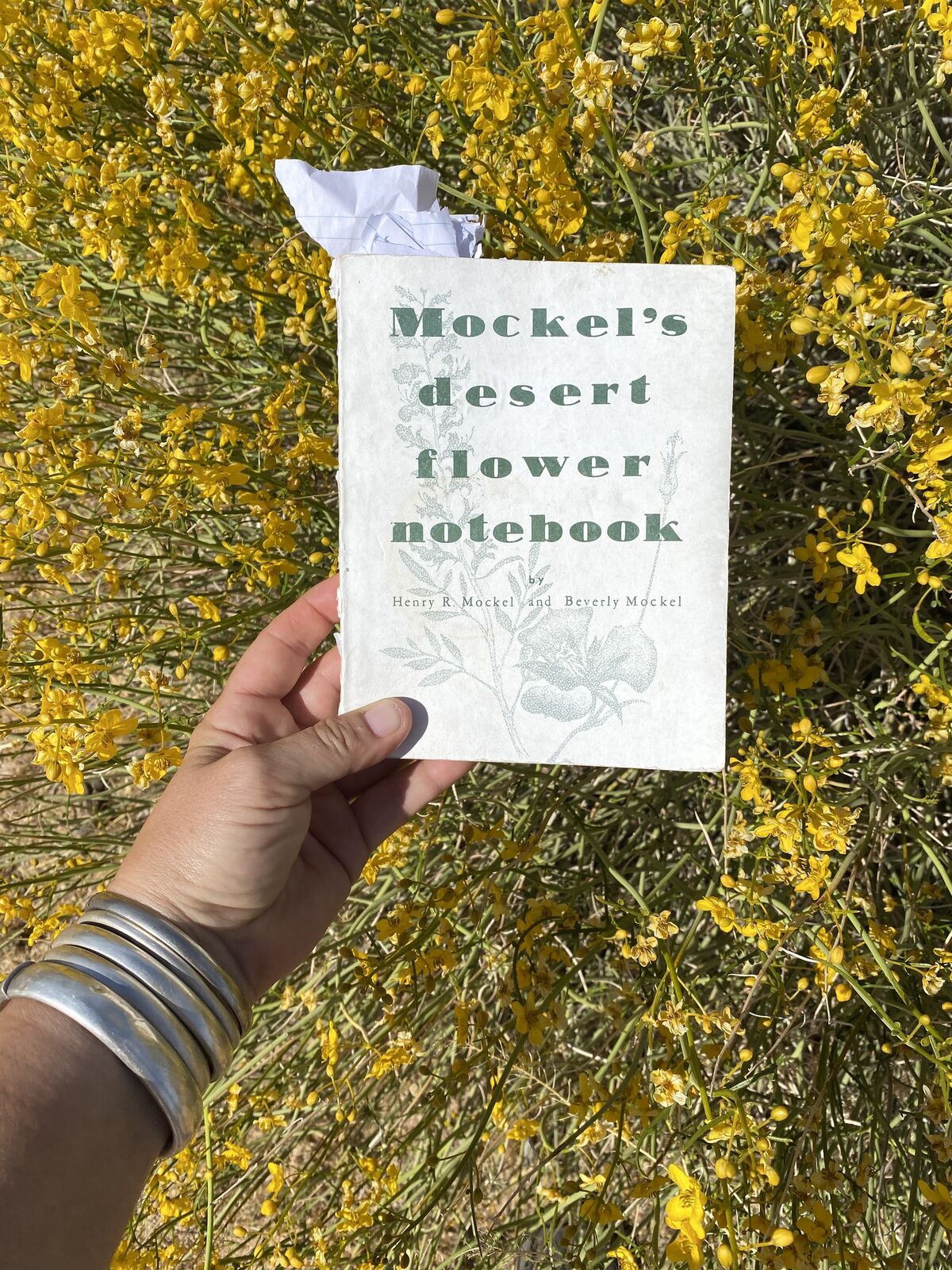 Mockel's Desert Flower Notebook, Henry and Beverly Mockel, 1971 photo by Aili Schmeltz
Small yet complex, with structures of symmetry, order and color; the composition evoke elements of the botanical forms that she discovered around her while formally mirroring her larger art making practice. Recognizing that desert plants are expert survival strategists, enduring adverse conditions and innumerable predators; the artist brings out the monumental power of such simple and overlooked forms and patterns.
Desert Senna, colored pencil on paper, 2020 from the Desert Flowers series
As maquettes they underscore the artist's program to build large architecturally scaled sculpture in the landscape. Their deep color conjuring both the earth's geologic time and the Brutalist, Utopic and Modernist traditions. Entitled "Cairns," they are at once architectonic and seem like relics of the future. For Schmeltz they are, " visual poetry, now more than ever during this pandemic / wildfire / politically dark time, a source of beauty that I find solace and comfort in."
Cairn 4, ceramic, 2020. Photographed by Ian Byers-Gamber
In her clay studio Schmeltz began to sculpt and fire the very earth itself. Surrounded by weathered buttes and mesas of igneous rock and the leftover materials of endless boxes and packing Styrofoam; Schmeltz constructs single use molds to hand pack with dense rough clay, resulting in module volumes created from the negative space that are stacked and assembled. Fired in situ the modestly scaled form echoes the volume and monumentality of the vast landscape and its rocky features.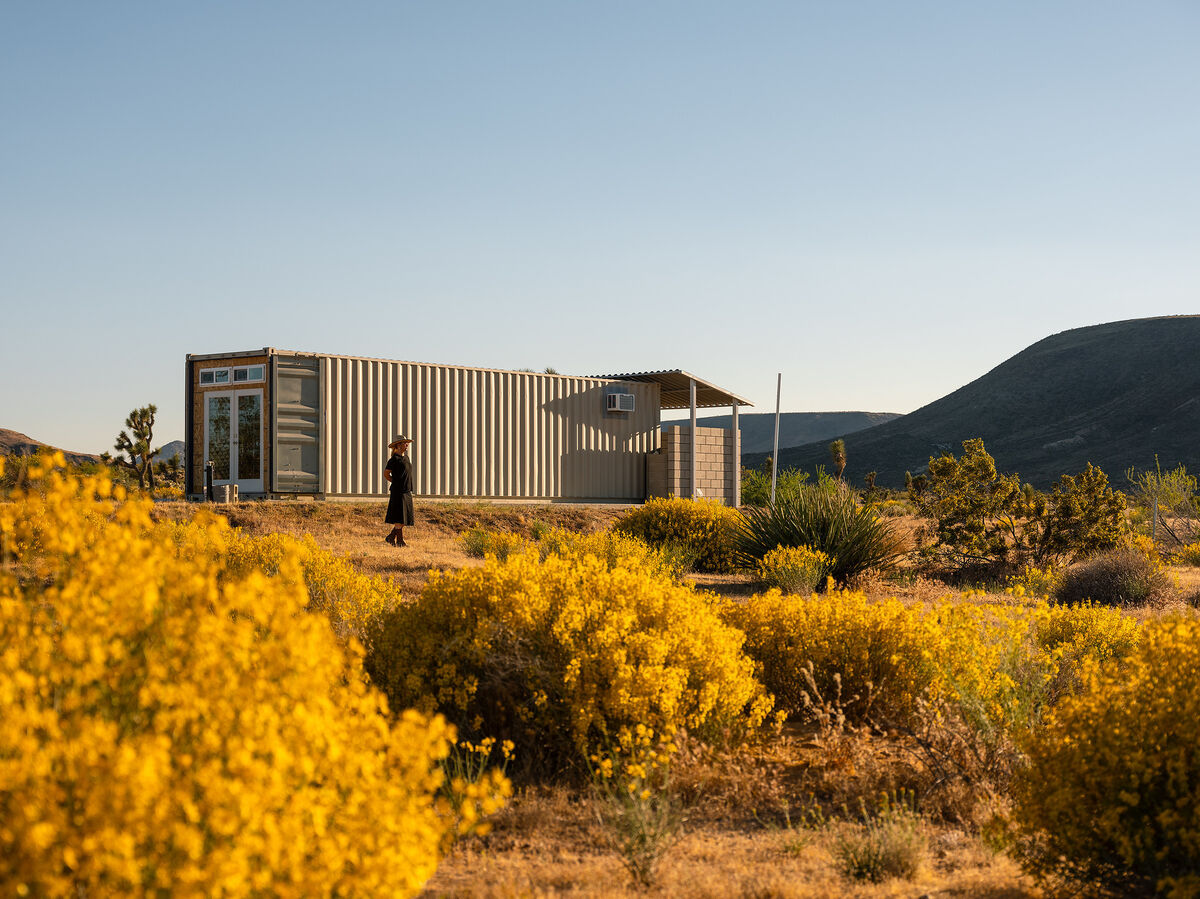 Aili Schmeltz outside of her desert clay studio. Photographed by Lance Gerber