Mare Monstrum / Drown In My Magic channels the power of myth by explicitly visualising Black merfolk. It envisions water as expanse which the characters can be safe in. New lore shifts the entanglement of Black bodies and their environments, making unquestionably clear that they belong. No longer are they subject to whims of the tide, or must choose to drift into a void that holds the potential for destruction. Instead, the portrayed are equipped to survive, and find freedom in the monstrous.
"Uzochukwu reclaims the narrative of fantasy' by embracing 'the alien otherness projected onto black bodies in a way that could be read as pure empowerment." Ekow Eshun
David Uzochukwu's photographs deliver you into warm and sensitive worlds where humans and nature entwine in search of belonging. Expanses of sand, water or sky embrace Black bodies emanating strength. Often their limbs morph into fantastical forms against hyper-real landscapes that offer a space for contemplation. It's this interplay between the natural and supernatural, between the visible and invisible, that imbues the artist's images with an arresting presence.

 Uzochukwu's ongoing body of work, Mare Monstrum / Drown In My Magic, uses the central idea of Black mermaids to explore both the historical relationship between the African diaspora and the water, and contemporary politics around migration. A great part of the images were made in Senegal in 2018 and show mermen emerging from the seas protecting and healing one another. The most recent images came together in Germany and introduce a whole community of hybrid merfolk in states of solace and rebirth. An incubated baby, a proud centaur and a tender couple, among others, inhabit a boundless realm. The Austrian-Nigerian artist was born in 1998 in Innsbruck. His photographic practice began as a teenager with intimate self-portraiture that soon gained recognition. He's enjoyed collaborations with artists including FKA twigs, Pharrell Williams, Ibeyi and Iris van Herpen. Since joining Galerie Number 8, he's exhibited at Bozar, Photo Vogue Festival, Unseen Amsterdam, Off Biennale Dakar and LagosPhoto. He was named 'One to Watch' by the British Journal of Photography in 2020, and his first co-directed short film, Götterdämmerung, was selected for Max-Ophüls-Preis in 2021. He is currently studying philosophy at Humboldt University of Berlin.
The earliest images from the series were self portraits, shot alone on the Italian coast. As more sketches of merfolk amassed, I wanted to give the story a larger scale, a stronger sense of community. I considered continuing in the Mediterranean - but in Senegal, an immense variety of delta landscapes in Siné-Saloum aligned with a great casting contact in Dakar.
Mare Monstrum sketches © David Uzochukwu
An interesting experience for me has been feeling connected to other artists who establish a fantastical link between Black bodies and the sea - be it Drexciya's vision of a Black Atlantis, Ayana V. Jackson's meticulously crafted portraits of ocean dwellers, Mati Diop's Atlantique - it really feels like a collective consciousness has been at work for a while now.
"Stake Out" Mare Monstrum / Drown In My Magic © David Uzochukwu
Unseen Amsterdam 2019 - Galerie Number 8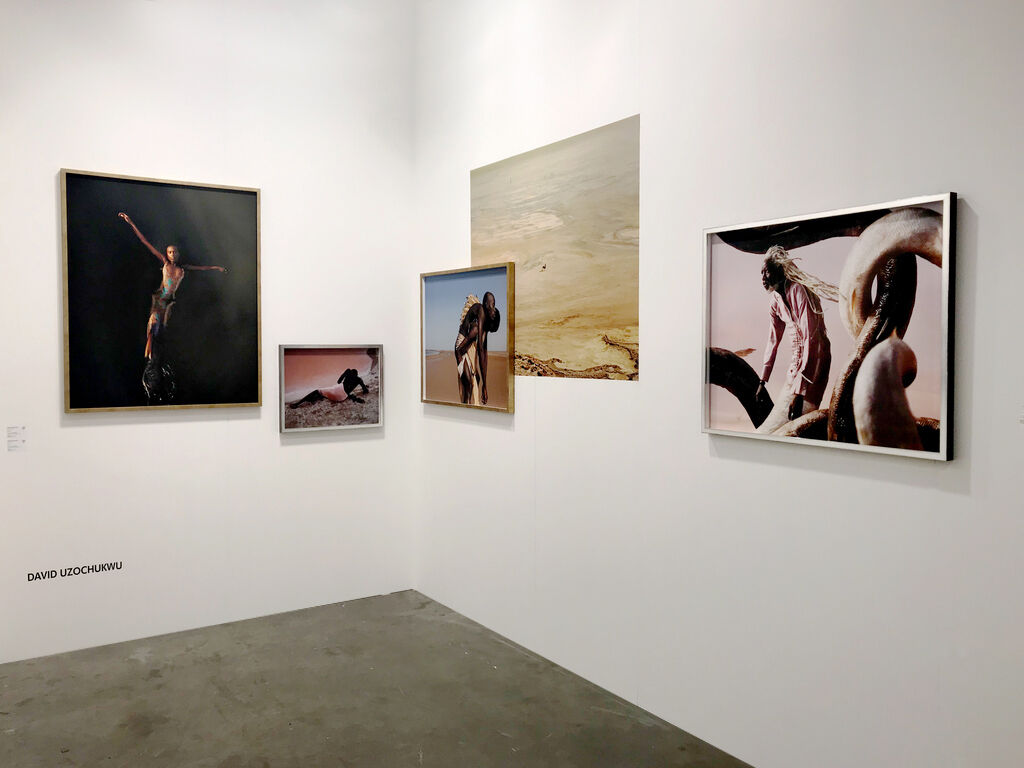 © David Uzochukwu / Galerie Number 8
From fish bought on the beaches, I shot plates for the mermaid fins and tails, and continued the search for maritime stock images in the public aquarium back home in Berlin. I eventually staged a third round of in the city - sometimes merging the environments in post production, sometimes leaving a more stripped down setting to rest next to the vast shapes and range of colors that already existed in the series.
"Haven" Mare Monstrum / Drown In My Magic © David Uzochukwu
LIQUID THUNDER, Installation Berlin
Monom Berlin, Oct 2019. Drown In My Magic 4D imagery narrated through sound installation from William Russell.
"Slab" Drown In My Magic, installation view © David Uzochukwu
"Buoyant" Drown In My Magic, installation view © David Uzochukwu